BRING ON THE HEAT: The Gingerbread Showdown
Three Purchase alumni appeared on reality television, competing in the food arena.
---
Matt Maley '90 and Chelle Baldwin '91 paired up to compete on Food Network's Holiday Baking Championship: Gingerbread Showdown and Devonnie Black '12 showcased her talent on Fox's Next Level Chef with Gordon Ramsay. The confidence to show up and compete is only matched by their creativity, artistry, and drive to pursue their passion in whatever form it takes.
---
---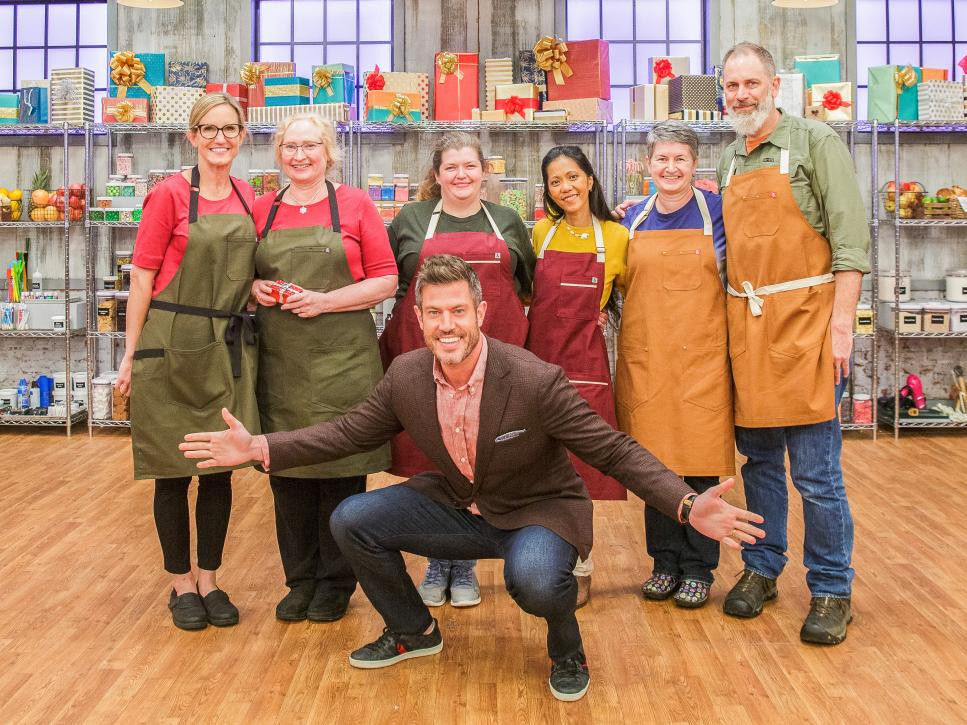 Accepting the Challenge: Matt Maley
Watching the episode of Food Network's Holiday Baking Championship: Gingerbread Showdown featuring Matt Maley '90 and Chelle Baldwin '91, it's evident which team hails from Purchase.
Three teams of two compete to build gingerbread creations complete with animated elements based on the theme "Holiday Window Shop 'Til You Drop." Two are literal interpretations. The third is not.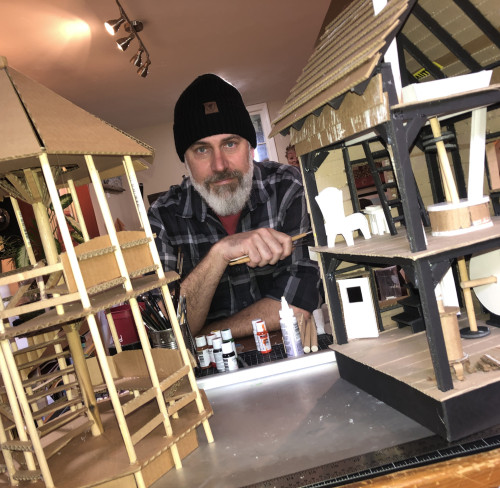 Maley's inventive concept begins with a story he calls "Gazing Through Window Pond," featuring Santa Claus driving his favorite RV Rudy to a magic pond at the North Pole once a month, under a full moon, to GPS his toy route. The Earth spins below the pond's surface. The judges were thrown by the team's decision not to include an actual sugar glass window. "We know this is supposed to be a display inside a window, not literally a window," Baldwin says, bemused. No spoilers, but she credits the concept entirely to her partner. "That is the genius that is Matt Maley. He has an exceptional mind."
Time Well Spent
Matt Maley (visual arts) always knew he'd pursue the arts. Raised in a family of visual artists and musicians, both trumpet-playing and visual art came easy to him. He was drawn to Purchase for the interconnectedness of the arts and liberal arts. "We were all there because we had some kind of creative mind and wanted to continue exploring that in whatever medium or industry we wanted to go into," he recalls. He got a slow start but then got serious and credits the "10,000 hours" spent making work for instilling a drive to create. (Author Malcolm Gladwell's recipe for the number of practice hours necessary to attain expertise.)
He's had a successful career as a working artist because of it. He's currently an associate creative director at Marist College, but he's always got freelance projects— cartooning, illustration, graphic design—and his own work in the mix. His art ranges from landscape scenes created from reclaimed barn wood to steampunk phasers made out of old solder irons to large-scale charcoal illustrations, to satirical children's books about Donald Trump, and Nonsecal, a graphic novel he illustrated featuring short stories written by his college roommate Keith Karchner '90 (psychology). And, of course, there's the gingerbread.
The Lure of Gingerbread
A resident of New Paltz, NY, Maley began his foray into gingerbread competitions by entering the annual contest at the Mohonk Mountain House, merely for the shot at winning a two-night stay at the luxury hotel. "Then I got hooked. It's a great medium. The chemistry involved and coming from sculpture and visual arts anyway, really exploring this new medium was a lot of fun," he says.
A relative newbie with only three gingerbread project builds submitted for competition, he thought the call from the Food Network was a scam. But following several interviews, he was indeed asked to join the show.
The inspiration for every build begins with first developing a narrative. Maley started his career in the comic book industry—following his tenure creating comics for the now-defunct student newspaper, The Load. "We blew up The Load to eight pages of comics," he recalls, laughing. He was a logo designer and letterer for Marvel before working on Disney and Nickelodeon titles.
It's All Storytelling
In fact, the storytelling ties all of his work together. "That whole sense of what kind of story you're creating visually that can bring someone in and have them explore your world. I'm telling a story for someone and getting them involved in the three-dimensionality of the whole thing," he says.
Maley admits to being competitive and has his eye on the national gingerbread house competition in Asheville, NC, but also acknowledges he's not quite at that level, yet. "Gingerbread is so time-consuming," he says. And he's always trying to do something that's never been done, like a three-story stick-built mill. But his background as a sculptor gives him an edge. "Whatever material you're using has its own set of parameters you've got to work with; their own loadbearing qualities, stress points, and all that."
However he chooses to focus his attention, the story comes first. "I never sit still. I'm always trying to explore another kind of visual expression," he says. "Whether that's cartooning, moving into sculpture, moving into graphic design. It all falls under communications; exploring different ways of communicating with people is always fun."
---
  The Baker: Chelle Baldwin
Only one person came to mind when Maley needed to pair up with a baker for the show. "It was a no-brainer because she knew the structure already, and she's a great designer, so we'd be perfect teammates," he says.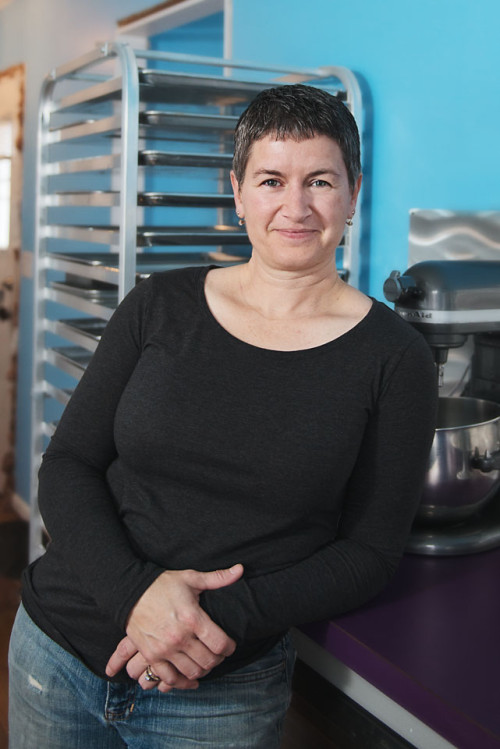 Chelle Baldwin '91 (visual arts) met Maley when they were RAs together. They've stayed in touch ever since. A fellow visual artist, Baldwin loved the freedom to be who you are at Purchase. "To explore, and find your path, and find yourself sticks in my mind," she says. Feeling disillusioned with graphic design, she fell into her love of structural design while taking a package design class. "I didn't enjoy doing the graphics on the package, but when we did an assignment where we had to build a structure to display our product, I was all in," she recalls.
She began a career in furniture design in New York City. With plans to attend graduate school for toy design, Baldwin became a massage therapist to support herself. A Kentucky native, she grew tired of the hustle and bustle of Manhattan, moved to Nashville in 1995, and it's been home ever since.
Once there, she turned to baking to raise funds to alleviate the medical expenses of a friend fighting cancer. Baldwin's mom taught her to bake as a child, and she always finds it stress relieving. Moving beyond more straightforward items, she began producing high-end artistic cakes, such as a miniature version of the Vanderbilt Children's Hospital.
A Sweet Solution
Then life threw her for a loop. Her daughter was born in 2003 and diagnosed with autism soon after. At the age of 9, she was diagnosed with an intellectual disability. Following a conversation with the school psychologist, Baldwin was stunned by the realities of her daughter's future. "People with intellectual disabilities struggle to find a job, and if they do find employment, they struggle to keep it. And females, unfortunately, have a very high sexual abuse rate."
She immediately began to brainstorm ways to help her daughter in the years to come. Then it dawned on her. "She loves to help me bake, and there are aspects of it she can do." She geared her business toward making a thriving place for people with disabilities and started SweetAbility Bakery in the apartment attached to her house.
"For the past several years, I just tried to grow the business and tweak it to the point where my daughter, who is now a senior and will be graduating next year, will have a place of employment where she can find success creating delicious goodies," she says. But her plans don't end there. "At some point, I'll get a commercial kitchen and then be able to hire other people with disabilities." The hunt for a commercial space has begun in the competitive Nashville real estate market.
She found reuniting with Maley, whom she hadn't seen in 15 years, and the entire Food Network experience to be a blast. "I loved working with Matt. And his brain is amazing."
---
Matt Maley '90 and Chelle Baldwin '91
---
Visit foodnetwork.com for more information and discoveryplus.com to see Season 1, Episode 5 of Holiday Baking Championship: Gingerbread Showdown.
---
—Kristi McKee