Professor McGlotten Shares Some "LifeKit" Advice on NPR
The professor of media studies and anthropology suggests reevaluating our relationships with social media.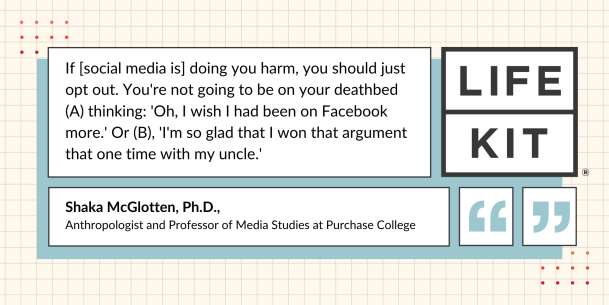 Professor Shaka McGlotten recently contributed to an NPR LifeKit story about our personal relationships with social media. In "Glued To Your Phone? Here's How To Rethink Your Relationship With Social Media," they suggest we should reevaluate with the understanding our social media partners play a somewhat manipulative role.
"McGlotten says, the onus isn't just on us as users but also on our partners (the companies), to encourage healthier behaviors. Keeping that in mind is a good first step when thinking about what your part and responsibility is balancing your digital diet," writes Mayowa Aina
"'And I think, if it's doing you harm, you should just opt out. You're not going to be on your deathbed, A, thinking, oh, I wish I had been on Facebook more and, B, that I'm so glad that I won that argument that one time with my uncle who was talking about, like, whatever, human-dog hybrids on the coast of Massachusetts. You know, like, that's not maybe the best use of your effort,'" says McGlotten.
Listen to the entire story on npr.org here.
NPR's LifeKit is a series of stories described as "Tools to help you get it together."