New Media: Tactical Practical
New Media students creatively ignite social awareness.
Associate Professor of New Media Steven Lambert's Tactical Practical class invites students to combine sociological research, communications strategies, technological methods, and artistic tactics to plan effective social interventions.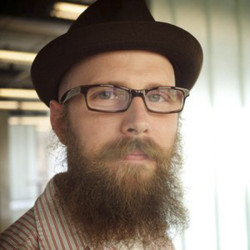 Steven Lambert, Associate Professor of New Media
One Fair Day
For one project, each student raises $100 on his or her own; they then pool the money and decide together how to spend it.
A recent class collaborated with Port Chester's Don Bosco Workers, an organization that advocates for undocumented workers. One spring day, Lambert's students gathered in a Port Chester, NY, park after "hiring" five day-laborers—all undocumented immigrants and former victims of wage theft. Much to the workers' surprise, however, it was not a job that awaited them, but a barbecue picnic organized by the students and paid for with funds they had raised.
Each laborer also received cash, essentially earning a day's wage for taking the day off. The students interviewed the workers on camera and wove their stories into a short video called "One Fair Day," not only documenting the project but raising awareness of the plight of undocumented immigrants in the workplace.
Corey Tegeler '15 and FREEKART
The lessons Corey Tegeler '15 learned in Lambert's Tactical Practical class ended up, in his view, being the most enlightening. Originally from Kingston, NY, Tegeler transferred to Purchase from a graphic-design program that he found too stagnant. With an interest in creative coding, he chose new media. He understood little else about the major, but the challenge of the unknown was part of its appeal.
Tegeler's Tactical Practical class collaborated on a project called freekart, which Tegeler describes as a "music playing, flag-flying, bike-towed cart," from which the students distributed pounds of fresh fruit, home-brewed coffee, and baked goods to students, faculty, and staff during finals week. The cart remains on campus for students to borrow, with the stipulation that it be used only to hand out items for free.
"Steve Lambert led me to realize that the knowledge, experience, creativity, and connections that we gain at school have value other than their financial worth," Tegeler says.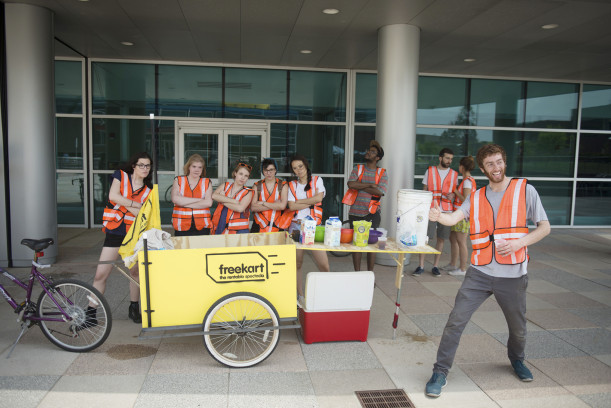 Following graduation in May 2015, Tegeler and a friend traveled to Vietnam on a WWOOFing trip (World Wide Opportunities on Organic Farms), where they volunteered in exchange for food and lodging. He then spent the summer freelancing, purposely keeping his options open as he searches for work that not only stimulates him, but also solves problems and has a beneficial impact on society.
The New Media Program
The new media program at Purchase is an interdisciplinary exploration and experience of art, intellect, and technology—a way to consider,
question, and create messages with purpose, essentially turning out the next generation of thinkers who make messages, and message-makers who think. It's an art-based program intentionally housed in the School of Liberal Arts and Sciences—a program of study meant to integrate art, technology, and the intellectual experience of the liberal arts and sciences.
---
 This story originally appeared in the Spring 2015 issue of PURCHASE magazine and was edited for use on the website.