Students Immersed in the Ever Expanding World of Beyond-Live Theatre
"The Live Performance and Interactive Media" summer workshop is organized by Professor of Acting David Bassuk.
Professor of Acting David Bassuk was already exploring beyond-live theatre environments with his students. Then the pandemic hit.
What might have been considered the cutting edge just four months ago has been propelled into the main stream by the ever familiar need to social distance.
"Previous to the pandemic, I'd been teaching students to extend their work in theater beyond the boundaries of the stage," Bassuk explains. "I had been lecturing on transmedia storytelling and immersive theater and the use of audience centered playable stories that employ gameplay and location-based events."
This summer, 42 students and some recent alumni are participating in "Live Performance and Interactive Media Workshop," a series of online sessions organized by Bassuk featuring a slate of leading thinkers and practitioners in the fields of immersive technologies, transmedia storytelling, gaming, augmented and virtual realities, and more.
From programs across the college, including acting, theatre and performance, theatre design/tech, playwriting and screenwriting, film, arts management, and dance and psychology, students are spending six days immersed in dialogues and mini-workshops as they explore the possibilities in digital storytelling.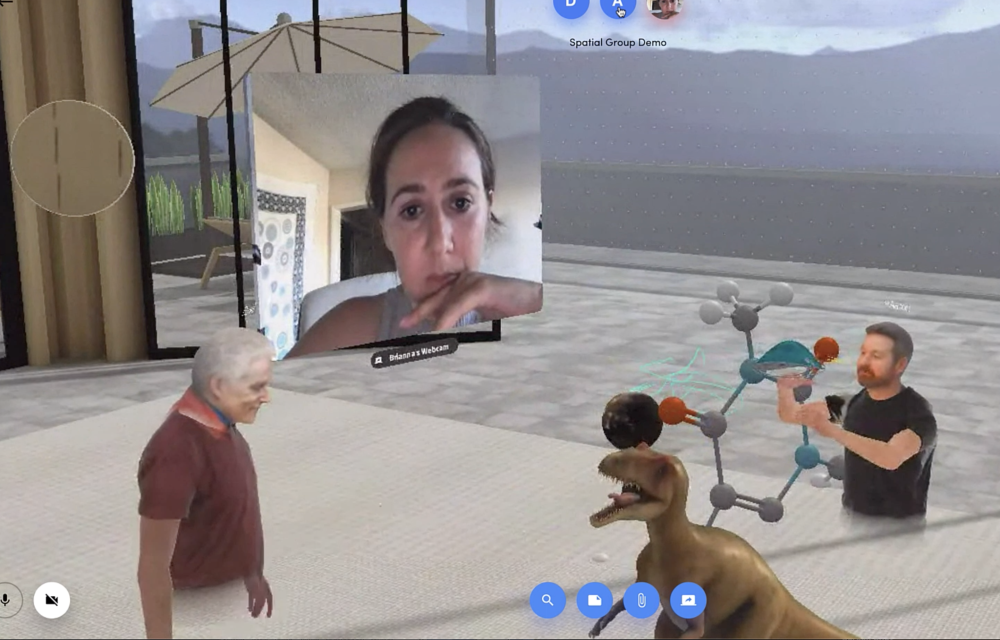 As emerging content creators, students may be overwhelmed by the number of platforms and applications available to them. "Theater students like many others have only begun to realize what creative tools are available to them," Bassuk writes. "The workshop has been created to help address this gap offering students the perspectives and tools that will motivate them to share with audiences in new ways."
The students are responding enthusiastically. "I'm not even exaggerating when I say I think what I've learned in this workshop is going to change the trajectory of what I do when I graduate!" says Adrianna Jurek, a rising senior in the playwriting and screenwriting program.
The pandemic may have accelerated its progress, but the notion of theater beyond the stage will serve audiences and creators beyond a return to "normalcy."
"Receptivity to online creativity has gotten a boost. After COVID, students will be able to leverage these skills to extend projects and better gather their audiences," says Bassuk.
"The key question would be 'How do we adapt and transform our practice effectively for the audience and satisfactorily for ourselves and our collaborators in a post-live performance environment?' The answer is that ironically at this very moment, a new paradigm is emerging for performance with a set of technologies that extend live experience with a playful and interactive toolbox making remote performance possible."

Workshop Guests
Peter Droste
Experience designer
Farouz Gipson
Nonchalance, screenwriter and designer
Beck Stewart
Tech Educator, Adobe Education Leader, Immersive Artist and 360 Filmmaker
Divine Bradley
Creative consultant
Belén Santa-Olalla
Transmedia storyteller
Kristina Atanasoski
Narrative and systems designer
Paisley Smith
Virtual reality director and producer
Rachel Joy Victor
Interactive storyteller and transmedia and immersive experience writer and producer
Lara Bucarey
Founder of Trebuchat and creative producer
Simon Wilkinson
Immersive artist, curator, and educator
Myra Appannah
Scriptwriter, producer, and director of immersive experiences
Illya Szilak
Interactive storyteller
James Seager
Actor, creative director, and producer
Vincent Brunet-Dupont
Entrepreneur, virtual reality and award-winning game designer
Anna Herbert
Founder and CEO of Riedeux, virtual reality content distributor
Demian Licthenstein
Producer, director, and writer in video and video games
Callie Holderman
Creative technologist, Magic Leap