Holly Williams '15 is On the Road and Off the Grid
Holly Williams '15 (graphic design) never met a power tool she didn't like. And that is a good thing, because cordless drills, air chisels, and circular saws were her faithful companions throughout an ambitious project she launched last spring: transforming a vintage yellow school bus into a tiny home and traveling art studio. 
"I've always been a very mobile person, moving from place to place and seeking adventures in the woods," says Williams, a printmaker who received a BFA from the School of Art+Design and whose website, Pine Barren Press, features striking abstracts of ferocious wolves, barn owls, and wild turkeys. 
"As an artist, I am inspired by interactions with the natural world," she said. "And what better way to satisfy my craving for both exploration and creativity than by building a traveling studio space?" 
After an exhaustive search for a suitable vehicle, Williams purchased a 2000 Blue Bird model school bus she found on eBay for $3,000. The 29-foot vehicle she'd name "Wander" was the perfect size. With crowbar in hand, 
she began gutting it out, and the 148 square feet of raw space would soon be completely reimagined.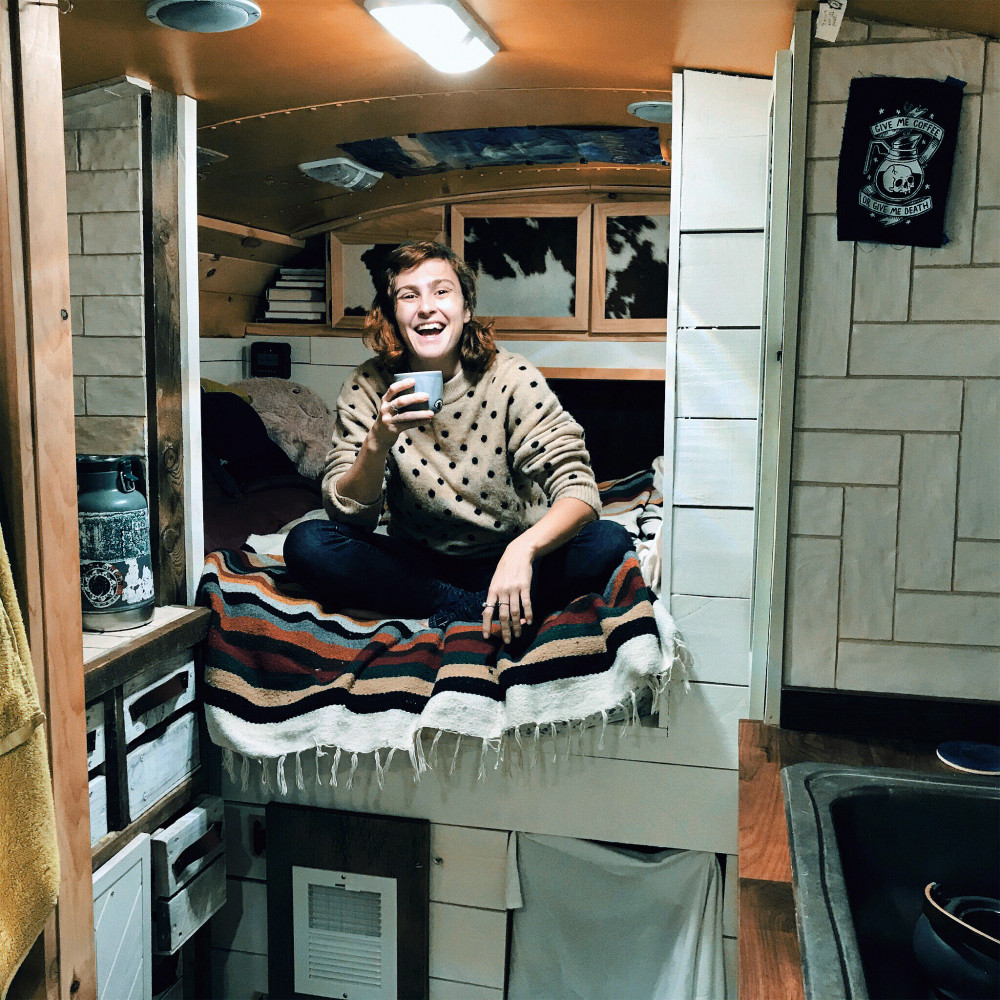 Wander
Tiny homes—measuring anywhere from 100 to 400 square feet—are not new, nor is the notion of a home on wheels. But Williams' concept of flipping a school bus into a compact rolling domicile and studio all-in-one is unique. But why convert a bus, rather than an RV or a truck? 
"For the size of the vehicle it was considerably cheap," she said. "It has tons of natural light from all of the windows, and once completely gutted, the bus left me with a blank slate to customize a floorplan for a 100 percent livable, mobile, off-grid studio space."
Parked on her family's farm on Long Island's North Fork, Wander underwent a meticulous six-month renovation that would require vision, craftsmanship, tenacity, and resourcefulness. 
"One of the challenges of building the bus was teaching myself how to do almost everything. There was a lot of research and a lot of trial and error." Williams's father and friends pitched in, she says, "but 95 percent of everything I did was on my own." 
Williams credits the flexibility of the visual arts program, which allowed her to enroll in courses outside of her specific concentration, as a large and empowering influence on the success of this wanderlust project. 
"As a graphic designer, I was able to take printmaking and sculpture classes. This made me feel like I was capable of anything once I put my mind to it. I also developed lasting relationships with fellow classmates, who were a big source of support. They were incredibly motivating when I told them what I wanted to do with the bus. Some of them even helped with the build."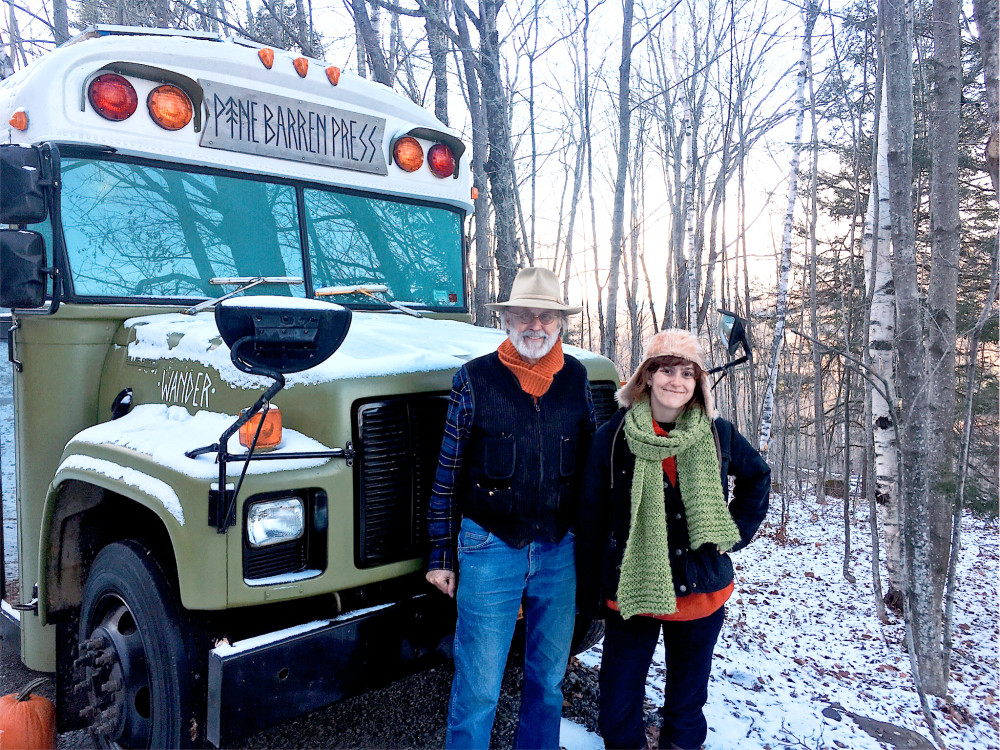 Off the Grid
Living "off the grid"—a self-sufficient, autonomous lifestyle in which participants are untethered to municipal services like water, sewer, gas, or electrical power—has gained popularity. An estimated 180,000 families in the U.S. embrace its philosophy. 
"Existing in a small space with limited resources makes you consider the amount that you are constantly using," said Williams. "I take up less space because the bus was built to be eco-friendly. It has solar 
panels, a composting toilet, and composting worms for kitchen scraps. I'm being very considerate of what I am using and why. I use much less water than if I were living in a house, since the amount on the bus is finite," she says. "I come from a very eco-conscious family, so it isn't too much of an adjustment for me." 
Such a minimalist lifestyle is a far cry from Williams' former job as an assistant at an upscale interior design studio near the Hamptons that caters to the whims of the wealthy with embellishments like ostrich leather and stingray skin wall covering. Leaving nothing to waste, Williams saved and repurposed cowhide and leather remnants to add some flare to Wander's cabinets, handles, and shelves. Other amenities she installed include custom tile and woodwork, a skylight, and a mud room separating the front end from the living area.
Williams posted photos of her progress and daily musings on her Instagram blog, BusGoblin. It has more than 4,000 followers, including fellow school bus converters, known as "skoolies," who swap construction tips. 
Last fall, Williams and Wander were parked near the Catskills studio of Leonard Seastone, assistant professor of art+design, who nurtured Williams' love of the printmaking process. There she completed a printing and typesetting apprenticeship and got back to the business of creating. After all, she says, "I'm an artist. I make things." 
---
—Deborah Anders 
---
Holly Williams '15 Bus Called Wander