Sophomores Andres Hernandez- Rodriguez and Brian Farez Win StartUp Purchase
They'll receive $5,000 for finishing first in the Third Annual Startup Pitching Competition.
Third Annual Startup Pitching Competition Encourages Student Entrepreneurs
Last Wednesday, December 4, Purchase College and its partner Ethos took a page from reality television when they presented their own Startup Pitching Competition, modeled on the popular ABC show Shark Tank.
Now in its third year, the competition gave students the opportunity to pitch their business ideas to entrepreneurs and investors.
This year's grand prize went to sophomores Andres Hernandez-Rodriguez (liberal arts) and Brian Farez (undeclared) for their on-site mobile car washing and detailing service company, Tri-State Mobile Wash. The duo was awarded $5,000 for their idea.
Second place went to seniors Nyla Lawlor (communications) and Finbar Stuart (economics and journalism) for SPABOX, a monthly subscription service offering curated organic and luxurious bath products. The project received $1,000.
Turning Ideas Into Startups
The contest is the culmination of a popular course entitled "Entrepreneurship and Finance: Turning Ideas into Startups," taught by Professor Palagashvili and Vadim Revzin, an entrepreneur-in-residence with Ethos. 
A panel of judges and audience members determined the winners who received a grant of up to $6,000 for their business pursuits.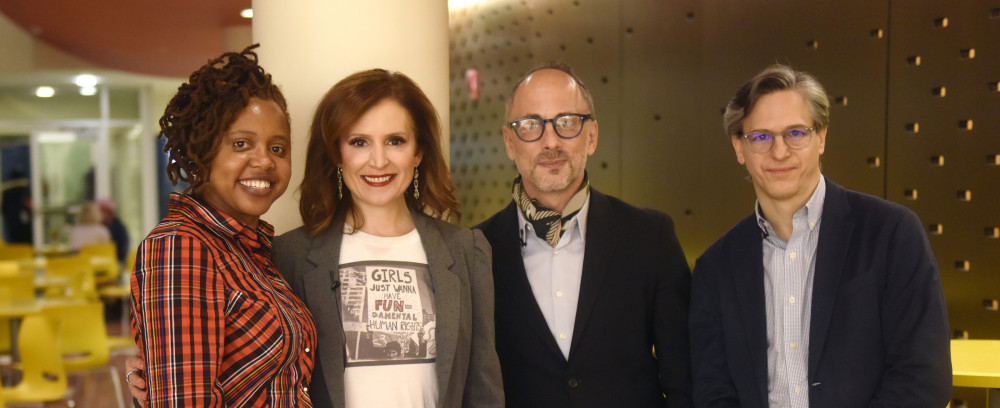 Credit: Tyler Sizemore
"I'm happy that the Purchase faculty supports upcoming entrepreneurs. I'm thankful we won, but more importantly I'm thankful for all the support we have received along the way, from our peers and our school," says Hernandez-Rodriguez. "We look forward to spending the money wisely and watching our company grow in the process."
The "sharks" were a diverse group of entrepreneurs who provided invaluable feedback after each student presentation. Among them were:
The contest is part of the Startup Purchase program, initiated and underwritten by the Dr. E. Lawrence Deckinger Family Foundation and its Executive Director, Nancy Deckinger and spearheaded by Assistant Professor of Economics Liya Palagashvili.
"It's so incredible that our Purchase students can have this opportunity to take the entrepreneurship course and to have the resources, mentorship, and seed capital to bring their ideas into fruition," says Palagashvili.
Deckinger hopes her donations help start many new businesses. "I want to be a catalyst for students starting their professional lives," she says.
---
Startup Purchase
The Startup Purchase program offers courses, mentors, resources, and funding opportunities for student entrepreneurs.
Through Startup Purchase, the college has been partnering with Ethos (formerly GenFKD), a non-profit designed to increase young Americans' understanding of financial literacy, entrepreneurship, and the skills necessary for careers in the new economy. "Entrepreneurship and Finance: Turning Ideas into Startups"focuses on entrepreneurship and career-readiness through an intensive curriculum developed by Ethos that included storytelling, networking, data analysis, budgeting and finance, pitching, leadership, negotiation strategies, taxes, and regulation.
The Dr. E. Lawrence Deckinger Family Foundation
Since 2011, the Foundation has established a number of programs in both Journalism and Economics. First, the Foundation launched the only undergraduate Investigative Reporting course in the entire SUNY system. Thanks to the Foundation's continued generosity, this class has become a mainstay of the Journalism Program. The Foundation has increased and expanded its support to include, among other things, the establishment of the Journalism Internship Fund, the Journalism Story Contest, and the Economics Essay Contest, and special guest speakers.
---
Economics Startup Purchase "Shark Tank" Competition 2019