Did you know transportation accounts for 35% of New York's carbon footprint? Green commuting is an impactful action!
Transportation represents the largest source of New York State's greenhouse gas emissions and also the largest part of most New Yorker's personal carbon footprint as well. This is why it is critically important that we all lower our emissions from transportation so that we can help meet our greenhouse gas emission reduction goals (a 40% reduction by 2030 and 80% by 2050).  By using a more sustainable mode of transportation, you'll be joining thousands of fellow New Yorkers in not only directly improving our environment but you may also discover that sustainable transportation is a great option for your commute.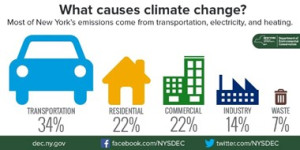 NYS has several state-sponsored programs to help citizens participate in green commuting such as 511NYRideshare. 511NY Rideshare helps users find easy, affordable and sustainable alternatives to driving alone. Their ride-matching services help users form/join carpools, and with a guaranteed ride home program in case of emergencies. The more users our campus has, the more opportunities for sustainable transit!
To find carpool colleagues/classmates register on 511NYRideshare. 
To find detailed routes for public transportation options near you, visit 511NY.