Students Place Art in Vacant Spaces
Graphic designers enhance vacant storefronts in White Plains.
For the fourth year in a row, the School of the Arts has collaborated with the White Plains BID (Business Improvement District) to exhibit Art in Vacant Spaces, an innovative art project in empty storefronts in downtown White Plains.
First launched in 2015, the project was created to improve the visual appearance of several vacant storefronts, thereby enhancing the overall ambiance and pedestrian experience in the downtown.
This year, as in the last three years, Professor Warren Lehrer worked with his Community Design class to populate the storefronts with visual poetry as part of their work for the semester, which focuses on pro-bono work to better the community. Eight students worked together to transform six vacant storefronts on South Broadway.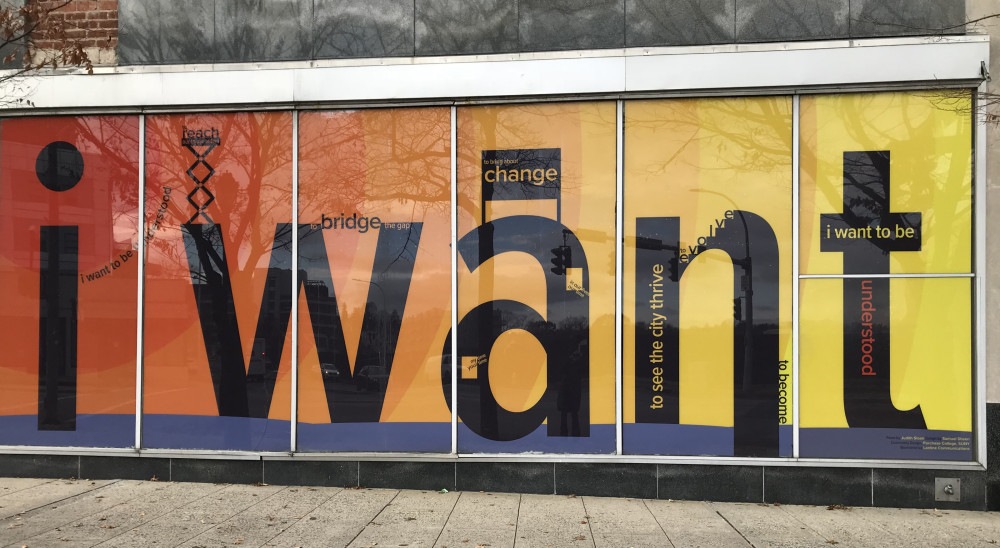 The work is inspired by poems by award-winning writer/actor Judith Sloan. Sloan interviewed several downtown stakeholders regarding their perceptions and feelings about White Plains (and the world), which gave rise to several themes and phases to guide the students' work.
The Art in Vacant Spaces installations will be on display for three months or until the individual properties are rented.
"The art that students came up with this year featured typography as landscape and as metaphoric expression of interconnectedness; windows were used as frames of a comic strip; paper dolls were photographed and recast as monumental yet familiar figures; and drawings depicting three generations of clothes and tools illuminated a handwritten setting of a poem about working," says Lehrer. 
Lehrer received a 2017 Design Educators Award for the White Plains Storefront project from Design Incubation, a national organization that fosters dialogue between design educators, and grants awards for excellence in teaching and research. 
The White Plains Storefront Project was one of several projects the Community Design class worked on this semester.  Other projects included billboards for the For Freedoms 50 State Billboard Campaign, which uses art and advertising to encourage civic engagement. The students also worked on banners for American Riad, an award-winning community art project in Detroit spearheaded by the Ghana Think Tank.
The White Plains BID appreciates the City of White Plains and West-Ex Associates for their support, and for the generous sponsorship from LANline. The project is also supported by the Eugene & Emily Grant Faculty Incentive Fund. 
Art In Vacant Spaces 2018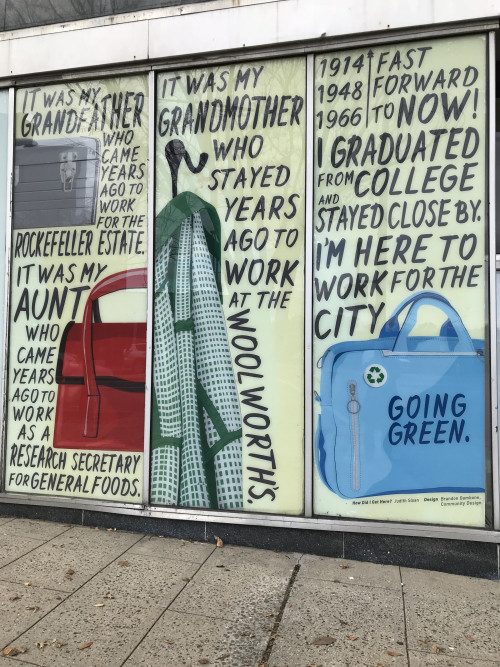 Art in Vacant Spaces 2018, an innovative art project in empty storefronts in downtown White Plains, features the work of eight students in Professor Warren Lehrer's Community Design Class.
For more information and to download a free audio tour, visit White Plains BID online.