Zaire Anderson '19 is Superhero for the Summer
She and her Art Force 5 team promote "creativity over conflict."
Zaire Anderson '19 (printmaking) is spending her summer incognito as Graphite—a non-violent superhero who promotes "creativity over conflict" as part of the Art Force 5 summer residency program founded by Alfred University.
For the first time, Alfred partnered with the State University of New York to build a statewide team of SUNY superheroes for a New York City summer program based on Governor's Island.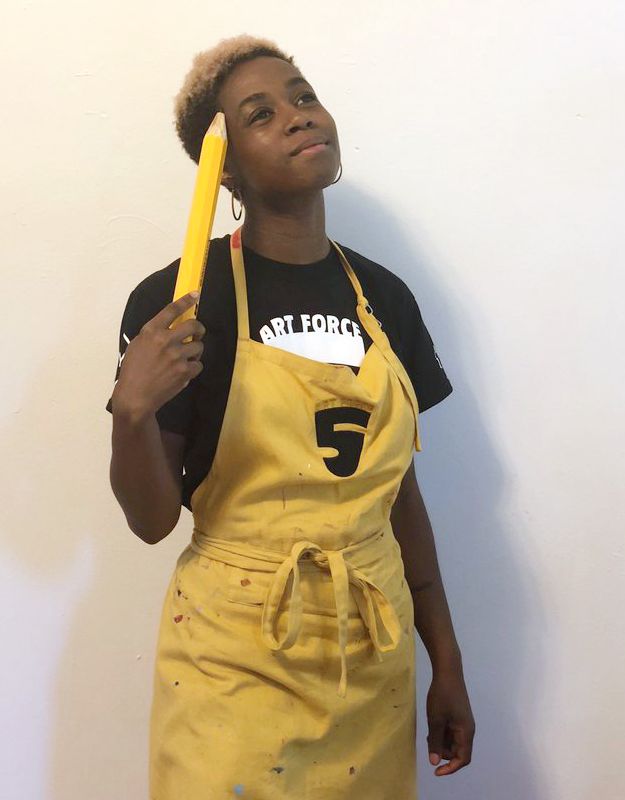 Zaire Anderson '19 part of the Art Force 5
Since May 17 and through August 12, Thursdays through Sundays, Anderson and the team provide free activities including superhero figure and cape making and a Drawn to Diversity comic book project among others, to encourage "the importance of embracing creativity as an alternative to conflict." 
On July 20 and 21, the Art Force 5 will travel to Women's Rights National Historical Park in Seneca Falls, NY to honor abolitionist, reformer, and women's rights advocate Lucretia Mott during the 170th anniversary Convention Days. More than two hundred people will be painting ceramic tiles that will be part of a larger portrait.
Later this month they'll be back on Governor's Island painting tiles to create a mosaic honoring poet Joyce Kilmer during the Poetry Festival July 28–30.
Graphite is joined by 3D the Sculptor (Michael Perez, SUNY Morrisville);
Brushstroke (Alison Garcia, University of Buffalo); Runway (Imani Graves, New York State College of Ceramics at Alfred University); and Zoom (Marvin Brown, Tompkins Cortland Community College).