Senior Wins First Annual Startup Pitching Competition
Contest was culmination of the economics class Entrepreneurship and Finance: Turning Ideas Into Startups.
Sheldon "Max" Pearce '18 (economics) recently won first prize in the first annual Purchase College Startup Pitching Competition, modeled on the popular ABC show Shark Tank. The contest was part of assistant professor of economics Liya Palagashvili's class Entrepreneurship and Finance: Turning Ideas Into Startups.
Pearce is founder of Flynance, a startup organization that helps young athletes navigate the complex world of collegiate and professional sports while learning basic pocketbook economics. Pearce received the $5,000 award from Palagashvili along with his co-founder Derick Ansah '17 (economics).
The grant award was facilitated by GenFKD, a not-for-profit organization designed to increase young Americans' understanding of financial literacy, entrepreneurship, and the skills necessary for careers in the new economy. The organization aims to help young adults better understand the new economy and provide better outcomes for students after graduation.
The second place award of $2,000 was presented to Liam Nethercott '18 (economics) for a campus food delivery service concept, SUNY Purchase Delivers.
The audience also gave an honorable mention to Danellys Wong '18 (media studies) and Justin Hess '18 (new media), co-founders of IRL, a collaborative platform for under-represented artists.
The "sharks" were a diverse group of entrepreneurs who provided invaluable feedback after each student presentation. Among them were:
Danny Nardo, co-founder of Nardo's Naturals (who received an investment from Barbara Corcoran on ABC's "Shark Tank")
Joe Bayen, an experienced entrepreneur and founder of Lenny Credit
David Liu, of the XO Group Inc. (formerly The Knot)
Sarah Hill, CEO of Bookstr
Courtney Cachet, television personality and celebrity designer
Nick Ohnell, philanthropist and founder of Ohnell Capital (founder and former CEO of Communications Supply Corp)
Justin Dent, executive director, GenFKD
The Purchase Startup Pitching Competition and the Entrepreneurship Class were made possible by a generous donation from Nancy Deckinger.
Economics Shark Tank 2017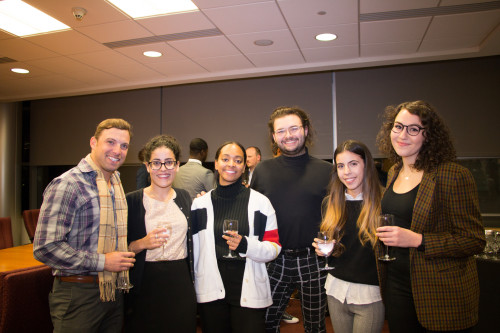 The first annual Purchase College Startup Pitching Competition.