Purchase Makes Selective Fiske Guide for 2018
Cites strength in academics, arts and culture, social life, financial aid, to name a few.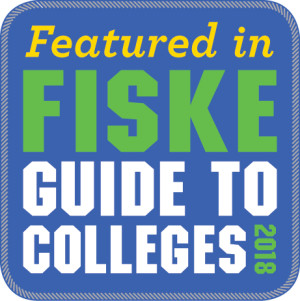 The Fiske Guide to Colleges 2018 has selected Purchase for its 2018 edition based on the college's strength in academics, arts and culture, social life, financial aid, campus environment, extracurricular activities, and more.
The highly selective guide, compiled by former New York Times education editor Edward B. Fiske, includes more than 300 colleges and universities out of several thousand higher education institutions in the U.S.
According to the guide, Purchase has an…
"academic environment that provides a strong sense of community and support, yet celebrates individuals for their unique talents and contributions."
Quoting a literature major, the guide says:
"There's a raw energy that exists on campus—in the students and professors—that I don't think many colleges have."
"We're pleased that once again Purchase has been nationally recognized for its commitment to academic excellence and for its engaged faculty and student body," says President Thomas J. Schwarz.
"We remain dedicated to providing the highest quality education in the liberal arts, sciences, and performing and visual arts. We are proud to provide an affordable and accessible experience, while nurturing the creative process and open-minded exploration that are the hallmarks of a Purchase education."
The Fiske Guide
The Fiske Guide to Colleges, which has been published for more than 30 years, provides a subjective and systematic look at colleges, giving readers the real personality of the institutions based on a wide range of subjects.
Research, accompanied by testimonials from students, offers helpful and honest information about academic climates and courses.
Among Others
In addition to the Fiske recognition, Purchase has recently been included on other significant college ranking lists.
U.S. News & World Report named Purchase one of the top liberal arts colleges.
The Princeton Review named Purchase College in its Best 381 Colleges, 2017 Edition, which praised Purchase's faculty members who "bring the material [to] life and take learning outside the classroom," in addition to its "artsy, unique, passionate, intelligent," student body.
Kiplinger's Personal Finance named Purchase College to its 2017 list of "Top 100 Best Values in Public Colleges."