Ivan Forde '12 Awarded Prestigious Fellowship
The Paul & Daisy Soros Fellowship for New Americans recognizes immigrants and the children of immigrants.
Ivan Forde '12 (Literature) is one of 30 students to receive a 2017 fellowship from The Paul & Daisy Soros Fellowships for New Americans, a premier graduate school fellowship for outstanding immigrants and children of immigrants in the United States.
Forde is the first graduate of Purchase College to receive the fellowship, and he joins the prestigious community of recipients from past years, which includes US Surgeon General Vivek Murthy, Chief Scientist of Artificial Intelligence at Google Cloud Fei-Fei Li, Lieutenant Governor of Washington Cyrus Habib, leading American Civil Liberties Union attorney Nusrat Choudhury, award-winning writer Kao Kalia Yang, and nearly 600 other new American leaders.
Born in Guyana, Ivan Forde was two years old when his mother immigrated alone to the United States so that she could better support her family. Growing up in Harlem, he made collages as gifts for his mother, who struggled to support her children and help them adjust while working two jobs. 
During high school, Ivan's sister recognized his artistic curiosity and gave him a camera. Soon he began capturing his family, friends, and neighborhood in photographs. A career in art became tangible after working with highly accomplished artists and curators on his first group exhibition at the Studio Museum in Harlem.
At Purchase, Forde immersed himself in classic poetry to become a stronger reader, earning a bachelor's degree in literature with an award-winning thesis of self-portraits representing the reader of Paradise Lost.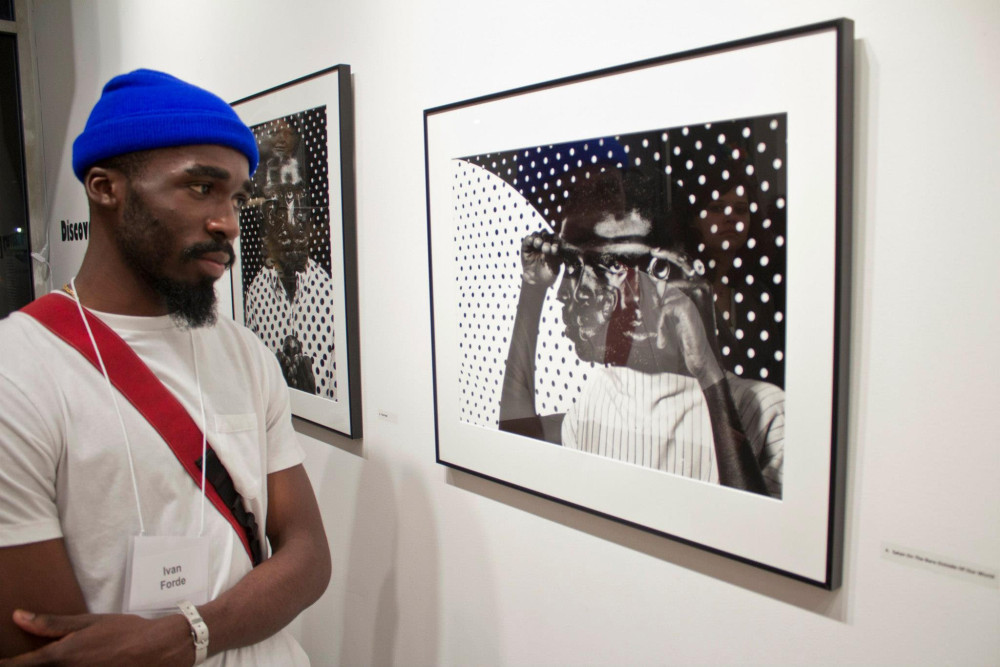 Ivan Forde '12 with his senior project
After graduation, he returned to the Studio Museum, among other nonprofit spaces, where he worked with immigrant and first-generation students using photography, literature, and technology to visualize their stories.
"My time at Purchase as an EOP fellow was very significant to my current path. What stands out the most is the interdisciplinary creative community. Although I was a literature major I had a lot of friends in dance, film, music, and visual art who would help me/give me access to facilities and provide opportunities to sharpen my photography skills along side my more formal literary studies. These experiences and conversations shaped my understanding of poetry as a visual art and led to incorporating photographs into my senior project thesis based on Paradise Lost," Forde says. 
Forde's work has been recognized by the New York Times, the Whitney Museum, Pioneer Works, Vermont Studio Center, and the Lower East Side Printshop.
Now pursuing an MFA in visual arts at the Columbia University School of the Arts, he is using printmaking, electronic media, and sound installation on a range of projects, such as illuminating the exciting new chapter of the Epic of Gilgamesh uncovered in December 2015. After his training, Forde hopes to reveal multiplicity and diversity in epic poetry through an immersive exhibition practice.  
Purchase College President Thomas J. Schwarz says, "We congratulate Ivan on this prestigious award. He is a shining example of the benefits of the interdisciplinary exploration that is part of the college's mission. We look forward to continuing to celebrate his success as an artist and a scholar."
Each of the recipients was chosen for their potential to make significant contributions to U.S. society, culture, or their academic field. The recipients are awarded up to $90,000 in funding for the graduate program of their choice.
"At a time when the national conversation seems to be on what immigrants are taking away, we are putting the spotlight on what immigrants from diverse backgrounds contribute to the United States," said Craig Harwood, who directs the Fellowship program.