2017. SPECIES DIVERSITY WITHIN THE UNIVERSITY: SITTING DOWN WITH JESSICA LAU AND LUZ MEDINA.
December 07, 2017
Open gallery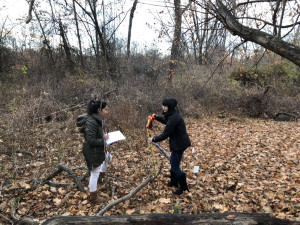 By: Matthew Garafalo, Jon Matkowski, and Camille Rosiello
TWEET: EDGE HABITATS DECREASE SPECIES RICHNESS AND DIVERSITY! IF YOU WANT YOUR FOREST FRIENDS TO LIVE, HELP STOP FOREST #FRAGMENTATION! ​
A recent study done on the Purchase College campus highlights an environmental issue that we see on a daily basis, but rarely ever consider – habitat fragmentation. Habitat fragmentation occurs when a road is built, or a soccer field is cleared, resulting in a loss of habitat for both plants and animals.
​When a habitat is fragmented, edge habitat is created; associated with edge habitat, are a number of effects that are not seen within an intact forest. Areas located deeper within fragmented habitat, or interior habitats, are less impacted by edge effects and have higher total plant diversity, species richness and have more shrubs and bushes present. Older, taller trees typically reside in interior habitats rather than edge. Consistent with their findings, overall plant density was higher within interior habitats. Future management projects should be made based on the composition of the individual habitat fragment.

If any future researchers are looking to continue this study Jessica and Luz suggest that a larger sample size is used, and a more accurate method for measuring biomass.