2017. NITRATE RUNOFF IN THE LONG ISLAND SOUND SUCKS YO
December 07, 2017
Open gallery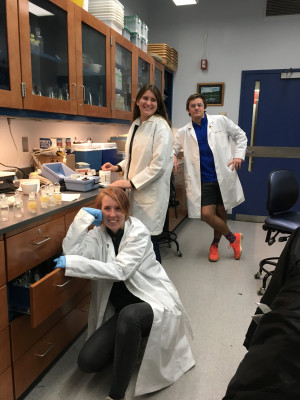 By: Georgie Humphries, Isabella Wrobel, and Daniel Demopoulos
TWEET: DEDICATED THREESOME RESEARCHES LOCAL WATER QUALITY/NITRATE LEVELS TO FIND OUT IF WE GONE DIE OR NOT. THEY CONCLUDED THAT WE NOT GONE DIE!
This dedicated threesome (Alex, Brian, and Sam) researched water quality (specifically nitrate levels) in Blind Brook running into the Long Island Sound. They were like "I think the nitrate levels are really gunna suck in Blind Brook."

​But guess what, it wasn't. There wasn't a substantial amount of nitrate to be concerned about.
But they did find that pollution levels increased after it rained, which would be bad for the fishies and water quality. But the pollution did hit it and quit it by running into the Long Island real quick. They researched six sites around the same time of day for three days and found that during the dry days, nitrate levels were low and were higher during the last day it rained and nitrate levels were higher. They found this research important because without good quality water, everyone die.