2017. EVEN INVASIVES CAN BE INVADED
December 06, 2017
Open gallery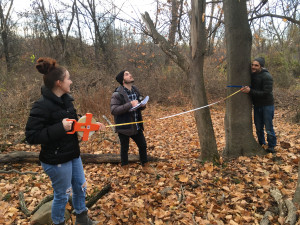 By: Jessica Lau and Luz Medina
TWEET: INVASIVE NORWAY MAPLES IN EDGE FOREST HABITATS HAVE A HIGHER SEVERITY OF BLACK TAR FUNGUS INFECTION THAN THOSE IN INTERIOR HABITATS. BLACK TAR INFECTION SEVERITY ALSO INCREASES WHEN THERE IS LESS TREE DIVERSITY.
Ever wonder what those weird little black spots on your Norway maple leaves are? They're a fungus called Rhytisma acerinum, or black tar, and they can damage your Norway maples if they're not taken care of. Black tar can spread quickly if you plant your Norway maples too close to each other in one area or if you don't clear the fallen leaves around it regularly enough during the fall, so make sure you do a good job with your landscaping. You can also plant any other kind of tree along with your Norway maples since they can't get infected with black tar, so you can even make your yard look more interesting this way.
Next time you are about to go into the woods, notice how the first Norway maples you see have more black tar than the ones farther into the woods. You could try to plant your Norway maples similarly to the ones with less black tar in order to ensure they can be healthier.