Develop your technical and aesthetic skills in digital photography!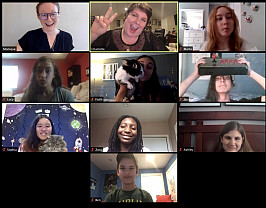 "The instructors engaged every student, challenged them and made it such a great experience."

"It was interactive and my daughter learned so much."

"Literally saved summer!"
Grades 9-12
The history of photography is filled with photographers using what they have and finding creative solutions to challenging situations. Photography is a wonderful creative tool to work digitally and independently. Join our virtual workshop as we use the camera to find new ways of seeing and reflecting personal experience.
The Photography Workshop focus is on-camera techniques, the use of computer software for enhancing images, and refining editing techniques to share your personal vision. Learn about issues in contemporary photography such as how to talk about your work and organize digital files.
Both experienced and inexperienced photographers are welcome. The instructor will help students build a digital portfolio and offer constructive critiques. Students will present a virtual exhibition of their work at the end of the course.
Students will receive live instruction from an experienced photographer and educator, which will include group discussions, developing a digital portfolio/website which can be used in college applications, and activities that can be completed at home. 
This program will allow students to meet other creative teens and share their work, all while improving their photography and digital communication skills. Class will culminate with a final online exhibition that family and friends are invited to join.
Coronatography -
Summer 2020 Precollege Photography Workshop Exhibition
Youth and Precollege Registration Form
Virtual Program Details
YTH 9337 PHOTOGRAPHY WORKSHOP
October 6 – November 24
Tuesdays, 4:00 – 6:00 pm (7 virtual sessions) No class Nov. 3, Election Day
$320 for the first registration
$295 for the second registration in the family, Purchase College employees and alumni, and early registrations (received by September 25, 2020)
Supply List:
Students must supply their own digital camera (DSLR or mirrorless)*

Adobe Creative Cloud (Photoshop & Bridge) - You can purchase your own home subscription through

 

E-Academy

 

for $19.99 a month.*

Computer, Internet connection

Optional: External hard drive (recommended to store image work files)
* Note :
Alternatives may be used. Please confirm suitability with the instructor before class starts.
Instructor