Directed by Nahiem Paris
Cast
Loureen | Sydney Lynch
Florence | Kay Carrington
Samuel | Nahiem Paris
Content Advisory
Flashing lights and loud sounds.
Director's Note
When Sydney came to me with the offer of directing for her senior project, I was very thrilled to touch on my first production as a director. After being a part of the theater and performance program at purchase, it helped me get diverse training in theater and show how theater artists can make a career in theater. After directing I with Rachel Dickstein, it inspired me to get more work on stage that shows my purpose of being a part of theater. My purpose of being in theater is to provide messages across to a variety of audiences that show BIPOC and how we're more capable of being a part of productions that don't always have the need to focus on black traumatic experiences in America.

Poof! by Lynn Nottage being the production Kay and Sydney wanted to produce as their senior project was perfect! Not only was the cast already set, but this production and the reason why poof was written gave me a chance to take my first steps of achieving my goals in theater.

This production gives a comical message to women about domestic violence and how to overcome those obstacles with their own power. We show you this production to take away the thought about black people only being casted when the story concerns black trauma.

Thank you, Nahiem Paris
Creative Team Profiles
Sydney Lynch
Senior - Theatre & Performance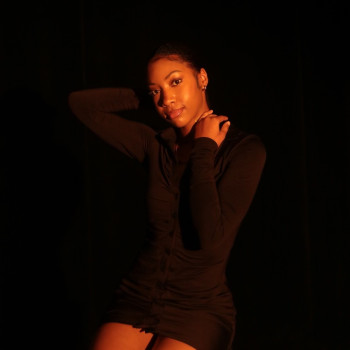 Sydney Lynch is a fourth-year student in the theatre and performance program from Memphis, TN. Her previous acting credit at Purchase college was playing Elissa in Some Other Kid of Spring 2022. Sydney would like to praise her mom and family for all the extreme support they have given her. She would also like to thank all the talented people she has met and been able to with at Purchase who inspire her.


Kay Carrington
Senior - Theatre & Performance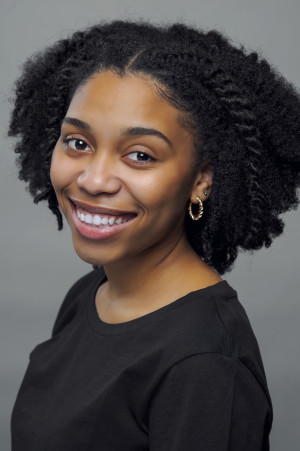 Kay Carrington is a senior in the Theatre and Performance program. This will be Kay's first performance at Purchase College. Kay would like to give special thanks to their mom for raising them to be the person they are today.
Director Profile
Nahiem Paris
Senior- Theatre & Performance and Arts Management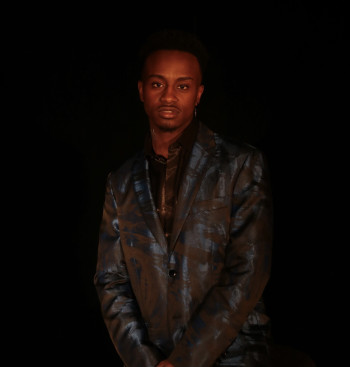 Nahiem Paris is a fourth year student in theatre & performance with a double major in arts management from Buffalo, New York. His previous acting credits in purchase include Purgatorio wonderland as child 3/Old man Spring 2021, Framed as Mr.Emerald Fall 2021, and We are proud to present… as Actor 2/Black man Spring 2022. Nahiem would like to thank Sydney And Kay for giving him this opportunity of directing and also to all his friends and family who has supported his journey at purchase College.
About the Conservatory of Theatre Arts
In our teaching and art, the Conservatory values inclusiveness, equality, and excellence. Upholding all of our training is our aim to train and graduate citizen artists: multifaceted people with a strong sense of purpose in approaching an arts education.
What is a citizen artist? Citizen artists seek to discover how their unique voices can contribute to our world. They understand what it means to be an artist, and what they are here on earth to say and do and make.
The Conservatory trains future citizen artists in three degree programs:
+ BFA Actor Training. The BFA is an intensive professional training program offered to a highly select and diverse group of students. The professional training is anchored in four years of study in acting, voice, speech, and movement, complemented by offerings in dramatic literature and analysis, history of the theatre, stage combat, improvisation, mask work, acting for the camera, and the business of acting. As one of five schools in the Consortium of Professional Theatre Training Programs, Purchase is one of a handful of colleges in the world capable of training artists at this level—and of drawing a faculty from the ranks of professional theatre
+ BFA in Theatre Design/Technology. Emphasizing studio and classroom training, our professional training program in theatre design/technology gives students the guidance and support of established and theatre industry professionals. Many of our alumni are recognized at the top of their field, and have received Tony, Emmy, Obie, and Drama Desk Awards, among other honors. Quite literally, Purchase grads are working in or have worked in every theatre on Broadway, in all tristate venues, and with countless touring productions
+ BA program in Theatre and Performance. From traditional theatre to cutting-edge interdisciplinary work, the theatre and performance major encourages creativity, intellectual curiosity, social engagement, and critical thinking. The core requirements combine scholarship and practice to provide students with a strong foundation in theatre history and dramatic literature, with mandatory stagecraft/production courses. Theatre and Performance majors are encouraged to expand the scope of their education by studying abroad, as well as pursuing coursework in other programs of study within the School of Liberal Arts and Sciences at Purchase College