A Walrus in the Body of a Crocodile
by MJ Kaufman
directed by Sarah Hughes
featuring students in the Theatre and Performance BA and the Theatre Design/Technology BFA programs
Performed for a limited audience in the Performance Theatre, The Center for Film, Media, and Theatre, Purchase College, SUNY
Friday, October 8, 2021 @ 7:30pm
Saturday, October 9, 2021 @ 1:30 & 7:30pm
Wednesday, October 13, 2021 @ 7:30pm
Thursday, October 14, 2021 @ 7:30pm
Friday, October 15, 2021 @ 7:30pm
Saturday, October 16, 2021 @ 1:30 & 7:30pm

---
Cast:
Primary Track
Lillian Perez | 1
Joann Maxwell | 2
Michael Friary | 3/Teacher
Chris Padro | 4
Kaira Rivera | Carrie Bradshaw
Nicole Castillo | Swing
Secondary Track
Joann Maxwell | 1
Lillian Perez | 2
Kaira Rivera | 3/Teacher
Michael Friary | 4
Chris Padro | Carrie Bradshaw
Nicole Castillo | Swing
---
Creative & Production:
Assistant Director | Milan Castro she/her
Production SM | Stephanie Rhodes she/they
Stage Manager | Carly Friedman she/her
Asstistant Stage Manager | Bela Howard
Scenic Designer | Tifarah Melman she/her
Asst. Scenic Designer | Emily Mustillo she/her
Paint Charge | Peyton Fuchs she/her
Props Charge | Maitlyn Tamplin she/her
Lighting Designer | DJ Fralin he/him
Assistant Lighting Designer | Ben Free he/him
Master Electrician | Jeremy Burd he/him
Light Board Op | Zach Dulny he/him
Sound Designer | Peter Lopez he/him
Jack Bombard | A1
Technical Director | Meredith Young she/her
Production Carpenter | Becca Lambert she/her
Lead Technical Designer | Connor McGlone 
Lead Shop Carpenter | Sofia Lavion 
Costume Designer | Kim Hernandez she/her
Content Advisory
Strobe lighting will be used during the performance
Creative Team Profiles
Nicole Castillo (Nicki) is a third year theater and performance major originally from the Bronx, New York. Purchase credits include Purgatorio Wonderland (Child 3/Cat) along with some high school and TV credits. I'm sending love to my mom, my boyfriend, and my supportive family!
Milan Castro is a fourth year theatre and performance major originally from Brooklyn, New York. Milan's Purchase credits include: Dance Nation (AD), Springtime (Director), and Disgusting Is My Middle Name (Director). She'd like to thank her family, friends, and God for their endless support. She's forever grateful to the cast and crew of Walrus for giving their hearts, hard work, and energy to the show.
Dwayne "Dj" Fralin is a fourth year lighting designer from Washington, DC. Purchase credits include: A Walrus In the Body of a Crocodile, Misanthrope and The Colored Museum. Other credits include As The Sun Sets with Dow Dance Company. Many thanks to his family and everyone else who supports him!
Michael Friary is a third year theatre & performance major from Wappingers Falls, NY. This is his first time acting in a production at Purchase College and is so excited to perform! He would like to thank his close friends & family (Herbie, Laureen, & Terry) for the constant love and support and to the entire cast and crew of the show for the unrelenting support and the hard work each person put into this show. He would also like to extend a special thanks to his roommates; Jane, Aidan, & Nate for grounding him during the semester and for being such amazing and supportive friends.
Kim Hernández is a fourth year theatre & performance major specializing in makeup. They are from Brooklyn, New York. Purchase Credits include: directing & starring in Just a Ballad written by Leila Wilson. Other credits include Dracula (Lucy), Blood Brothers (Mrs. Lyons) Grease (Patty), A Chorus Line (Judy). 
Peter Lopez is a fourth year lighting designer from Brooklyn, NY. Purchase Rep credits include: The Last Days of Judas Iscariot (ALD), Marisol (ME), and A Bright Room Called Day (ME). Other credits include Purgatorio Wonderland (ALD). Much appreciation for his friends and family who've supported him along the way.
Joann Maxwell is a third year theater and performance, and playwriting/screenwriting major from Connecticut. Credits include The Three Sisters (Chebutykin), Into The Woods (Jacks mom),and Glass Menagerie (Tom). She gives many thanks to her friends that knew she could do it, family that supported her, and the cast and crew that made this experience one to remember.
Tifarah Melman is a fourth year scenic designer from NY/NJ. Purchase credits include Dialogues Des Carmelites (props charge) and Bibles and Candy (scenic charge). Other credits include Freely We Serve (production designer), and Sneaker Hustle (scenic charge). So many thanks and much love to my scenic team, Evan Adamson, and to my family and friends for their support!
Chris Padro is a fourth year BA actor from Larchmont, NY. Past credits include: Barefoot in the Park (Corie), The Wolves (#46), and Purgatorio Wonderland (Pilgrim). She would like to thank God, and her friends and family for all their support. Special thanks to the cast and crew for their amazing hard work, and to her beautiful girlfriend Lilly!
Lillian Perez is a third year theatre and performance major from Jamaica, Queens. Purchase credits include Lady Percy (Henry IV) and Zuzu (Dance Nation). Other credits include Ruby (Getting Out) and Siobhan (The Curious Incident of The Dog in The Nighttime). She would love to thank her amazing friends, family, and her girlfriend for always supporting her no matter what.
Stephanie Nicole Rhodes is a third year BFA stage manager from Long Island, New York. Stephanie's Purchase College credits include A Walrus in the Body of a Crocodile (Production Stage Manager) and Purgatorio Wonderland (Stage Manager). Stephanie has also worked on Love and Information (SUNY Potsdam, PSM), Theory of Relativity (SUNY Potsdam, Stagehand), Wiley and the Hairy Man (SUNY Potsdam, ASM), Senior Dance Concert 2019 (SUNY Potsdam, Light Board Op) Much Ado About Nothing (SUNY Potsdam, Dresser). They are very excited to be working on this phenomenal show! They would like to thank their amazing team especially Carly who always knew when they needed a hug as well as their amazing partner Max who could make them smile no matter what.
Kaira Rivera is a fourth year, double-major of playwriting/screenwriting and theatre and performance and a minor of sociology, from Manhattan, New York. Purchase credits include: a senior project We All Fall Down (Frieda). Other credits include: Machinal (Young Woman), Twelfth Night (Olivia), Sweat (Cynthia), and The Wrestling Season (Heather). Many thanks to my family for their unconditional support, friends I made along the way, and definitely the Walrus team for being the best people to work on this piece with!
Meredith Young is a fourth year technical director from Rushford, New York. Purchase credits include: Judas Iscariot (Production Carpenter), As You Like it (Lead Technical Designer), and Dialogue of the Carmelites (Lead Flyman). She would like to thank her best friend Abbie Perez and her twin sister, Sydney.
Playwright Profile
MJ Kaufman is a playwright and screenwriter from Portland, OR currently living in New York City. Their plays have been seen at the Public Theater, WP Theater, National Asian American Theater Company, Clubbed Thumb, Colt Coeur, Williamstown Theater Festival, InterAct Theater, Yale School of Drama and numerous other theaters and schools around the country as well as in Russian in Moscow and in Australia. Their work has been developed by the Lark Play Development Center, the Playwrights Realm, Page73 and New York Theater Workshop among others.
MJ received the 2017 Helen Merrill Emerging Writers Award, 2013 ASCAP Cole Porter Prize in Playwriting, the 2013 Global Age Project Prize, and the 2010 Jane Chambers Prize in Feminist Theatre. MJ has held residencies at the New Museum, MacDowell Colony, and SPACE on Ryder Farm and is currently a resident playwright at New Dramatists.
MJ has been a member of the Public Theater's Emerging Writers' Group, WP Theater Lab, a core playwright at InterAct Theatre and a playwriting fellow at the Huntington Theater. An alum of Wesleyan University and Yale School of Drama, MJ has taught playwriting at Fordham University, Wesleyan University, SUNY Purchase College, the University of the Arts and as a teaching fellow at Yale College.
MJ curated the 2016 and 2017 seasons of Trans Theater Fest at The Brick and, along with Kit Yan and Cece Suazo, founded Trans Lab Fellowship, a program to support emerging transgender theater artists.
MJ has also written for Netflix and is currently developing a project with Anonymous Content.
Find out about upcoming shows by joining MJ's mailing list at: https://tinyletter.com/mjkaufmanster 
Director Profile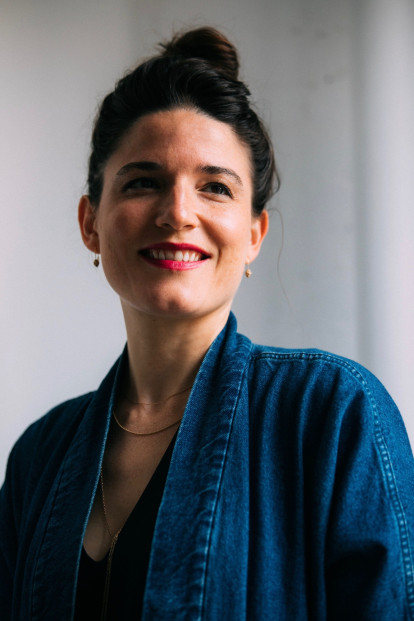 Credit: Jose AlvaradoSarah Hughes is a director, producer and parent based in NYC. She makes live performances of all kinds: new plays, VR pieces, devised work, virtual concerts, hybrid new media projects, and more. Recent collaborators include Julia May Jonas, MJ Kaufman, Julia Izumi, Pablo Helguera, Sunita Prasad, Eliza Bent, Zarina Shea, and Carl Holder, and her work has been programmed at The Bushwick Starr, Abrons Arts Center, and New Ohio, among others. As a producer she's developed pieces with artists & institutions such as Sibyl Kempson, MoMA, Half Straddle, Tribeca Film Festival, New York Theatre Workshop, and The New York Times. Sarah was a longtime company member with Elevator Repair Service, is an Affiliated Artist of New Georges and Target Margin Theater, and is an alum of the WP Theater Directors Lab, the O'Neill National Directors Fellowship, Clubbed Thumb's Directing Fellowship, and The Civilians' R&D Lab. She's taught at Dartmouth College & NYU, and created the role of Director of Artistic Programming at Theatre Row, where she conceived & led the Kitchen Sink Residency, a new-work development program for emerging performance companies. www.sarahcameronhughes.com 
About the Conservatory of Theatre Arts
In our teaching and art, the Conservatory values inclusiveness, equality, and excellence. Upholding all of our training is our aim to train and graduate citizen artists: multifaceted people with a strong sense of purpose in approaching an arts education.
What is a citizen artist? Citizen artists seek to discover how their unique voices can contribute to our world. They understand what it means to be an artist, and what they are here on earth to say and do and make.
The Conservatory trains future citizen artists in three degree programs:
+ BFA Actor Training. The BFA is an intensive professional training program offered to a highly select and diverse group of students. The professional training is anchored in four years of study in acting, voice, speech, and movement, complemented by offerings in dramatic literature and analysis, history of the theatre, stage combat, improvisation, mask work, acting for the camera, and the business of acting. As one of five schools in the Consortium of Professional Theatre Training Programs, Purchase is one of a handful of colleges in the world capable of training artists at this level—and of drawing a faculty from the ranks of professional theatre
+ BFA in Theatre Design/Technology. Emphasizing studio and classroom training, our professional training program in theatre design/technology gives students the guidance and support of established and theatre industry professionals. Many of our alumni are recognized at the top of their field, and have received Tony, Emmy, Obie, and Drama Desk Awards, among other honors. Quite literally, Purchase grads are working in or have worked in every theatre on Broadway, in all tristate venues, and with countless touring productions
+ BA program in Theatre and Performance. From traditional theatre to cutting-edge interdisciplinary work, the theatre and performance major encourages creativity, intellectual curiosity, social engagement, and critical thinking. The core requirements combine scholarship and practice to provide students with a strong foundation in theatre history and dramatic literature, with mandatory stagecraft/production courses. Theatre and Performance majors are encouraged to expand the scope of their education by studying abroad, as well as pursuing coursework in other programs of study within the School of Liberal Arts and Sciences at Purchase College