Steven Weber '83 made his film debut, a year after graduating, in the popular comedy The Flamingo Kid, which starred Matt Dillon. The following year, Weber earned a running role on the daytime TV soap opera As the World Turns.
He's currently playing the role Dr. Dean Archer on NBC's hit Chicago Med. He recently played Principal Gary Bolan on the Netflix series Thirteen Reasons Why.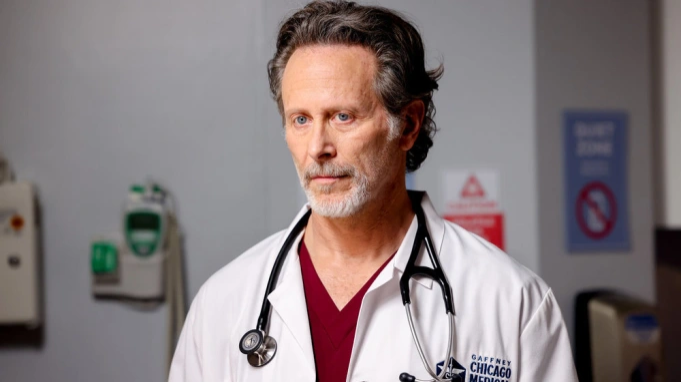 Weber's acting career now spans more than three decades, and includes everything from quirky comedy to serious and melodramatic. He is best known for his long-running role as Brian Hackett on the primetime TV show Wings which aired from April 1990 to May 1997 on NBC.
He is also recognized for his role as Sam Blue in the television series Once and Again (1999–2002). Weber has had a recurring role on iZombie as Vaughn du Clark and also plays Mayor Douglas Hamilton on NCIS: New Orleans.
On the big screen, Weber had lead roles in the movies Single White Female, Jeffrey, The Temp, and made a cameo in the award-winning film Leaving Las Vegas.

Weber made his first Broadway appearance in Tom Stoppard's The Real Thing in 2001. Later that year, he took over for Matthew Broderick as Leo Bloom in the Broadway production of The Producers.
In 2005, he appeared alongside Kevin Spacey in London at the Old Vic's production of National Anthems. Weber also wrote and produced 2003's Clubland, a Showtime movie in which he and Alan Alda played father and son talent agents in 1950s New York City (for which Alda was nominated for an Emmy).

Since 2007, Weber has been engaged in a number of projects, including rejoining former Wings co-star Tony Shalhoub in a guest role on Monk. Weber also played the role of network boss Jack Rudolph in the NBC series Studio 60 on the Sunset Strip; starred in the feature film Farm House; guest starred on the drama series Brothers and Sisters and on Psych.
He played a starring role in the hit TV series Desperate Housewives and appeared as a recurring guest on the 2008-09 season of the CBS crime drama Without a Trace.

Weber has developed a career narrating audiobooks, including an unabridged audio book of Stephen King's It and several by Harlan Coben.  
Between 2012 and 2017, he provided the voices of several characters on the Disney XD animated series Ultimate Spider-Man.
In 2014, Weber rejoined former Wings co-star Rebecca Schull in Chasing Life. In 2017, Weber made a guest appearance in the Curb Your Enthusiasm (episode: "The Shucker").

Since graduating, Weber has remained tightly connected to his alma matter, attending, hosting, and emceeing many events over the years.