2014–15: Kristina Bermudez '14
What appears as a brightly colored and boldly patterned carpet draped upon the sidewalk area in front of Fort Awesome is actually a painted mural called Fort Fiesta—the result of this year's Purchase College President's Award for Public Art.
Kristina Bermudez '14 graduated last May with a major in arts management and an art history minor. She collaborated with artist and childhood friend Cara Lynch to create the quilt-like sidewalk mural that measures 8 x 24 feet. The pair bolted together six sheets of plywood recycled from former students' senior projects as the base on which to paint a complex pattern created from digitally designed and hand-cut stencils crafted painstakingly by Lynch. The project took a full year of planning and preparation.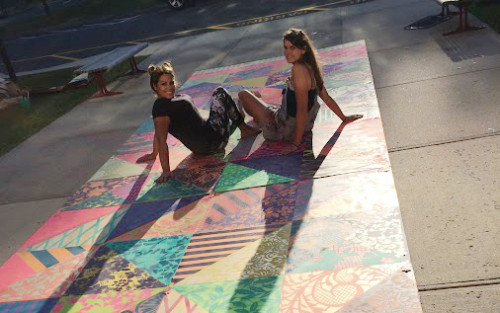 The community is meant to walk on Fort Fiesta and the team intends for the surface to degrade from foot traffic. Inspired by works of art such as Kara Walker's A Subtlety—or the Marvelous Sugar Baby installed last summer at the Domino Sugar factory in Williamsburg, Brooklyn among others, they're referencing a long tradition of creating ephemeral works of art—impermanent pieces whose inevitable destruction is part of the process. "It's supposed to deteriorate and look ruined at the end," says Bermudez.
The patterns recall historical quilting and embroidery, floral textiles, and art nouveau prints and paintings while the use of pattern and repetition alludes to feminine identity, gendered labor, and ritual, according to the proposal.
Created five years ago, the President's Award for Public Art is an annual competition open to all majors and provides students with the means and support to display their art on campus. The selected project remains on view for one year.
Assistant Professor of Art+Design Eric Wildrick, who conceived of the competition with President Schwarz, describes the selection committee he chairs as a "community group, not an art group." Bermudez's training as an arts manager was evident by the thorough and professional proposal she submitted. "It was logically presented, clear and concise, and beautifully illustrated. The committee felt that her concept of a colorful carpet on concrete would be a welcome visual asset to the campus," Wildrick explains.
For Bermudez, she's pleased to present art to the Purchase community. "It's my goal as an aspiring arts administrator to be able to support emerging artists and benefit my immediate community at the same time," says Bermudez. What's next for the recent graduate is more of the same. "I plan to continue to curate and promote the work of young female artists," she says.
2014–15: Kristina Bermudez