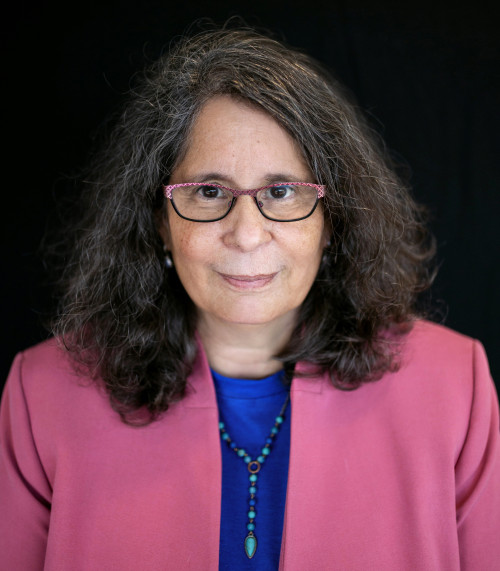 Dear Readers,
Previewing the latest issue of PURCHASE magazine has become one of my favorite things to do. I'm in awe of the ways in which our alumni continue to make marks on culture and society.
This time I'm struck by the subtext of resiliency and optimism interwoven throughout this issue, whether it's the persistence of our Class of 2021, faced with tackling their senior year in a pandemic, the creativity and flexibility of artists working on Broadway when the pandemic struck, or those whose study abroad plans were dashed in a moment's notice.
The yearn of our alumni to make a difference in the lives of others never disappoints. Emily Jacobson '07 is a perfect example as she brings library services to those who are incarcerated.
One of the hallmarks of a Purchase education is the bond formed by the mentorship of students by their faculty. I'm especially touched by our alumni who've established endowments for student scholarship funds in the names of their most influential professors, whose lessons have not diminished over time.
It's no secret that Purchase alumni are among the most dynamic performers working today. In this issue, you'll find profiles of three exceptional women from three different decades, all making marks in their fields, and a testament to the Purchase experience over the years.
In the near future, we're looking forward to expanding the Purchase College experience to a new cohort. This fall, we broke ground on Broadview, the planned senior living community that will open on our campus in 2023 as part of our commitment to lifelong learning. Our new residents will be active, engaged members of our campus community, attending events and performances and taking part in intergenerational education opportunities. This innovative project will generate funds for student scholarships and faculty support. We look forward to sharing more details as the project progresses.
Finally, I'm so proud and honored to be installed as the sixth president of this institution and was overwhelmed by the show of support by the dozens of alumni who participated in the inauguration and investiture ceremony on October 28.
As we enter the new year, I look forward to greeting many of you in person or virtually and wishing you a fulfilling, healthy, and creative 2022.
Sincerely,