Graphic Designers Place Art in Vacant Spaces
Art in Vacant Spaces is an innovative art project installed in empty storefronts across downtown White Plains.
Starting November 26, Small Business Saturday, design students from the graphic design program will once again collaborate with the White Plains BID (Business Improvement District) to create Art in Vacant Spaces, an innovative art project installed in empty storefronts across downtown White Plains.
For the second year in a row, art installations by Purchase students will improve the visual appearance of several vacant storefronts and enhance the overall pedestrian experience downtown.
Visual Poetry
Professor Warren Lehrer worked with his Community Design class to populate the storefronts with visual poetry as part of the students' pro-bono work for the semester.
The School of the Arts hired poet Judith Sloan to research and interview people in White Plains, and to write site-specific poems for the project that represent the hopes, desires, memories, and soul of people working and, or living in White Plains.
Leaving room for evocative interpretations by student designers, they visualized the poems using typography, color, shape, photography, animation, projections, or dye cuts.
Ten works will be installed, including video projections and animation for the first time. Student designers include Gunnar Artin, Alexander Beach, Danielle Foti, Melissa Murillo, Paige Nehlsen, Emily Seto, Julianne Waber, Ashley Yalaju, and Sarah Yalaju. 
White Plains Mayor Thomas Roach said, "We are pleased to be able to showcase the wonderful art of SUNY Purchase Community Design students in our downtown. Their work has enlivened our streetscape and created inspiring and thought-provoking messages about community and place. Kudos to the WPBID for visioning and spearheading the implementation of the Art in Vacant Spaces project and to SUNY Purchase President Thomas J. Schwarz and Professor Warren Lehrer for their willingness to collaborate and partner on the project."
The project will have a dramatic impact on the corner of East Post Road and South Broadway. All of the artwork will be installed in one property that has 50 plus windows and doorways spanning this corner of the downtown. 
"At the heart of Community Design is the opportunity to serve the public, while providing students with challenging professional experiences. We're honored that the White Plains BID once again trusted our students with this important project," says Lehrer.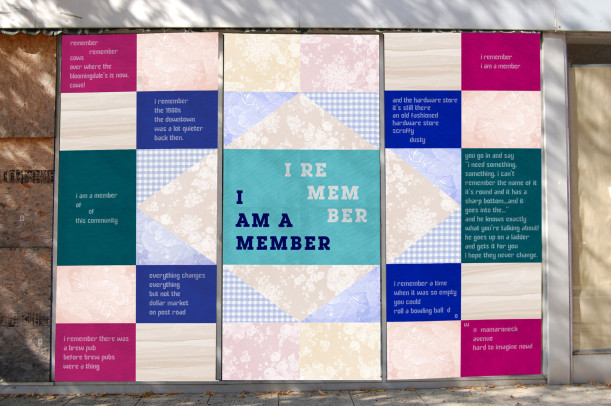 I Remember, poem by Judith Sloan, design by Danielle Foti, Art in Vacant Spaces 2016 installation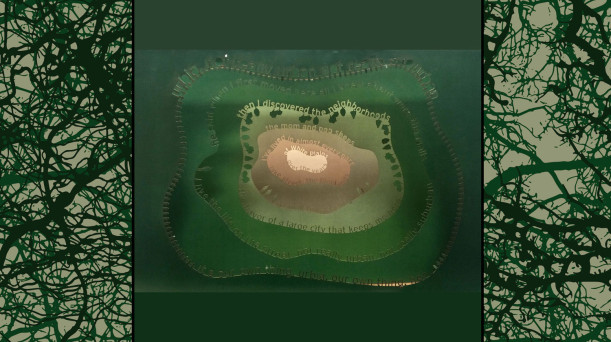 Urbia, poem by Judith Sloan, design by Emily Seto, Art in Vacant Spaces 2016 installation
---
The White Plains BID is appreciative to the City of White Plains for their support, PIP Printing and Marketing Services and for the generous sponsorship from Post Broadway Associates, LLC, Glacier Global Partners, The Ritz-Carlton, Westchester and the Hudson Valley Gateway Realtors Foundation.