Prof Emerita Elysse Craddock Endows Research Fund
More than forty alumni, faculty, and staff gathered to honor Professor Emerita of Biology Elysse Craddock on her retirement.
Five of Craddock's many highly accomplished former students gave talks about their career paths, current research/work, and how their experiences working with Craddock contributed to their success during an Alumni Symposium on Saturday, March 12, 2016.
Elysse Craddock Senior Research Award in Biology
During the event, Suzanne Kessler, dean of the School of Liberal Arts and Sciences, announced a generous gift from Craddock to endow a fund in her name, the Elysse Craddock Senior Research Award in Biology. 
The award will help students conduct research in biology, especially in the revered professor's own areas of study: molecular, developmental, and evolutionary biology.
Speakers included:
Jill Bargonetti, Ph.D.
Professor of Biological Sciences
Hunter College, CUNY
Mark Jonas, Ph.D.
Assistant Professor of Biology
School of Natural and Social Sciences
Purchase College, SUNY
Thadeous Kacmarczyk, Ph.D.
Software Developer
Division of Hematology & Medical Oncology
Weill Cornell Medicine
Ali Sharma, Ph.D.
Postdoctoral Associate
Department of Pharmacology
Weill Cornell Medical College
Rebecca Tagett, Ph.D. Candidate
Intelligent Systems and Bioinformatics Laboratory (ISBL)
Department of Computer Science, Wayne State University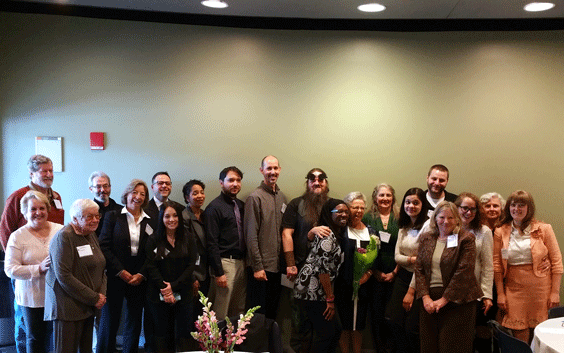 Group photo from the Alumni Symposium, March 12