Storm Over America: How Fear, Isolationism, Anti-Semitism, American Nazis, and Censorship Stopped Hollywood From Producing Anti-Nazi Films
Location
Delivery via Zoom
The first film to break the anti-Nazi barrier was "Confessions of a Nazi Spy" in 1939. It was a watershed moment in American history and is the central focus of my documentary project. It was the first Hollywood movie to mention Nazis and barely made it to the screen.
For the premiere of the movie, police and private security were featured at all entrances. In Poland, several theater owners were hanged. In Milwaukee, the theater exhibiting the movie was burned down. In Washington, these activist movies spurred a Senate investigation claiming Hollywood was involved in war propaganda. At that time, Hollywood, and perhaps the whole country, was a mosaic of competing agendas and markedly different ideologies. It was a period of rampant anti-Semitism, growing isolationism, and a rising American Nazi movement.
In the movie-making capital of the world, one also had to contend with censorship by the Production Code Administration, the divergent sensibilities of the Jewish studio moguls about anti-Semitism, and the perception that using movies as propaganda for anti-fascist causes might hurt their business model. All these elements resulted in Hollywood being stifled in its efforts to create anti-Nazi movies. This is a multi-layered story at the intersection of politics, journalism, and history.

Q&A will follow so bring your questions.
This program is hosted by the Office of Alumni Engagement.

REGISTRATION REQUIRED.

Zoom: https://purchase.zoom.us/meeting/register/tJAtcOGgqjooHdBQ3SznCUZ7aKqAa6_iUcSZ

After registering, you will receive a confirmation email containing details about joining the online event.


Individuals requiring accommodations for equal access to this event should contact alumni@purchase.edu a minimum of 5 business days prior to the event.

---
MEET OUR PRESENTER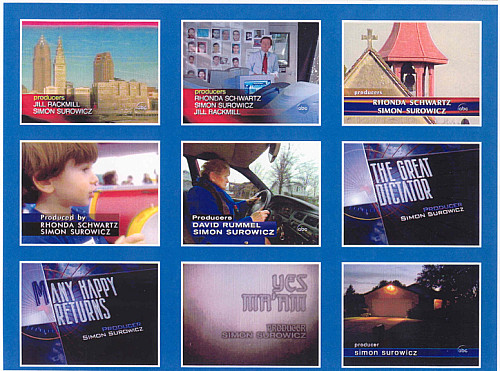 Simon Surowicz screen creditsSimon Surowicz                                  Assistant Professor of Journalism      Purchase College
Simon Surowicz is an award-winning broadcast news producer with more than 25 years of experience. He has worked at NBC News, CBS News "60 Minutes," and ABC News' Investigative Unit. Surowicz has produced a broad range of stories: from an exclusive expose of the American-supported Zairian dictator, Sese Seko Mobutu, to an investigation of medical abuses during WWII by a major multinational company at Auschwitz; and from a disturbing report on the harvesting and selling of organs from executed Chinese prisoners, to an in-depth hour-long investigation of the largest diamond heist in history.

Surowicz has received several Emmy and IRE awards as well as a George Polk, duPont, Peabody, Online News Association, and Overseas Press Club award. Surowicz serves as an advisor for the Columbia Documentary Project and represents Purchase on the Screening Review Board for the Alfred I. duPont-Columbia Award. Two student documentary projects he oversaw were published in The New York Times, and a third, "Killing Rikers,"won the 2017 EPPY Award for Best University Investigative Documentary. Surowicz taught at CUNY and Columbia's Graduate School of Journalism.
Contact
Office of Alumni Engagement
alumni@purchase.edu