Marilyn…and More: Marking Time with Andy Warhol
Location
Neuberger Museum of Art
In 1967, on the fifth anniversary of Marilyn Monroe's untimely death at the age of thirty-six, Andy Warhol created a series of ten Marilyn screen prints.  His decision to produce these "anniversary" prints fits a pattern in his practices as an artist, and in ours as a culture.  The varied ways Warhol explored such moments is the subject of Reva Wolf's talk.  
It is well known that Warhol was obsessed with time, as seen in his use of repetition, his work in the time-based media of film and tape recording, and his creation of Time Capsules.  Less familiar is his multifaceted exploration of the related topic of commemoration, whether of holidays, things, events, birthdays, or, as in the case of the Marilyn prints, death.  

The focus of Professor Wolf's talk derives from the exhibition Marking Time, which was part of Warhol x 5, a series of exhibitions organized by five university art museums in the region; drawing upon each other's collections, each museum has focused on a different theme.  Andy Warhol: Subject and Seriality, currently on view at the Neuberger Museum, Purchase College, is the final exhibition in Warhol x 5.
---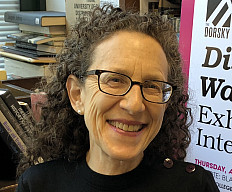 Reva Wolf is Professor of Art History at the State University of New York at New Paltz, where she teaches courses on art of the eighteenth century to the present and on the methods and history of art history.  She is the author of Andy Warhol, Poetry, and Gossip in the 1960s (University of Chicago Press, 1997), Goya and the Satirical Print (Godine, 1991), and numerous articles and essays.  She organized the 2018 exhibition, Marking Time, at the Dorsky Museum of Art, SUNY New Paltz and has co-edited a forthcoming book of essays on Freemasonry and the visual arts, which relates to her current research on Goya and Freemasonry.  Professor Wolf has held several fellowships to support her research. These include an Ailsa Mellon Bruce Visiting Senior Fellowship at the Center for Advanced Study in the Visual Arts, National Gallery of Art, an NEH Fellowship at the Institute for Advanced Study, Princeton, an Andrew W. Mellon Junior Faculty Fellowship in the Humanities at Harvard University, a Visiting Fellowship at the Yale Center for British Art, an NEA Special Exhibitions grant, and a J. Clawson Mills Fellowship at the Metropolitan Museum of Art. Professor Wolf also is a recipient of the State University of New York Chancellor's Award for Excellence in Teaching.
Cost
Free with museum admission
Contact
914.251.6100
MUSEUM HOURS:
Wednesday Noon-8:00pm
Thursday-Sunday Noon-5:00pm
Closed on Monday and Tuesday
neuberger.org