Location
Student Services Building 1st Floor
Join us for the opportunity to learn about careers with museums and cultural institution.  Get the chance to meet with professionals working in the field and to learn about their opportunities! 
1-2 pm:  Panel and Lunch - Red Room
Join us to learn about the career paths of our panelists and enjoy a light lunch.
2-3 pm:  Mini Fair - Student Services Building Lobby
Speak with the participants individually to ask questions and learn about opportunities at their institution.  
Participants:
Art History MA/Museum + Curatorial Studies (M+) program @ Purchase
Derfner Judaica Museum + the Art Collection
History Program, Purchase College
Katonah Museum of Art
The Maritime Aquarium
The Metropolitan Museum of Art
Neuberger Museum of Art
New Museum
Ruth and Elmer Wellin Museum of Art at Hamilton College
Stamford Museum & Nature Center
Storm King Art Center
Co-sponsored by the Arts Management department and the Career Development Center.
---
  Leslie Wilson
Art History MA/Museum + Curatorial Studies (M+) program @ Purchase
Assistant Professor of Art History at Purchase College
Leslie Wilson is an Assistant Professor of Art History at Purchase College, SUNY where her teaching and research focuses on the global history of photography, modern and contemporary art from Africa and the African diaspora, American art post-1900, and museum and curatorial studies. Her current book project charts the development and popularization of color photography in South Africa, from its inception in the early twentieth century to contemporary practice. From 2015 to 2017, she was a 24-Month Chester Dale Predoctoral Fellow at the Center for Advanced Study in the Visual Arts at the National Gallery of Art in Washington, DC while completing her PhD from the University of Chicago. She has held curatorial internships at the Art Institute of Chicago, Contemporary Art Museum St. Louis and the St. Louis Art Museum and contributed book reviews to African Arts and caa.reviews.
Elizabeth Guffey
Art History MA/Museum + Curatorial Studies (M+) program @ Purchase
Professor of Art & Design History
Director, MA in Modern and Contemporary Art, Criticism and Theory
Professor Elizabeth Guffey is the coordinator of the MA program in modern and contemporary art, criticism, and theory at Purchase College. Her area of specialization is 19th-, 20th-, and 21st-century art and design history. Her most recent book is Designing Disability: Symbols, Spaces and Society (Bloomsbury, 2017).  Her Posters: A Global History (Reaktion, 2014) reexamines the poster's roots in the 19th century and explores the relevance they still possess in the age of digital media. She is also the author of Retro: The Culture of Revival (Reaktion, 2006). Professor Guffey is the author of numerous articles on design and is the founding editor of the peer-reviewed journal Design and Culture, published by Bloomsbury.
---

Emily O'Leary
Derfner Judaica Museum + the Art Collection,
Associate Curator
Emily O'Leary is a Bronx-based art historian, curator, and cultural worker. She graduated with a degree in art history from Purchase College, State University of New York after completing a curatorial fellowship at the Neuberger Museum of Art (Purchase, NY). As Associate Curator at the Derfner Judaica Museum + The Art Collection at Hebrew Home at Riverdale for over 12 years, she oversees a permanent collection of 4,500 works of art in a range of media, dating from the 5th century to present. She has organized over 20 changing exhibitions at the Derfner Judaica Museum at Hebrew Home at Riverdale (Bronx, NY), BBLA Gallery at Bohemian National Hall (New York, NY), and Hudson Hall (Hudson, NY). Ms. O'Leary has authored essays for exhibition catalogues, most recently in "Leningrad Lithography: Meeting Place" at the Anna Akhmatova Museum in the Fountain House (St. Petersburg, Russia), and is a contributor to such publications as Celebrating Print.
---
  Laura Chmielewski
History Program, Purchase College
Associate Professor, Board of Study Coordinator
Laura Chmielewski teaches early American, Atlantic world, and public history. She is also the author of three books: The Spice of Popery: Converging Christianities on an Early American Frontier(University of Notre Dame, 2011), The Atlantic Experience: Peoples, Places, Ideas (with Catherine M. Armstrong; Palgrave Macmillan, 2014), and Jacques Marquette and Louis Jolliet: Exploration, Encounter and the French New World (Routledge/Taylor & Francis, 2017), as well as numerous essays, book chapters, and reviews, and public presentations. Chmielewski is also a historian-in-residence at History Hudson Valley, a consortium of house museums, and frequent contributor of book reviews to Americamagazine, the national Jesuit weekly.
---
  Margaret Adaslo
Katonah Museum of Art, Curator of Education
---
  Jim Dauterman
Maritime Aquarium, Floor-Program Supervisor
Jim Dauterman has been associated with the Maritime Aquarium for 17 years. He started as a volunteer back in 2001, and accumulated about 1850 volunteer hours over 10 years.  In 2011, he left my job at the Bronx Zoo and joined the Education department at the aquarium.  Jim currently oversees education programs on the floor, supervises volunteers on weekends and holidays, coordinates interns, conducts tours and more.  Jim worked in the camel barn at the Bronx Zoo from 1997-2011, training camels to give rides, as well as maintaining the yards of many domestic animals (camels, goats, sheep, mini-horses, donkeys, llamas, wallabies, etc.).  Jim has two Bachelor's degrees in Finance and Biology.  
---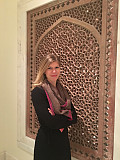 Courtney A. Stewart
The Metropolitan Museum of Art,
Senior Research Assistant Islamic Art
Courtney Ann Stewart joined the Metropolitan Museum of Art in 2010 and serves as Senior Research Assistant in the Department of Islamic Art. She has contributed to the reinstallation of the new galleries of the Arab Lands, Turkey, Iran, Central Asia, and Later South Asia (2011), as well as the exhibitions and publications Treasures from India: Jewels from the Al-Thani Collection (2014) and Sultans of Deccan India, 1500–1700: Opulence and Fantasy (2015). Courtney has taught courses on Islamic art history at the University of Toronto, and she continues to lecture in the School of Continuing Studies at New York University. Courtney, who holds graduate degrees from the University of Toronto and the Bard Graduate Center, is currently pursuing research on the history of Islamic jewelry.
---
  Greg Beise
Neuberger Museum of Art, Preparator
Greg Beise is a Preparator at the Neuberger Museum of Art, where he utilizes creative problem solving for the installation of works of art.  Whether working out doors to install a Jackie Ferrara sculpture or hanging a Jackson Pollock, Greg is paying attention to the process and details to make sure the artwork stands out.  Greg has worked with the Guggenheim Museum, the New Museum, the Clark Institute of Art and the Neuberger Museum of Art.  He has installed many eye catching exhibits such as Maurizio Cattelan's retrospective at the Guggenheim, Carsten Holler at the New Museum and helped to re-install the Clark's permanent collection prior to their re-opening to the public.  He has worked on Neuberger Prize winner exhibitions such as Dana Schutz and transformed the museum for the Tania Bruguera retrospective.  Greg started working as a preparator while finishing up his Masters of Arts at Purchase College in Art History.  Since then, he has had the fortune to work with some of the best curators and artists in NYC, which has brought the history to life.
---

  Holly Harmon
New Museum, 
Manager of Gallery Interpretation and Academic Outreach 
Since 2016, Holly Harmon has held the role of the Manager of Gallery Interpretation and Academic Outreach at the New Museum where she manages the Museum's docent program, produces their audio guide, and serves as accessibility coordinator. Prior to the New Museum, Holly worked in interpretation at the Brooklyn Museum and the Detroit Institute of Arts; in both positions she served as a vocal visitor advocate with the goal of providing accessible and relevant exhibitions for diverse publics. She has also educated visitors at various museums in Washington, DC including the Hirshhorn Museum and Sculpture Garden, the National Museum of Women in the Arts, and the Corcoran Gallery of Art. She received her M.A. in Art History from Syracuse University in 2010.
---
  Emma Pfeifer
Ruth and Elmer Wellin Museum of Art at Hamilton College,
Office Assistant
Emma Pfeifer graduated SUNY purchase 2017 with a BA in Art History and Minors in history and Asian studies. Emma is the Office Assistant at the Ruth and Elmer Wellin Museum of Art.  Joining the museum staff in July of 2018, she assists with the day-to-day administrative needs of the museum and with special
---
Jen Parry
Stamford Museum & Nature Center, Curatorial Assistant
---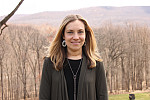 Irene Buccieri
Storm King Art Center, Human Resource Generalist 
Irene Buccieri recently joined Storm King Art Center in January 2018 as their first full-time HR administrator. Her HR Generalist role includes recruiting, onboarding, benefits, compensation, termination, and employee relations for the growing organization.  Irene holds 15 years of experience having started her career at the United States Military Academy at West Point as the Personnel Assistant. In 2007, she took the role of Recruiting Specialist at Marist and was promoted after a year to Assistant Director of Strategic Recruitment.  Irene was an active mentor in the Women's Mentor Program and the Diversity Council.  She was the Adjunct Instructor for the Marist College, School of Communication and the Arts, Fashion Program where she taught junior and senior fashion students how to identify and pursue a fulfilling career. Irene holds a B.S. (Business Administration) and M.B.A. both from Mount Saint Mary College.  She has her SHRM-CP and her Professional in Human Resources (PHR) Certificate, and is an active member of the Mid-Hudson Valley Chapter of the Society for Human Resources Management (SHRM).
About Storm King Art Center: Widely celebrated as one of the world's leading sculpture parks, Storm King Art Center has welcomed visitors from across the globe for over fifty years. Located only one hour north of New York City, in the lower Hudson Valley, its 500 acres of rolling hills, woodlands, and fields of native grasses and wildflowers provide the setting for a collection of more than 100 carefully sited sculptures created by some of the most acclaimed artists of our time. For more information, visit www.stormking.org.