Bring Your Creative Venture to Life.
To reshape the landscape of the creative sector, arts managers and professionals need the ability to think and work as entrepreneurs.This program will provide support to help launch your creative enterprise.
The online Entrepreneurship in the Arts MA program enables creative and artistically minded people to imagine, identify, and build enterprises that will form and sustain the arts and culture worlds of the future.

Accessible evening and online courses suitable for working professionals

Affordable master's degree

—

less than $1,600 per course

Part-time option allows flexibility for those with busy lives
Join a Community
Our synchronous, real-time Zoom classes allow students to engage in face-to-face discussion and collaborative learning, and to develop community with an intimate cohort. Other coursework is done asynchronously and at the pace of each student, which offers flexibility to busy working professionals or those with families.
---
I'd Like More Information
He's creating a a streaming service for theatre performances.

Her idea for Women of Culture went from passion project to thriving business.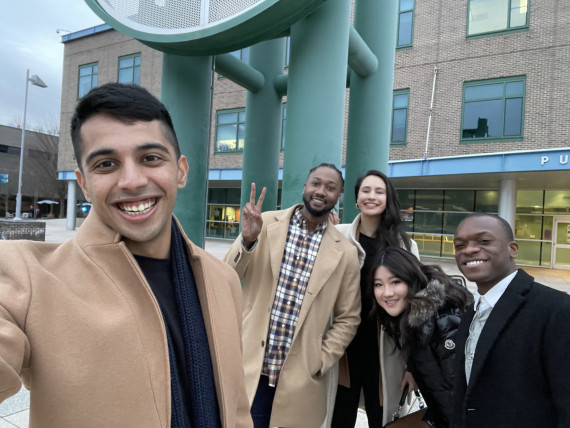 Entrepreneurship in the Arts MA students celebrating the completion of their degrees.
Applicants are expected to demonstrate marketing, project or program management, and accounting experience, either through undergraduate coursework or employment. Learn more about application requirements and how to apply or contact Program Chair Jordan Shue using the form here for more information.