Purchase is proud to be a Tobacco Free campus.
We adopted to be tobacco free not only because we're part of the SUNY system, but we are also joining over 1,800 institutions of higher education across the nation that have implemented similar health policies. 
The Tobacco Free policy is driven by respect for others and the environment and relies on the thoughtfulness, consideration, and cooperation of tobacco users and non-users for its success. The success of this policy will depend on the cooperation of all members of the Purchase College community, both to comply and encourage others to do so.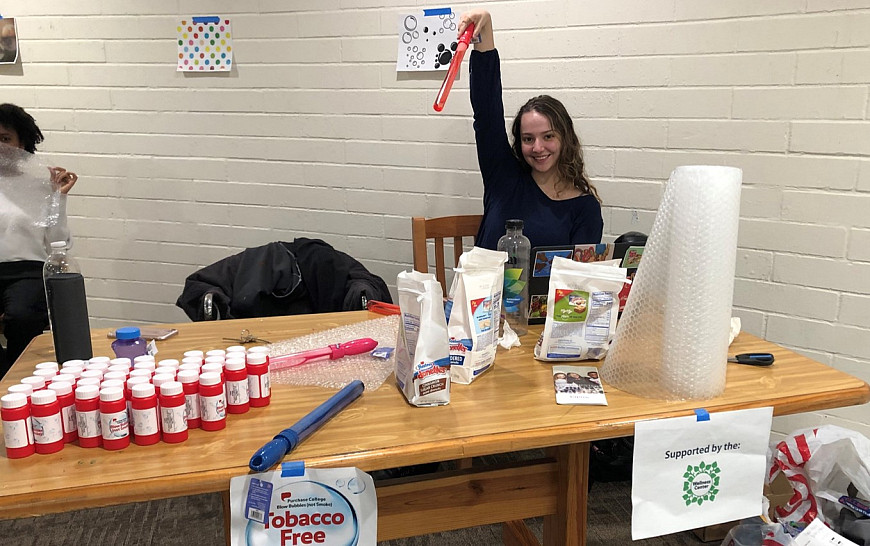 Big Haus RA Maja Mamak and RA Natasha Perry-Love at the Blow Bubbles Not Smoke Tobacco Free event. Other RAs involved in creating the event: Andrew Rizzo, Natalie Morrow, Liz Abrams and Yancy Garcia. (11/2019)
Health, Wellness, Sustainability, and Responsibility
Purchase College places a priority on the health and well-being of students, faculty, staff and those who visit the Purchase campus. The Tobacco Free policy will complement the college's environmental sustainability efforts, help create and preserve equitable and respectful work, study, and living environments, and bring Purchase's institutional investments in line with the college's principles on social and environmental responsibility. It will also eliminate harmful exposure to secondhand smoke and prevent litter and chemical leaching from tobacco waste.
What Is Included in the Tobacco Free Policy?
Under the policy, "tobacco" is defined as all tobacco and tobacco-derived products intended for human consumption, including, but not limited to:
cigarettes (including cloves, bidis and kreteks)
e-cigarettes ( JUULs and other vaping devices)
cigars and cigarillos
pipe tobacco
hookah-smoked products
smokeless tobacco (dip, chew, snus, and snuff)
any other product that contains tobacco flavoring or is intended to mimic tobacco products or delivers nicotine with the exception of FDA approved nicotine cessation products. 
Community
Many students support a smoke free environment on campus—they told us so by voicing their support. We also understand not all smokers will be in favor of these changes and we respect your opinion.  It is the responsibility of all members of the college community to abide by this tobacco policy.
Compliance
An initial violation of the policy will result only in a verbal warning. This warning will include information about the policy, the rationale behind it, and the availability of tobacco-cessation and harm-reduction support services on and off campus. Subsequent noncompliance by students will result in the following under section E12 of the Community Standards of Conduct.
Where to Turn for Help
Please see our Tobacco Cessation resources page.
For more detailed policy information
Read the full Tobacco Free policy.