ACUHO-I/NODA Internship Recruitment
Purchase College at SUNY
Located in Harrison, New York, Purchase College is an institution within the SUNY (State University of New York) system. Purchase is a small, liberal arts school, serving approximately 4,000 students and housing 2,400. Students at Purchase College have a passion for the arts and many take part in conservatory studies. Notable alumni include but are not limited to, Edie Falco, Stanley Tucci, and Regina Spektor. Their motto, "Think Wide Open" creates an experience for all students, faculty and staff to be innovative and develop different ways to exceed expectations. It is said, "If you stand out, you'll fit in at Purchase College".
Office of Community Engagement
The Office of Community Engagement at Purchase College is comprised of several functional areas within Student Affairs, including Housing and Residence Life, Orientation and Student Involvement. The Office of Community Engagement provides many leadership opportunities for students, such as serving as a Resident Assistant, Orientation Leader, a member of the Student Activities Programming Board and other positions. With a motto of Think, Wide Open, the office develops a wide range of events and learning opportunities for students who live in the residence halls to campus-wide traditions for all Purchase students to take part in, such as Pancake Madness. The diverse staff and functional areas within the Office of Community Engagement provides a unique experience for interns to navigate the small school experience within housing or orientation, while having the opportunity to work with different campus partners throughout the Division and Institution. Interns are treated as equal members of the team and are given the autonomy to make their internship their own individualized experience. 
Testimonials
Intern: Sydney Wein, ACUHO-I 2019
Host Institution: Clemson University, Clemson, South Carolina
As the ACUHO-I Intern for Purchase College, I knew my experience was going to be different coming from a large, Division I, Research I University. My ACUHO-I internship was project-based, where my responsibilities were focused on developing resources for professional and paraprofessional staff members, creating an assessment tool for the residential curriculum, and help plan different areas of RA Training. I was given the autonomy and opportunity to develop some of my own projects and implement new ideas to existing processes. My experience at Purchase allowed me to further develop and implement theory into my current practice directly supervising student staff members at my host institution. All of the Professional Staff members in the Office of Community Engagement were invested in my growth and learning as a Housing Professional. I had the opportunity to take part in different Professional Development Opportunities, such as attending webinars and workshops. In a short amount of time, my practice has significantly changed for the better, thanks to the opportunity at Purchase College.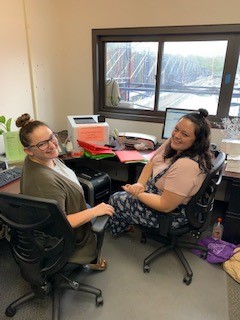 Intern: Ashley Unmacht, NODA 2019
Host Institution: University of Kansas, Lawrence, Kansas
Being a summer intern at Purchase College ended up being the experience I both wanted and needed.  Purchase College was starkly different from any institution I've ever been at in the best way possible. I was treated as a valuable, trustworthy member of the team, and the department was truly invested in my contributions, growth, and experiences; I now see why the school's motto is "think wide open," as the staff embody it in all their interactions. The incredible amount of autonomy I was given awarded me with experience in designing student leader training, creating learning outcomes, event planning logistics, assessment, and student development through direct interaction with students. The close proximity to New York City was also an added bonus! If you are an emerging professional who is looking for spectacular connections, amazing memories, and an invaluable experience that will leave a lasting impact, this is the internship for you!
Intern: Jessica Damour, NODA 2017
Host Institution: Salem State University, Salem, Massachusetts
My experience as the NODA intern at Purchase College in the Summer of 2017 allowed me to further explore my strengths in working with Orientation as well as discover new areas of interest. I was able to coordinate training for the student staff as well as learn more about the development of a residential curriculum. I appreciated the support of the professional staff, from their answers to my questions to their openness to new ideas. The professionals here are eager to incorporate theory into their practice and understand that the graduate students they work with have a strong knowledge and foundation. During my time here, I developed a presentation on Inclusive Leadership that was founded, in part, by work and research I had done throughout my first year of graduate school.
One of my favorite parts of my job was my work with the student orientation leaders (SOLs). I spent a lot of time with them, as I was in charge of their training. They also taught me a lot about the school and what the students who come here are like. They made me laugh, think, and challenged me to consider the kind of student affairs professional, I wanted to be.
Purchase College made such an impression on me that, when it came time to begin my job search, I applied to come back as a Residence Coordinator and began working here in July 2018. In particular, I have incorporated a lot of my graduate work within assessment and curriculum development throughout my work here. There is always room to put your own spin or personality into you work here, which helps me find a personal connection to my work as well as making connections with my students.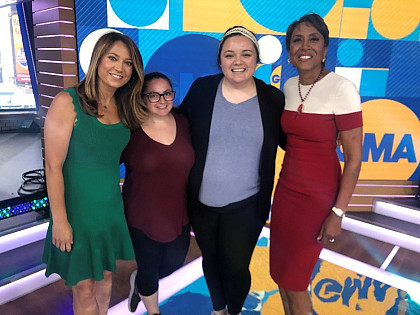 Theory to Practice
Throughout your internship experience, you will have the opportunity to meet with your internship supervisor and talk about your experience and how you want to incorporate the tools and skills you are learning in your coursework to your internship. As a Higher Education/Student Affairs graduate student, many programs use the NASPA and ACPA Competencies to guide the development of practitioners. Listed below are the NASPA/ACPA Competencies, along with the ACUHO-I and NODA Competencies. Each intern has the opportunity to make their internship their own individualized experience, if your program utilizes Core Competencies, start thinking about the different competencies you are wanting to continue to develop as you are working at Purchase College. Past ACUHO-I and NODA Interns have been able to develop their skills in many of the competencies listed below, including but not limited to: Assessment, Research and Evaluation; Leadership; Residence Education; Student Learning and Development.
NASPA/ACPA                                                                                                                                        
Advising and Supporting
Assessment, Evaluation and Research
Personal and Ethical Foundations
Law, Policy, and Governance
Leadership
Organizational and Human Resources
Social Justice and Inclusion
Student Learning and Development
Technology
Values, Philosophy and History
ACUHO-I
Ancillary Partnerships
Conference Services
Crisis Management
Dining Services
Equity and Inclusion
Ethics
Evaluation & Planning
Facilities Management
Fiscal Resources & Control
Foundations
Human Resources
Information Technology
Leadership
Marketing
Occupancy Management
Residence Education
Student Behavior
NODA
Campus Collaboration
Communication
Crisis Management
Curriculum and Content Development
Diversity, Inclusion, and Access
Enrollment Management
Financial Management
Laws, Policies and Governance
Organization and Leadership
Program Delivery and Management
Research, Assessment, and Evaluation
Theoretical and Institutional Knowledge