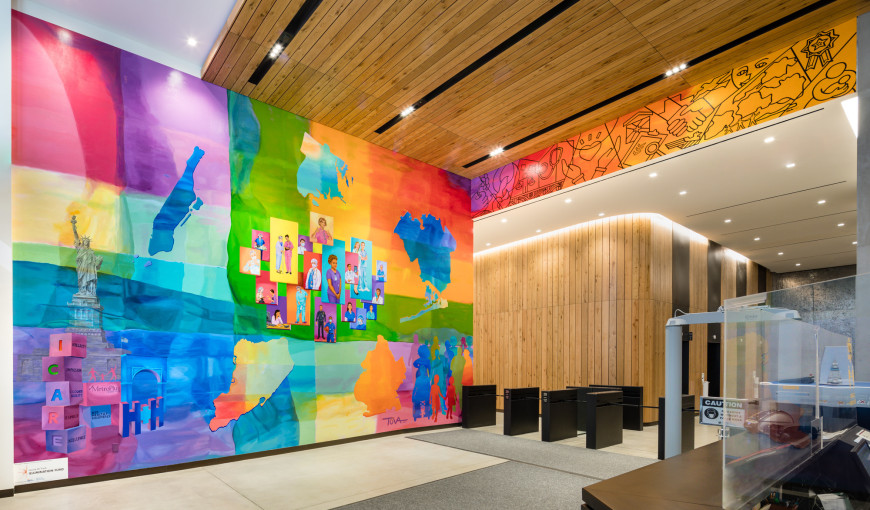 Tova Snyder, The Full Spectrum—Health and Wellbeing, entrance lobby mural of NYC Health + Hospitals central headquarters, 50 Water St, NYC, November 2021.
School of the Arts
Darrah Carr, Dance, was commissioned by Irish Arts Center to create a new work in collaboration with Seán Curran premiered from September 29–October 2, 2022 in their new midtown venue. During the summer, her company, Darrah Carr Dance, performed in the "Dancer from the Dance Festival" at Project Arts Centre in Dublin, Ireland; in the Irish American Writers and Artists Salon; and in the New York City Irish Dance Festival. In October, Carr presented her research during the Dance Studies Association Conference at Simon Fraser University and the National Dance Education Conference in Atlanta.
Knoelle Higginson, Music, director of the Soul Voices choir on campus, led the gospel group she directs, Sing Harlem Choir, to an early victory on NBC's hit America's Got Talent. The teen gospel group received the nod from all three judges during the auditions that aired on July 19. Unfortunately, they were not selected for the first round of AGT's live competition.
Judy Lieff, Dance, earned a Master of Arts degree in interactive media arts from NYU's ITP program, a newly designed global residency program. Judy is subsequently part of an international collective that was awarded a research grant this summer to develop an interactive portal project between the N.Y.C. and Shanghai campuses of NYU.
Pete Malinverni MM '00, Music, released On the Town—Pete Malinverni Plays Leonard Bernstein (PlanetArts), featuring fellow Jazz Studies instructor and bassist Ugonna Okegwo and legendary drummer Jeff Hamilton. The mastering engineer was Assistant Professor of Music Silas Brown '10 (Studio Production), and the cover art was designed by trombonist Marty Scott '22 (Jazz Studies). "Malinverni is a superb pianist, and there is simply no rhythm section that could lend more earnest and agreeable support than Okegwo and Hamilton," writes allaboutjazz.com.
Thomas Mesa, Music, earned a 2023 Sphinx Medal of Excellence, the Sphinx Organization's highest honor. The Sphinx Medal of Excellence recognizes extraordinary Black and Latinx classical musicians and comes with a $50,000 career grant. Mesa is a Cuban-American cellist and was the First Prize recipient of the Sphinx Competition's inaugural Robert Frederick Smith Prize in 2016. The Sphinx Organization recognizes early career artists who demonstrate artistic excellence and display an outstanding work ethic, a spirit of determination, and an ongoing commitment to leadership and their communities.
Lenka Pichlíková, Theatre and Performance, juried the Hear Me! dramatic competition for talented high school students in New York City in May. (One prize winner will matriculate at Purchase in THP this fall.) In July, she was awarded a Certificate of Completion in the practical study of the Michael Chekhov Technique by the Michael Chekhov Association (MICHA), an international group headquartered in New York, for the successful completion of three international workshops and two teacher training workshops over the span of five years. In August, she taught classes on pantomime for the Connecticut Ballet Center in Stamford as community outreach. In October, Pichlíková will collaborate with the Dance Conservatory in a workshop on mime and ballet.
Peter Saleh, Dance, led a 13-artist delegation, including the Exit 9 Percussion Group and the Von Howard Project modern dance company, on a 10-day performance and outreach tour as cultural envoys in collaboration with the U.S. Consulate and State Department in Guayaquil, Ecuador, in November 2021. They performed original works by Saleh/Von Howard as well as Saleh's interactive drum clinics in front of audiences across the country, including at the Festival de Loja, in the Andes mountains. Saleh also performed as a percussionist in the 2021 Broadway revival of Caroline, or Change and as the drummer/percussionist on the world premiere runs of four new musicals in the past 12 months, including Carmel Dean's score of Mystic Pizza, EGOT+Pulitzer Prize winner Marvin Hamlisch's final composition The Nutty Professor, and BD Wong and Wayne Barker's Mr. Holland's Opus at the Ogunquit Playhouse in Southern Maine, as well as Passage Theatre Company's powerful production of Group!, where he created the original drum book. In the spring of '22, Saleh also served as guest percussion faculty at The College of New Jersey in Ewing, NJ, where he taught lessons and methods classes and conducted the percussion ensemble.
Jordan Schildcrout, Theatre and Performance, served as co-editor of 50 Key Figures in Queer US Theatre, published by Routledge in September 2022. The volume includes essays on a wide variety of theatre artists who have contributed to LGBTQ representation on stage from the era of the Stonewall Riots to today. Schildcrout also authored the entries on Harvey Fierstein, John Glines, and the NEA Four. He appeared on NY1 to provide a historical perspective on drag as an art form on the occasion of the ground-breaking musical Kinky Boots' return to the stage off-Broadway in September 2022.
Tova Snyder, Painting, has been working on her Full Spectrum series of large-scale outdoor murals since 2017. In December 2021, The Full Spectrum–Health and Well-Being was installed in the lobby of NYC Health + Hospitals headquarters in the Financial District as part of the Art-in-Medicine program, funded by the Tisch Foundation. In July 2022, Snyder completed the most recent addition to this mural series, The Full Spectrum – Celebrating Community in a Healthy Way. Funded by VIP Community Services, the mural went up on CS44 in the East Tremont/Crotona part of the Bronx.
Rob Swainston, Printmaking, with his collaborator Zorawar Sidhu, created a series of 18 prints marking several notable dates including the January 6 insurrection, the murder of George Floyd, and Trump holding the Bible upside down after police teargassed peaceful protesters, to name just a few. Titled Doomscrolling, the woodblock prints were made with sheets of plywood originally used to cover windows in New York City during the riots following George Floyd's death. The work was presented at New York City's Petzel Gallery, January 6– February 12, 2022, and was included in a New York Times feature, "Facing Violence with Brushes and Ballots." The article highlighted work by artists who documented and memorialized the tragically historic Capitol Building insurrection of January 6, 2021, in myriad ways. A review by Faye Hirsch, "A Historical Art of Dissent for the Digital Age," appeared on hyperallergic.com.
Hakan Topal, New Media and Art+Design, in conjunction with his solo exhibition Temporary Assembly of Living Things, on view at Depo until July 8, participated in a conversation with academic Dr. Gurur Ertem. This exhibition was reviewed by art critic Evrim Altug for DuvaR newspaper. And an Artforum magazine review by Kaya Genc is available online and in print. Topal's The Golden Cage, 2022, a solo exhibition at Aga Khan Museum, Toronto, was on view until November 12. For this immersive exhibition, he worked on a five-channel video installation with sound, text, and artifacts. The Golden Cage explores the impact of human intervention on the life of one of the most endangered bird species across the highly nationalized terrain of the Turkish-Syrian border. It is a part of the Museum's Birds rotation—a deep dive into
the Museum's permanent collection focusing on the fascinating sights and stories of the avian world and the art they've inspired throughout history. For this iteration of The Golden Cage project, along with the installation of a two-channel video installation and artifacts, The Golden Cage, 2022—Performance And Solo Exhibition at Mousonturm, Frankfurt, a script was performed in Arabic, Armenian, English, German, Kurdish, and Turkish by amateur actors composed of mostly migrants.
School of Liberal Arts & Sciences
Janis Astor del Valle, Arts Management and Entrepreneurship, co-produced StatueFest at the Puerto Rican Traveling Theater (PRTT) last fall, Purchase's Multicultural Center last spring, and Figment 2022 this past summer. She was one of the initiating artists of the New Shokan Kitchen Island Project, which honors women deserving of a statue. For all productions, she wrote and performed her piece, Antonia Pantoja: A Passionate Life. Melany Nunes '21 (Arts Management) was the production stage manager and Scott Johnston '21(Arts Management) served as videographer for the PRTT production. The Multicultural Center event featured readings by Una Bharat-Salazar (Arts Management), Kira DeLeon (Arts Management), Wendy Mondesir (Photography), Dematria Mugeni '22 (Theatre and Performance), and Brielle Nostro '22 (Arts Management and Theatre and Performance).
A. Dean Bell, Screenwriting, is the associate producer on the documentary Blind Trust by director/producer Molly Castelloe. The film has played at numerous festivals and in 2022 began air dates on PBS affiliates across the country. The film profiles renowned psychoanalyst Vamik Volkan, who has been studying political unrest and the underlying psychology of group relations for 40 years. His work is key to understanding the dangerous racial, religious, and regional divisions that splinter nations. Volkan's ideas have shaped a leading model of conflict resolution used in the world today. The film is particularly resonant given the current political divides in the United States. Look for it on your local PBS affiliate or purchase a copy at www.blindtrust.tv.
Sara Cooper, Playwriting & Screenwriting, is the recipient of the Richard Rodgers Award from the American Academy of Arts and Letters for Perpetual Sunshine & the Ghost Girls and The ASCAP Foundation's Lucille and Jack Yellen Award. Cooper's HoT, produced in the Goodspeed Festival of New Musicals, was highlighted on March 19. This year's festival was unique in that all of the new musicals to be showcased were written by women.
Monica Ferrell, Creative Writing, had her poem Infancy published in The New Yorker (June 6, 2022). Ferrell is the author of three books of fiction and poetry, most recently the collection You Darling Thing, a finalist for the Kingsley Tufts Award and the Believer Book Award in Poetry. Ferrell is the department chair of creative writing and the 2022-2024 Doris and Carl Kempner Distinguished Professor.
Melissa Forstrom, Arts Management, recently published "Islamic art exhibition, Orientalism and contemporary socio-politics: demystifying connections" in the anthology Deconstructing the Myths of Islamic Art (New York: Routledge). Most of the Islamic art collections in American and European museums have been reinstalled and reinterpreted in the past 20 years. Contemporaneously, there has been an increase in the politicization of Islam and Muslims, which reinforce societal ideologies like Orientalism. As a reaction to this, it is claimed that Islamic art exhibitions can "tell another story," "bridge divides," and "combat" negative media narratives. Although this conflation has often uncritically been commented on and/or lamented by curators and scholars, there has not yet been a study of the museological role in these connections. In a close reading of exhibition interpretation, this chapter investigates the possible relationships between contemporary media representations and exhibition interpretation of two Islamic art collections at the Louvre (2012) and at the Metropolitan Museum of Art (2011). Through this exploration, this chapter seeks to expose and demystify the dialogical and sometimes reflective relationships between media representations of Islam/Muslims and Islamic art exhibitions.
Dawn Gibson-Brehon, Arts Management, recently joined the Board of Directors for the New England Foundation for the Arts (NEFA), a regional funding agency that invests in artists and communities, enriching the cultural landscape in New England and the nation. NEFA serves as a regional partner for the National Endowment for the Arts, New England's state arts agencies, and private foundations. You can read more at nefa.org/news.
Elizabeth Guffey, Art History, received the 2023 Iris Award for Outstanding Mid-Career Scholar from Bard College. The award will be presented at the 26th Annual Iris Awards Luncheon in April 2023. Guffey will give a lecture at Bard Graduate Center the evening before the luncheon, followed by a private dinner for the 2023 honorees, past award recipients, and special invited guests.
Lauren Harburger, Psychology, recently published a study in Psychological Reports investigating the effects of hormone contraceptives and menstruation on cognitive performance in young women. Two Purchase College alumni, Christina Thrasher '21 (Psychology) and Lily Otto '19 (Psychology, Biology minor), are co-authors. The study reports that women taking hormone contraceptives outperformed naturally cycling women on an object memory task but not a spatial ability task. Naturally cycling women who were menstruating performed similar on all cognitive tasks compared to those who were not menstruating during testing. The findings from this study add to the limited research demonstrating the effects of hormones on cognition in young women. Reference: Thrasher, C.A., Otto, L. and Harburger, L.L. (2022). The effects of hormone contraceptives and menstruation on object memory and spatial ability in young women. Psychological Reports, 0(0), 1-15.
Carlie Hoffman, Creative Writing, won the Northern California Publishers & Authors (NCPA) Gold Award in Poetry for her poetry collection, This Alaska, which debuted last fall.
Nathan Holmes, Cinema and Television Studies, guest edited New Review of Film and Television Studies Special Issue: Renewing the Cine-Genre: Pasts and Futures, volume 20, no. 1, which was published March 2022, with Colin Williamson, assistant professor of American studies and cinema studies at Rutgers University. The issue features an introduction, Towards a Catalogue of Cine-genres, co-written with Colin Williamson, and Holmes' essay Highways Through the Void: Chase Sequences and the Built Environment, as well as commissioned essays by Tom Gunning (former Purchase professor), Kristin Whissel, Robert Bird, and others.
Elise Lemire, Literature, appeared on C-SPAN's BookTV on September 25, 2021, to discuss her new book, Battle Green Vietnam: The 1971 March on Concord, Lexington, and Boston (Penn Press, 2021), which has been hailed by former Secretary of State John Kerry as "a citizen's handbook on the importance of active participation in our democracy." Described by Publisher's Weekly as a "well-told deep dive [that] packs in plenty of rewards," Battle Green Vietnam was one of three finalists for the New England Society's 2022 prize for best historical non-fiction. Reviews and an excerpt from the book are available at www.BattleGreenVietnam.com.
Shaka McGlotten, Media Studies and Anthropology, was named to the Hollywood Foreign Press' Advisory Board in September 2021. In October and November, McGlotten attended several conferences where they presented work on their recently published book Drag: Or in the Drag of a Queer Life (Routledge 2021), as well as research related to race, sexuality, and artificial intelligence. These included the Society for Literature, Science, and the Arts; the American Studies Association; and the American Anthropological Association. In June 2022, they were invited to take part in a five-day think tank called Future Humans, Human Futures in Arlington, VA, sponsored by Virginia Tech. The research institute brought together scholars, activists, and theologians to discuss the implications of new technologies, especially for members of historically marginalized groups.
Jeanine Meyer, Mathematics/Computer Science, at the request of publisher Springer/Apress, updated two books: Programming 101, on the Processing programming language, for its second edition, and The Essential Guide to HTML5, for its third edition. Joe McKay, New Media, was the official technical reviewer for Programming 101. Takashi Mukoda '19 (New Media and Math/CS) helped with previous editions of these books. Meyer also made a presentation on August 5, 2022, at the Mathematical Association of America MathFest in Philadelphia, Pa: "Lessons in teaching an origami gen-ed math course pre- and during the pandemic." Meyer taught the Shen Basket at the OrigamiUSA 2022 Convention on June 25, in New York City.
Rebecca Peretz-Lange, Psychology, published two articles on how children think about socioeconomic hierarchies. "From 'Haves' to 'Have Nots': Developmental Declines in Subjective Social Status Reflect Children's Growing Consideration of What They Do Not Have" (published in the journal Cognition) finds that young children tend to overestimate their family's socioeconomic status, and adjudicates between different possible explanations for this tendency. "Socioeconomic status predicts children's moral judgments of novel resource distributions" (published in the journal Developmental Science) finds that children's ideas about their family's socioeconomic status have implications for whether children view material inequality as fair or unfair.
Edward Pomerantz, Film and Media Studies, won the Best Screenplay Award in two international film festivals, Madrid and Calcutta, for his original screenplay, Real Love. It was also a finalist in Toronto and Berlin. La Comida, a short film he wrote and directed, was an Official Selection at two film festivals in Venice and London, and won the Best Short Film from the United States in the Dreamz Catcher International Film Festival in West Bengal. I Hate When It Gets Dark So Early, the short film Pomerantz wrote and directed, was a finalist at film festivals in Paris, Sweden, Rotterdam, and Berlin, and an official selection at the Hollywood Shorts Fest and Indie Shorts Awards in Cannes. Man Running, his original screenplay, was a finalist in film festivals in Berlin, Paris, and Toronto. In August, Caught, the movie he wrote based on his novel Into It, which was released 25 years ago by Sony Pictures Classics, was the opening night film chosen to honor the director Robert M. Young at the Metrograph in New York City.
Paul Siegel, Psychology, published a clinical psychology study in Biological Psychiatry, co-authored by his former Senior Project mentee and then Research Coordinator, Richard Warren '12 (Psychology). The study demonstrated the mechanism by which unconscious exposure to phobic stimuli reduces fear in highly phobic persons. Warren is currently a PhD candidate in the Neurobiology program of Columbia University. Biological Psychiatry is among the highest-ranked journals in the neurosciences and the 250th-highest ranked journal across the sciences.
Joel Tenenbaum, Meteorology, published a paper, "Aircraft observations and reanalysis depictions of trends in the North Atlantic winter jet stream wind speeds and turbulence," in the Quarterly Journal of the Royal Meteorological Society. Along with Tenenbaum, the nine co-authors included contributors from the University of Reading (U.K.), the U.K. Meteorological Office, NASA, and a 747 pilot. Also a co-author was Marguerite Oztunali, a technical staff member of Natural Sciences and Campus Technology Services. Purchase students working on earlier versions of the experiment included Clyde Lingenfelter '12 (Mathematics/Computer Science), Greg March '85 (Mathematics), and Yaga Beres Richter '97 (Mathematics).
Lunia Vera, Spanish, had a book of poems published as part of a trilogy: 80 Naufragios, Monólogos Nocturnos y [De]codificarte. The presentation and reading were postponed due to the pandemic. The official book signing was on May 26, 2022.
---
Physical Education
Julie Broglin, Physical Education, wrote At Peace in a Quiet Place/Safe Yoga for Beginners—All Ages: An Illustrated Guide with Links for Video and Audio (2022), a new title published on Amazon in two formats: Kindle and print paperback. Broglin teaches two Hatha Yoga courses for college credit.