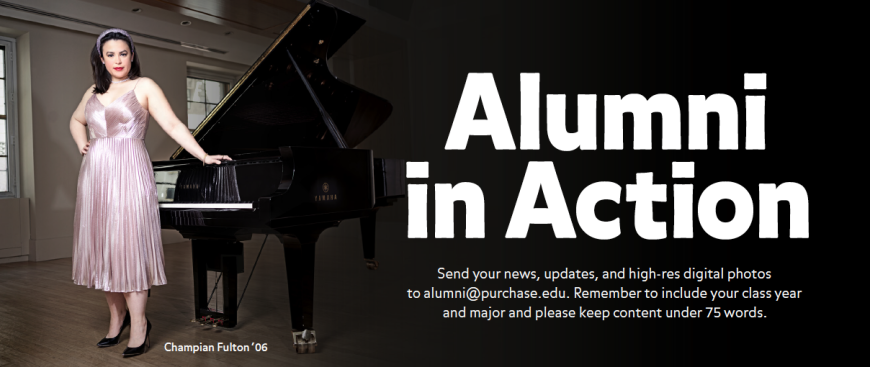 ---
1973
Alan Rosenberg (political science) retired in August after a 40-year career as a public defender. His last 25 years at Brooklyn Defender Services (BDS) included criminal trials, the training and mentoring of young lawyers, and helping to build BDS—from scratch—into a nationally recognized, 500-employee, 150+ lawyer defense organization that assists more than 40,000 Brooklyn clients each year in Criminal, Family, Immigration and Civil Courts.
Eileen York Clawson (literature) has been involved in publishing since her graduation from Purchase. She owned a typesetting business, worked in small print shops and then larger publishing houses on subjects ranging from animal husbandry to paramedic textbooks, and for the past 17 years has been doing freelance copyediting and proofreading. She has three wonderful grandchildren and splits her time between Massachusetts and Virginia.
---
1975
Douglas Miller (film) released his first book, The Greatest Escape, a True American Civil War Adventure, through Lyons Press. The product of 20 years of research, the story is based on the first-hand accounts of Yankee officers who participated in the largest prison breakout in U.S. history.
---
1976
Joe Goldman (philosophy) joined the Salmagundi Club as a Resident Artist in May 2017; his figurative work Claudia at sunrise (2020) was included in one of the club's early 2021 exhibitions.
Mark (Sully) Ross-Sullivan (design/tech) has started his sixth season on The Late Late Show with James Corden where he "builds all the crazy things the writers come up with." This is his 44th year as a special effects/propman in IATSE local 33 and 44.
Jay O. Sanders (acting) performed with his wife, Maryann Plunkett, in What Happened?: The Michaels Abroad, the final installment in Richard Nelson's decade-long, 12-play project called the Rhinebeck Panorama.
---
1977
Lisa Levart (dance) is an artist and photographer whose original work, Goddess on Earth: ORACLE - A Divination Deck and Guidebook with Spirited Wisdom from your Sisters, was released in June.
Paula Kelly '79 (graphic design/photography) art directed and designed the book, deck, and packaging; the portraits and words of Anna Palmer '15 (environmental studies) and Christina Wright '79 (liberal arts) are featured.
Robert Shwab (history) is the newly appointed president of the board of Verb Ballets, a contemporary ballet company in Cleveland, OH that has performed choreography by Purchase alumnus Hernando Cortez '85 (dance) and showcased the talents of many Purchase dance alum. The company's principal dancer is Purchase alumnae Leineke Matte '13 (dance).
Harvey Wang (anthropology) tells the story of William Feehan, the oldest fireman to die on 9/11, in his short film, CHIEF, that was shown on PBS station WNET and screened at the Museum of the City of New York in commemoration of the September 11th anniversary. Wang's short film, The Cantor's Last Cantata, was featured at Lincoln Center's New York Jewish Film Festival in January.
---
1978
Tony Castrigno (design/tech) produced Falling in Love with Mr. Dellamort, A Mysterious New Audio Musical, created in the style of a classic radio drama with full Foley-style sound effects and a cast of Broadway favorites.
Mark Patnode (visual arts) is an artist whose painting, Cherry Blossoms, has been entered into the Department of the Navy Naval History and Heritage Command for the Navy Museum collection and programs after being on view in the Chief of Naval Operations official residence in Washington, D.C.
Carl Reinlib (music) is happy to be back performing and can be seen around New York City playing with the groups BluChaCha, Rho and the Nomads, and ButterBrain. During the pandemic, Carl hiked the entire New York section of the Appalachian Trail. He is engaged to Naoko Okabe.
Nina Sherwood (literature) is a freelance writer, editor, and researcher specializing in educational and creative material for businesses and individuals. Sherwood invites Purchase alumni to suggest articles, research, and ideas for her two websites, GiftedWriting.com and WebSiteWrite.com. She is also a substitute teacher in New Jersey for preschool through grade 12.
Doug Varone (dance) and his NYC-based dance company Doug Varone and Dancers presented an evening of three works at San José State University's Hammer Theatre Center in October. A member of the Purchase Conservatory of Dance faculty, Varone featured students from the SJSU Dance Department with his dancers in one of the works.
---
1979
David McGlynn (visual arts) had a photograph selected for the Rockefeller Center's Flag Project and works included in the American Photography and the American Illustration annuals for the past two years.
Abbie Rabinowitz (visual arts) lives on the Big Island of Hawaii where she leads tropical painting retreats, teaches watercolor and en plein air painting, offers online abstract painting courses, and plans to create an artist residency. She shows her landscapes in galleries in Hawaii and in Cape Cod. Ask about her vacation rental!
David Ronis (music), the Karen K. Bishop Director of Opera at the University of Wisconsin-Madison, recently received tenure and promotion to associate professor. In 2018, he was the second place winner of the Charles Nelson Reilly Award for Directing from The American Prize; between 2009 and 2021, he has won nine National Opera Association Production Awards.
Kim Stroud (dance), Director of the Greater Hartford Academy of the Arts, was selected for the 2021 Outstanding Leadership Award by the National Dance Education Organization.
---
1980
George Feltenstein (film) was named WarnerMedia Library Historian and will be responsible for oversight of the famed Warner Bros. film library in multiple arenas, including curating the company's Warner Archive Collection of Blu-ray and DVD disc releases. The year 2022 will mark George's 25th anniversary as a senior executive at the company.
---
1981
Pam Abrams (liberal arts) moved to Saratoga Springs, NY in 2019 after she and her husband retired. Engaged in the Upstate food scene, she writes for The Times Union, curates a cookbook collection, and helps direct the CulinaryArts@SPAC program. She also serves on the Board of Directors of Caffe Lena, one of the oldest continuous live music venues in the country.
Pedro de Alcantara (music) says COVID heightened his creativity: Oxford University Press awarded him a contract for a revolutionary piano method; an update of his book, The Alexander Technique: A Skill for Life, was published by Crowood Press in April; and he added the Native American flute and the guitar to his musical explorations as a performer, composer, and improviser.
Gary Golio (visual arts) is a New York Times bestselling author whose latest book about legendary musical artists, Sonny Rollins Plays to the Sun and Stars, will be published this fall. A writer and musician, Golio lives in the Hudson Valley with his wife, children's book author Susanna Reich.
Curtis Kasefang (design/tech) and his company, Theatre Consultants Collaborative, have been busy with academic and commercial projects including working with former PAC director Christopher Beach to open a new flexible concert hall outside of Los Angeles, building an outdoor concert venue in Austin and a historic theatre in Lynchburg, VA, and designing an immersive theatre for UT at Austin.
---
1982
Marissa Chibás (acting) has a new book entitled Mythic Imagination and the Actor that was released in August by Routledge Press, and a film, A Cuban Documemory, that has been selected to numerous festivals including the Seattle Latino Film Festival, Madrid Film Awards, NewFilmmakers NY, Argenteuil Film Festival, and Beyond the Curve Film Festival.
Barbara Shenefield (visual arts) is a designer/illustrator who makes posters in the WPA style of the 1930s-40s with political content such as inequality, democracy, and the rise of fascism, much as was faced during the FDR years. An exhibition of her work was on view at the McGuffey Art Center in Charlottesville, VA.
Laura Sturza (culture and society) is completing her memoir, How I Got Married After 50 for the First Time. Excerpts from the book and other stories have been published in The Washington Post, The LA Times, AARP's The Girlfriend, PS I Love You, and Eat, Darling, Eat. More: laurasturza.com.
Stanley Tucci (acting) was awarded the 2021 Creative Arts Emmy® in the Best Hosted Nonfiction Series or Special category for Stanley Tucci: Searching for Italy, where he travels across Italy to uncover the history of various regional cuisines.
---
1983
Susan Adler (sociology) is director of a large research department for a networked health system where she was involved in clinical trial studies for both the Moderna and Johnson & Johnson COVID-19 vaccines and recruited over 300 volunteers to participate in groundbreaking research. Working at the alternative clinic during college changed her life. She is still a Deadhead.
Beth Pilkington-Atkinson (visual arts) is managing partner of The Firefly Artists Gallery in Northport, NY. Her personal work has been included in numerous exhibitions throughout the U.S., including the Omni Gallery in Uniondale (through January) and a solo exhibition at the Locust Grove Estate in Poughkeepsie (summer 2022).
Ivan Menchell (literature) and Karen Sillas '85 (acting) have relocated from Los Angeles, CA to Weston CT. His musical, Mata Hari, opened this summer in Tokyo, Japan; Xcalibur is opening soon in Seoul, South Korea, followed by the Seoul premiere of Death Note in March 2022. The 10th anniversary of Bonnie & Clyde's short-lived run on Broadway will be celebrated with a concert presentation at London's Theatre Royal Drury Lane in January 2022.
Sheryl Pollard-Thomas (dance) is assistant director of Earl Mosley's Institute of the Arts. She spent 19 years as a dance instructor and co-chair of the Dance Department at Boston Arts Academy. During the pandemic, she launched a virtual dance program for 9th graders at McDonough High School in Charles County, MD; the program is continuing this year.
Nora Raleigh (literature) is an award-winning author and writing teacher whose 14th novel for young readers, Consider the Octopus, will be published in April 2022 (Knopf). Raleigh offers creative writing workshops, manuscript reviews, and college essay mentoring via the Writer's studio on her website. More: norabaskin.com.
Robert Zubrycki (music) is excited to get back to performing! This summer he curated a string quartet program that was a collaboration between the American Symphony Orchestra and Magazzino Italian Art, and performed as principal second violin for the ASO at the Bard SummerScape. His fall performances include the Stamford Symphony and the New York City Chamber Orchestra, where he is concertmaster. He is also director of the Concerts Around the Corner series in Brewster, NY.
---
1984
Linus (Brant) Coraggio (visual arts) is practicing acupuncture as well as art these days. In 2019, he received an Acker Award for his avant-garde sculpture and debuted his one-man show, Ramifications, at Howl! Gallery (NYC). He was also awarded a grant to pursue his 3D graffiti "outstillations," a genre of street art he invented while at Purchase. His work was included in this year's SPRING/BREAK Art Show NYC. More: linuscoraggio.com.
Denise Roberts Hurlin (dance) was very proud to receive the 2021 President's Award for Distinguished Alumni from Dr. Milagros Peña at the 49th Purchase College Commencement. Hurlin is founding director of Dancers Responding to AIDS, a program of Broadway Cares/Equity Fights AIDS.
---
1985
Jim Benz (visual arts) is loving life in the Bay Area despite the droughts and fires. He is the new administrative director at Santa Cruz Waldorf School; Waldorf schools are known for seeing the arts as crucial to a child's development and an essential component of education.
Sondra Gold (visual arts) had a show of her sculptures at the artist-run Upstream Gallery in Hastings-on-Hudson in October 2021.
Michael Rinella (political science) worked on Moral Responsibility in the Twenty-First Century: Just War Theory and the Ethical Challenges of Autonomous Weapons Systems, part of the SUNY series in Ethics and the Challenges of Contemporary Warfare. The book was selected as one of 10 editors' picks in August 2021 by Choice, the publishing unit of the Association of College and Research Libraries.
Jonathan Secor (design/tech) spent the summer as a producer for the NYC Free Festival on the newly opened Little Island. This fall, he will be producing director for Urban Bush Women, creating new site-specific work, opening a dance residency center for artists of color, and working with a cohort of emerging producers of color.
Sherri Zuckerman (visual arts) returned to her original love of drawing and collage after many years of focusing on photography and other creative crafts. She is hosting Zoom sketch nights once a week and is finding new ways to use her box of Color Aid paper from color theory class at Purchase.
---
1986
Deirdre (Imershein) Haj (acting) is the new executive director of Film Streams, a nonprofit arts organization dedicated to enhancing the cultural environment of the Omaha-Council Bluffs area through the presentation and discussion of film as an art form. Previously, she led the Full Frame Documentary film festival in Durham, NC, and was senior adviser for television and film at Duke University.
Janice Minor (music) has been appointed as clinical associate professor of clarinet at the University of Illinois. In addition to her academic positions, Minor enjoys an active career as a solo recitalist, chamber musician, orchestral player, clinician, and music educator. More: janicelminor.com.
Jeremy Shatan (culture and society) is director of proposal development for the Mount Sinai Health System in NYC, where he manages a team of writers creating requests for major gift fundraising. Shatan and his wife, Karen Capucilli '85 (visual arts), recently celebrated 33 years of marriage; they are the proud parents of Hannah and Noah. See his photographs on IG @murgatroyd.
---
1987
Cynthia Heim (dance) was interviewed by ITV (on REELZ TV) about her years working as a vocalist in Florence Henderson's autobiographical cabaret show. A Foley Artist, Cynthia has recently lectured at the Museum of the American Revolution in Philadelphia and for the Rochester Institute of Technology on the impact of dance in her varied career path.
Paul Stewart (visual arts) and Keith Nelson (Purchase circus instructor) have teamed up to super-size circus arts, one of the most basic and oldest forms of entertainment. Their project received a NYFA City Artist Corps Grant and appeared on Bindlestiff Family Cirkus' Flatbed Follies mobile stage this fall in New York City neighborhoods that have minimal arts programming and those areas hit hardest by COVID.
---
1988
Emily (Hofstetter) Duff (women's studies) released her fifth solo record, the 10-track Razor Blade Smile, in July. She will be touring the U.K. in May 2022. Find her discography at Bandcamp, iTunes, amazon.com, and Spotify.
Thomas Franklin (visual arts) received tenure and was promoted to associate professor at the School of Communication and Media at Montclair State University. An exhibition of his work related to immigration and forced migration was on view this summer at the Paterson Museum. In September, he helped Purchase commemorate the 20th anniversary of 9/11 by joining in a Zoom discussion of his photograph of three New York City firefighters raising the American flag amid the rubble of the World Trade Center.
Sarajean Rossitto (sociology) lives in Tokyo, where she works with a variety of nonprofits and international development agencies, teaches about American social movements and sustainable development, conducts research about how most formidable populations in Japan have been impacted by COVID, and serves as the new chair of the Democrats Abroad Japan country committee.
---
1989
Daniel Rubin (literature) is excited to get back to creative writing and is hard at work on a screenplay and two new plays. His book, 27 Essential Principles of Story: Master the Secrets of Great Storytelling, from Shakespeare to South Park, published in 2020, is being translated for publication in China, Russia, and Korea.
---
1990
Scott Altman (music) is president and CEO of Cincinnati Ballet. He was recently elected Executive Managers Council Chair and is a trustee at DanceUSA, and a trustee at Ohio Citizens for the Arts. He was honored for two consecutive years by Cincinnati Magazine as one of the city's top 300 executives. The Ballet's new 57,000-square foot Valentine Center for Dance opened in Steptember.
---
1991
Dan "Dani" Michaeli (film) has been made a supervising producer for Strange Planet, the popular comic from Nathan Pyle that is being turned into an animated television series for Apple TV+.
---
1992
Aaron Conte (acting) plays Tom in the dramatic podcast Serving Hope, adapted from Katrina Parks' documentary Harvey Girls.
Jessica Frost (visual arts) runs the non-profit Arts Center at Duck Creek in East Hampton, NY. The organization advocates for artists and musicians, connecting them to the community and providing visual artists with stipends and promoting young, up-and-coming, innovative musicians. She invites area alumni to reconnect and discuss opportunities for support.
JoAnne Maffia (literature) debuted 'The Making of' Hammer & Rain: Reflections Through Time, a full-length documentary film focusing on the collaboration between one composer and four choreographer/dancers all over the age of 50, during a virtual premiere on August 23. More: refoundsound.anywhereseat.com.
Heather Ostman (literature) published her second novel, The Second Chance Home for Girls (Open Hand Press), in the spring and received a National Endowment for the Humanities Summer Stipends grant to work on another new book, American Women Activists and Autobiography: Rhetorical Lives, to be published by Routledge later this year.
Jeffrey Schwarz (film) premiered his documentary Boulevard! A Hollywood Story at Outfest Los Angeles in August. Boulevard! is the story of Dickson Hughes and Richard Stapley, two young songwriters and romantic partners who find themselves caught in movie star Gloria Swanson's web when she hires them to write a musical version of Sunset Boulevard.
Camille Seaman (visual arts) had a series of her photographs, entitled Sunset in the Lemaire Channel, selected by Facebook Open Arts for installation in the new Facebook building in Burlingame, CA. She says: "I hope these images seen at this scale will convey a small window into the wonder of our very unique and sacred planet…"
Matthew Sheridan (music) will premiere his short play, Small Talk, in London later this year; his full-length play, Unfinished, was published in 2020. His play Beach Glass was a finalist for the 2021 Creede Repertory Theatre's Headwaters Festival (CO) and his one-act Strawberry was shortlisted for the 2020 OutStageUs Festival (U.K.).
---
1993
Gennifer Birnbach (literature) celebrated the two-year anniversary of her creative marketing company, Gennifer with a G, inc., after a 30+ year successful television career. "Grateful to Purchase College for the head start it gave me." She participates in the alumni mentoring program and is happy to give career advice to those who are unsure or may need a pivot.
Damian Eckstein (music) wrote and produced his band GIFTSHOP's latest single, More Than That, which is streaming globally on all platforms and was recently featured on Sirius XM radio. The group formed in 2007 and is managed by Nicole Vandestienne '90 (literature). The two alums have been married 21 years! More: giftshoptheband.com.
Arielle Greenberg (drama studies) recently published her fifth book of poetry, Come Along with Me to the Pasture Now (Agape Editions), chronicling her sabbatical year, third pregnancy, and decision to leave full-time academia.
Karina Krepp (acting) and Christien Methot '92 (design/tech) have been tackling mountains together since they met on campus back in 1990. Krepp has been living her purpose as a holistic lifestyle coach; Methot is the lead lighting designer for Design One.
Krisha Marcano (dance), assistant professor of musical theatre dance and assistant dean for student affairs and entrepreneurship for the University of North Carolina School of the Arts, was recently featured in an article about her teaching and position at UNCSA on uncsa.edu.
---
1994
Jen Blazina (visual arts) is a sculptor and printmaker who uses glass and screen printing as her primary media. She currently resides in Philadelphia where she is a working artist and professor. Three of her newest works were recently accepted to appear online in the Glass Art Fair.
Rainy Horvath (liberal studies) published a new book, The Able Queen, a memoir about WWII in China and the lives of one young airman downed in the Himalayan Mountains.
Marc Wolf MM '09 (music)—stage name Wolfgang Monteverdi—released his second EP, Upland Spring, in May. The album is a collection of six tracks based around an open tuned steel string guitar; the digital track of a new single, The Blind Worm, dedicated to freedom struggle, followed in August.
---
1995
Tiziano Thomas Dossena (environmental science) had his essay on the fascist period writings of the antiregime Roman-dialect poet Federico Tosti published by Idea Press.
Jennipher Satterly (visual arts) is an American representational painter specializing in golf landscapes and an official licensed artist for the Pebble Beach Company. She earned her Master of Fine Art from The Glasgow School of Art. Her paintings have been exhibited internationally; a selection of her commissioned work is in the archive collections of Mount Vernon and the White House. Jennipher lives in New Jersey with her husband and two sons.
Frank Vigliotti (acting) is returning to school at New York Medical College "after spending 30 years dead broke as an actor and wasting $150,000 on Yale Drama School."
---
1998
Jennifer Ruggiero (dance) was featured in the August 9, 2021 edition of Crain's New York Business as a Notable Women Business Owner in recognition of the work she is doing with The Pilates Movement, the Upper East Side Pilates studio she opened in 2006 and was able to sustain throughout the pandemic.
---
2000
Kyle Abraham (dance) received three 2021 nominations for The Bessies, New York City's premier dance awards honoring outstanding creative work in the field. He curated a "Day of Dance and Music" as a part of the summer's NY PopsUp festival and has been creating solo and ensemble works for his company, A.I.M., to perform during a packed schedule of upcoming performance on the world's most prestigious stages.
---
2001
Vehia Walker (dance) recently opened BDA Pilates, a fully-equipped classical pilates studio in Hamilton, Bermuda.
---
2002
Jesus Martinez (drama studies) is an accomplished actor of Dominican decent who has been active in theatre, film, TV, and audiobooks for over 17 years. He can be heard in the upcoming PBS animated series Alma's Way and the audiobook Spider-Man Miles Morales: Wings of Fury. More: jesusemartinez.com.
---
2003
Mary Kathryn (MK) Blazek (design/tech) was honored for her efforts to help seniors in Westchester County get the COVID-19 vaccine when officials in her town of Greenburgh, NY named a "day" after her. She and her wife, Sarah Courtman, participated in a Pride flagraising ceremony during the celebration. Blazek is chief operations officer at Tinc Productions and an adjunct faculty member at Manhattanville College.
Tawanna Brown (history) was promoted to corporate trainer for T-Mobile. She has been with the company for nine years.
Andrea Gordon Cote MFA (sculpture) lives in Hampton Bays, NY with Pierre Cote '00 (visual arts) and their son Nathaniel. She manages Education and Public Programs at The Watermill Center. Social Fabric: In the Public Square, her live performance/multimedia collaboration with choreographer Ann Robideaux, was presented at Guild Hall in East Hampton this fall.
Jason Hanasik (visual arts) has been awarded a Catapult Film Fund Development Grant for his debut feature documentary film, John Who Lives in the Dark. The feature is an expansion of his award winning short documentary, How to Make a Pearl, which was acquired by The Guardian's documentary division in 2017.
---
2004
Eriach Scheib Afterman (art history) married his bride, Carmen, in a ceremony on Fort Lauderdale Beach in July.
Rachel Krause (visual arts) taught at Berkeley College for several years before moving to Berlin, Germany to work as an artist co-producing and directing multimedia events. Now back in NY, she is developing a creative aging residency and retreat while working at local art centers and assisted living homes. An active member of FPPF (Feminist Psychoanalysis Psychoanalytic Feminism) and laLAB (Lacan Reading Seminar)/Lacan Affinities, she still reflects on the excellent quality of SUNY's teachers and is a proud alum.
Stephen Riscica (drama studies) is in preproduction for his first feature film, which is scheduled to begin shooting in Belgrade, Serbia next spring with Haaz Sleiman and Fanny Ardant. His short film, Tumble Dry, was co-directed with Purchase alumna Delia Kelly '04 (drama studies); his short film It Gets Better? screened at the Cannes Film Festival and is currently on the streaming platform Dekkoo.
Ralph Spafford (art history) has fulfilled a lifelong dream to open his own business. His new venture, Green and Serene Lawncare, is a lawn service committed to renewable energy and organic lawn care.
---
2005
Annie Addington '03 (jazz performance), '05 (studio composition) is a co-founder of Artists4Peace, an organization devoted to advancing the vision of Conservatory of Music faculty member Joel Thome to reach out across the globe and collaborate and share works with other artists. Annie's CD, In a Midnight Wind, can be found on annieaddingtonmusic.com.
Nicholas "Nick" Cicogna (liberal studies) published his first book, Through the Lens of Anxiety, chronicling the ups and downs of a 30-year journey dealing with anxiety and how receiving his first camera helped him cope with his struggles.
Tommie-Ann Tavares Ferreira (media, society, and the arts) released her debut novel, There's So Much I Need to Say to You, on Precarious Press under the pen name Suton Tell.
David Recca (music) was appointed artistic director of the New York City Master Chorale; he also directs the Southern Connecticut Camerata and is assistant director of the New Amsterdam Singers. At Purchase College, he teaches a variety of music theory and music history courses, and directs the Purchase Chorus and Purchase Chamber Singers.
Scott Mason (music '05 and '07) made a career change from composer to math educator when he obtained his teaching certification from the University of Bridgeport in 2020. After teaching sixth grade math for Ridgefield (CT) Public Schools last year, in August he was hired as a math interventionist for New Milford (CT) Public Schools.
---
2006
Champian Fulton (music) is now an official Yamaha artist and looks forward to performing exclusively on Yamaha pianos during her upcoming tours, which include stops in Sweden, Denmark, France, Spain, the USA, and Germany. She is set to release a commemorative souvenir recording of her weekly pandemic show, Live from Lockdown, and I'll See You in My Dreams with her Scandinavian trio on Venus Records.
---
2007
Travis Sluss (music) celebrates founding MacInspires 10 years ago! His youth makerspace in Mamaroneck is busy inspiring kids through STEAM and employing Purchase students and alumni as instructors.
---
2008
Kendell Dempster (dance) is a professional makeup artist with a client list that spans fashion magazines to celebrities in music, film, and television. As a freelance MUA for BravoTV, Kendell's work has been featured on bravotv.com; The RealHousewives of Potomac, and Married to Medicine. More: bykdempster.com.
Faith Jones (journalism and gender studies) was promoted to senior manager, anti-racism and digital education at DevaCurl as part of the company's dedication to uprooting white supremacist ideals from the beauty industry.
Quincy Junor (dance) lives in Germany and can be seen in the hit German TV series Babylon Berlin Season 4 as a featured dancer and in the upcoming October issue of Think:Act Magazine.
Keshet Roman (anthropology), formerly known as Davide or just "Vi" to her classmates, is proudly out of the closet as a transgender lesbian. A reference librarian and head of Adult Programming at the Irvington Public Library, she is making good use of her master's in library and information science. Roman resides in the north Bronx with her partners and cat.
---
2009
Tiffany Olgun (literature) is finishing a PhD in literature from Royal Holloway in the United Kingdom. She thanks her mentor at Purchase, Nina Straus (professor emerita of literature), for inspiring her to pursue this degree and a career in teaching.
---
2010
Kevin Collymore (political science) has joined the University of San Francisco as assistant dean of retention and persistence programs, where he supports the recruitment, retention, and success of Black-identified students as well as first-generation and students of color initiatives.
Juliana Weissbein, CFRE (sociology and gender studies) is Planned Parenthood Federation of America's associate director of development operations and a recently accepted member of the Association of Fundraising Professionals' Global Board of Directors.
---
2011
Jenelle Figgins (dance) premiered Spread, her contemporary pointe work for four women who harvest a seed that they cannot control, during the Purchase Dance Conservatory's Spring 2021 concert. The former Dance Theatre of Harlem and Aspen Santa Fe Ballet company member spent the summer in Colorado as movement commander for Aspen Space Station, a launchpad for art and community discussion regarding climate change.
Coni Guhl (arts management) is a member of The Performing Arts Center at Purchase College staff and content creator for The PAC's weekly Culture Picks blog celebrating the performing arts, featuring artists from The PAC Center Series, and providing a sampling of stellar local experiences.
---
2012
Devonnie Black (theatre and performance) had a baby boy, Dion, in May 2020 and released her first poetry book, The Sun Never Needed Time, in August.
Paige Etheridge (creative writing and history) is utilizing her double major doing storytelling tours with US Ghost Adventures in their Neptune Ghosts (Virginia Beach) branch. She is working on her fourth book, a historical fantasy about Nur Jahan; her other three books are available on Amazon through Solstice Publishing.
Amanda Gaskins (cinema studies) received her Masters in Business Administration from Mercy College in February. Her business, the Ruby Lee Drama Studio, is an acting school in the Bronx, NY that caters to youth ages 6–17 and focuses on building confidence while learning the fundamentals of acting for theater and film.
Lucas Sconzo (literature) started a new job as a high school English teacher at Corinth (NY) Central High School after completing his Masters of Science in Teaching at SUNY Plattsburgh in 2020. Previously, he had worked as an ESL teacher in China and in New York City.
Jamie Wollberg (journalism), a.k.a. Trannabis, is a healer, spiritual wellness coach, podcast co-host, and chef/host of the live-streamed cooking show The Trannabis Kitchen (a reboot and upgrade of his college cooking show Baked with Jamie Wollberg, which aired on Brick TV). Wollberg now lives proudly as a queer, neurodiverse, and disabled transgender man in Los Angeles.
---
2013
Kyle McKenzie (journalism) is a producer on ABC's streaming news platform ABC News Live, where he is responsible for daily shows, breaking news, and special events including the inauguration of Joseph R. Biden and "Mission to Mars, Live!" He is also a voiceover artist for the channel.
Jeremy Wexler (classical composition), MM '15, won a prestigious Fulbright Student Research Award to study electroacoustic music composition at the Krzysztof Penderecki Academy of Music in Kraków, Poland under the guidance of Professor Marek Chołoniewski.
---
2014
Victor Couto (journalism) produced the film Enemies of the People: Trump and the Political Press with Retro Report and VICE TV, which had been nominated for two News Emmy® Awards: Outstanding News Special and Best Story in a News Magazine.
Frank Noriega (psychology) is an extraordinary minister, tending to the spiritual and religious needs of nursing and rehabilitation home residents. It is "the most rewarding position (he has) ever held."
Claire Torn (arts management) wrote, directed, and produced a web series called Rent Control which was an official selection at the 2020 T.O. Web Fest, 2021 London Web Fest, and an award winner at the 2020 NYC Web Fest. She is now working on the second season and looking for collaboration opportunities with actors and filmmakers.
Nicholas Virzi (music composition) started a new job as lecturer in the Department of Music at Stanford University. He also received the Dean's Fellowship Award at Stanford.
Christine "Chrissy" Weithers (sociology) graduated in May 2020 with her Inspector General Master of Public Administration (MPA) from John Jay College of Criminal Justice (CUNY) and a concentration in Inspection and Law Oversight. She was recently promoted to deputy director of purchasing at York College of the City University of New York.
---
2015
Nicolas Bruno (photography) published The Somnia Tarot, a 78-image series that tells the tale of the classic Tarot through photography, sculpture, costume design, and dream journals. The series was exhibited at Haven Gallery of New York and has been published as a luxurious deck of cards and art book.
Jahaira Rodriguez (cinema studies) graduated from The New School in May 2020 with her master's degree in media studies and a concentration in digital film production. She interned as a production assistant with Cadence Films and is now interning in the creative content department of the ad agency Red Antler.
---
2016
Austin Alleman (acting) appeared as a guest star on Law and Order: SVU (season 22, episode 3, "Remember Me in Quarantine") and plays the series regular Nathanael on season 2 of The Chosen.
Leann Bescript (journalism) and her fiance purchased and merged two established e-commerce custom merchandise companies into Merchly.com. They are planning a March 2022 wedding in Stone Harbor, NJ.
---
2017
Jaspreet Gill (journalism) has been promoted to senior technology reporter for Inside Defense, covering defense-wide tech, cyber/artificial intelligence, and Congress.
Cheyenne Hutchinson Myrie (arts management) is director of institutional advancement at The Theater Offensive, the Boston-based theatre with a mission to present liberating art by, for, and about queer and trans people of color that transcends artistic boundaries, celebrates cultural abundance, and dismantles oppression.
Erica Matz (gender studies and media, society and the arts) earned her master's degree in 2020 and is now employed on her second network show, Law and Order: Organized Crime (season 2)! Dun Dun.
Maria Quintanilla (music) had her spontaneous composition entitled Shade of White selected as a semi-finalist in the 2020 International Songwriting Competition. Semi-finalists represented the top 9% of the 26,000 applicants.
---
2018
Kara Kind (playwriting and screenwriting) and Rose Alston-Follansbee (playwriting and screenwriting) are writing a new feature film, Anna Answers the Phone; they are hoping to enter pre-production before the end of the year.
Tristen Stafford (cinema studies) directed Pretenders, a new film distributed by Gravitas Ventures that won the top prize at the Cinequest Film Festival. The self-described "just another gay weed beach movie" is available on AppleTV.
---
2019
Sara Barkat (philosophy) has written a science/eco-fiction book entitled The Shivering Ground and Other Stories that will be published by year-end. Her illustrations for The Yellow Wall-Paper: A Graphic Novel were published in early 2020.
Hernan Checchi (economics) earned an MBA in Managerial Analytics with distinction and landed a consulting job at one of the Big Four financial services firms. While working full time, he is also a doctoral candidate in finance. #ProofofPurchase
Georgia Humphries (environmental science) is pursuing a PhD in Earth and Environmental Sciences.
---
2020
Nezih Bouali (liberal arts) returned to his home country, Tunisia, following graduation to work as an editor, set designer, cameraman, production assistant, and/or cinematographer (depending on the project) at a digital media organization. He returned to NY this fall to begin the master's program at The New School.
Kanami Kusajima (dance) was a literal ad for New York City this spring and summer. NO STOPPING NEW YORK, the City Hall-commissioned poster promoting recovery, was found on bus shelters and sidewalk kiosks all over town. Then the NYPD stopped her. More: curbed.com.
Kathryn Paletta (visual arts) works for the Video Call Center (VCC), a production service and technology company, where she designs assets and advertisements and has helped produce a number of live events and shows including the International Emmy® Awards in 2020, NBA TV, and The Kelly Clarkson Show.
Quinn Reynolds (playwriting and screenwriting) is the writer and director of the immersive event Superhero Night at The Explore and More Museum in Buffalo, NY. The show was a sell-out during its October 2020 debut; the next iteration of the show is scheduled for early November 2021.