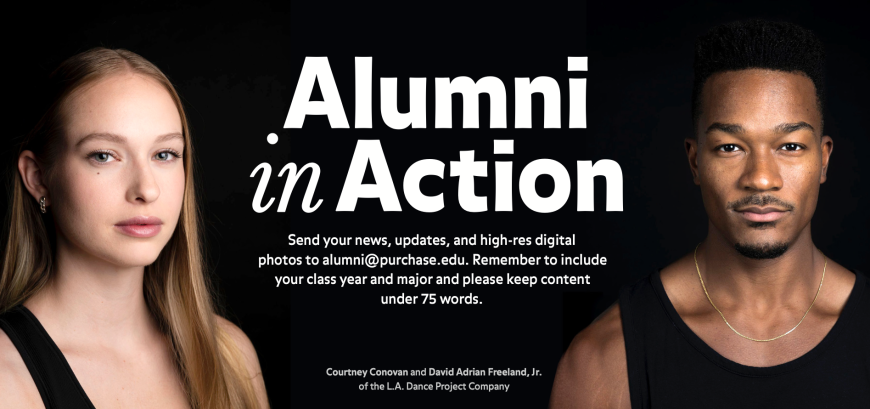 ---
1976
Joe Goldman (Philosophy) received the Harry Ballinger Memorial Photography Award in the Salmagundi Club of New York's 145th Annual Black and White Exhibition for Windswept - Bailey Island, Maine.
John Reed (Music) is a Grammy-nominated cellist from the first music division graduating class at Purchase. He is a member of the top-selling Hampton String Quartet and the developer of MusicJOT, the natural handwriting recognition music notation app for iPads.
---
1978
Geoff Loftus (Literature) had his seventh Jack Tyrrell thriller, Casual Slaughters, published in March by Saugatuck Books. More: geoffloftus.com
Mark Patnode (Visual Arts) and his wife Yujuan (Juner) are teaching artists in New London, CT. Their art came together in an East Meets West exhibition at the Norwich Arts Center in June.
---
1979
Ghasem Ebrahimian (Film) earned the Woodstock Film Festival prize for Best Cinematography for his work on the feature narrative film Amerikatsi, directed by Michael Goorjian, which also landed the top prize as Best Narrative Feature.
Abbie Rabinowitz (Visual Arts) lives on the Big Island of Hawaii where she leads tropical painting retreats, teaches watercolor and en plein air painting, offers online abstract painting courses, and plans to create an artist residency.
Cheryl Slavin (History) and Mitchell Brozinsky (Sociology) met at the original Purchase coffee house in 1976. They have been married more than 41 years and have three kids, one son-in-law, and a beautiful grandbaby. Cheryl works as a development professional at Hebrew Union College – Jewish Institute of Religion; Mitchell is a location manager and fine arts photographer.
---
1981
Allyson Johnson (Music) is now editing The Best Man for the Peacock streaming service. In recent years she has worked on Tommy (CBS), Mosquito Coast (Apple TV), Gossip Girl (HBO/Max), Soundtrack (Netflix), Tales of the City (Netflix), and The Good Fight (Paramount+).
Curtis Kasefang (Theatre Design Tech), a principal consultant with the Theatre Consultants Collaborative, Inc., has been working on renovations at Juilliard and the University of North Carolina School of the Arts. At Juilliard, he saw Senior Director of Production Thom Widmann '90 (Theatre Design Tech). At UNCSA, he ran into Associate Dean of Contemporary Dance Brenda Daniels '82 (Dance) and Monty Heath, former Sound Shop foreman at The Performing Arts Center. "Purchase people are everywhere!"
---
1982
Marissa Preston Chibas (Acting) was selected as a 2022 Sundance Screenwriting Fellow for her film 72. Her film A Cuban Documemory was screened in June at the Allora International Music, Art, and Film festival in Puglia, Italy. More: marissachibas.com
Linda McCauley Freeman (Literature) has published her first full-length poetry collection, The Family Plot (Backroom Window Press, 2022). Nominated for a 2022 Pushcart Prize, she has an MFA from Bennington College and lives in New York's Hudson Valley. More: Facebook.com/LindaMcCauleyFreeman
JD Zeik (Film), assistant professor of screenwriting and film, is adapting Peter V. Brett's New York Times bestselling sci-fi horror fantasy novel, The Warded Man, for TV. Rush Hour and The Hustle producer Roger Birnbaum and Mark Kimsey are developing the story with an eye on creating a longer-term franchise from the series of five novels.
---
1984
Jeffrey Markowitz (Theatre Design Tech) continues to produce Lord of The Rings in Concert around the world as pandemic relaxation allows postponed engagements to take place. More: lordoftheringsinconcert.com
---
1985
Risa Hoag (Political Science) celebrated 30 years as founder/president of GMG Public Relations. In 2021, she was recognized by Crain's New York Business as a "Notable in PR" for her work and philanthropic efforts.
---
1986
Lisa Kellogg (Visual Arts: Printmaking), MA (Goddard '97) recently launched LittleHavenArts.com, where she blogs and offers workshops and sessions to help people become re-enchanted with life/work or whatever isn't sparkling, and to find their Abracadabra, make Magic, and share it with the world.
Laura Von Rosk (Visual Arts) was selected by the Sam and Adele Golden Foundation for the Arts to participate in a Spring 2022 residency at their facility in New Berlin, NY. Her work has appeared in several recent group shows and digital exhibitions.
---
1989
Marcy Peskin Friedman (Literature) and her husband, Marvin, are happily celebrating their loving marriage and the recent graduation of two sons from college and one from high school.
Marco North (Film) is a filmmaker, photographer, author, and musi- cian based in Tbilisi, Georgia. His latest novel, Papa on the Moon (Bittersweet Group LLC/2022), was published in September to critical acclaim, including Kirkus Reviews, which calls it "cunningly conceived." More: marconorth.com
---
1991
Stephen Burt (MFA Visual Arts: Printmaking), a featured artist in the Spring 2022 Maine Arts Journal, has created a new video project called There Were Many that he is proud to share with the Purchase community. More: mainearts- journal.com/stephen-burt-2 and youtu.be/4J- G8IUIcFyk
---
1992
Camille Seaman (Visual Arts) has been photographing icebergs for nearly 20 years. She recently appeared on PBS' Brief But Spectacular to discuss the power of art in communicating the realities of climate change. More: camilleseaman.com
Matthew John Lunetta (Environmental Science) joined Dartmouth Hitchcock Medical Center as a lead in the Histology department and presented at the October 2022 National Society of Histotechnology conference. Heski patrols at Sunapee and Whaleback mountains in New Hampshire.
---
1993
Tom Cross (Film), along with co-editor Elliot Graham, received a British Academy of Film and Television Arts (BAFTA) Award for editing No Time to Die, the James Bond film starring Daniel Craig.
---
1994
Jennipher Satterly (Visual Arts), a historic golf landscape painter, made the official commemorative painting for the 2022 AT&T Pebble Beach Pro-Am; the work was used as the tournament poster and cover of the digital pairings guide.
---
1996
John Jacono (Visual Arts: Photography) retired after 22 years as a darkroom printer and moved on to horticulture, earning a certificate from The New York Botanical Garden. He is now a gardener and photographer at Untermyer Gardens in Yonkers, NY. "Best of both worlds," says John.
Richard "Richie" Morales (Music MFA) retired after teaching for 25 years at Purchase College as Jazz Studies professor in the Conservatory of Music. He is continuing an active performance career, touring with guitarist Albert Laurence Di Meola.
Maria-Cristina Necula (Language & Culture) won the New York Press Club Award in the Critical Arts Review category for her review of Matthew Aucoin's opera Eurydice at the Metropolitan Opera. More: mariacristinanecula.com
---
1998
Nathaniel "Nicco" Annan (Acting) earned the NAACP's inaugural Trailblazer Award for his role as Uncle Clifford, the gender-fluid main character on the STARZ hit P-Valley. It's a reprisal of the revelatory role he played on stage in Katori Hall's play Pussy Valley. The second season premiered on June 3.
Mary Beth Flatley (Liberal Arts) was honored in October as a 2022 Women Veterans Appreciation Day Honoree, nominated by New York District 13 legislator Robert Trotta. A former Marine Corps Reservist, Mary now does volunteer work and writes poetry.
Diane Lechleitner (MFA Visual Arts: Printmaking) received the 2021 Foreword Reviews INDIES Award for General Fiction for her first novel, Faron Goss (Green Writers Press/2021).
---
1999
Ernestine White-Mifetu (Visual Arts) was appointed Sills Foundation Curator of African Art at the Brooklyn Museum, which holds one of the largest collections of African art in the U.S.
Erik Lepis (Social Science, Visual Arts), an education consultant and president of The Living Literacy Network, recently released a comprehensive resource of mini-lessons that K-6 teachers can use to simplify the teaching of informational writing across all genres. More: thelivingliteracynetwork.com
---
2001
Regina Spektor (Studio Composition) re-released the formative album 11:11 she wrote and recorded while a student in the Conservatory of Music. Spektor wrote the songs and recorded them with the help of fellow students. Ritchie Castellano '01, MM '03 produced the album, and Chris Kuffner '02 played the bass. And it was her classmate, Jack Dishel '98, who suggested she pay to have 1,000 copies of the CD pressed to sell after her shows. (Spektor married Dishel years later.) Twenty years later, she revisited the music and made peace with her younger artist self. The songs from 11:11 are available again on streaming platforms and in an anniversary box set. She's also releasing early performance footage recorded by her father.
---
2003
Mary Kathryn "MK" Blazek (Theatre Design/Tech) was appointed Associate Dean for Production for the College of Performing Arts at The New School in February 2022. (Photo: Kelli (O'Toole) Patterson '04 (Theatre Design/Tech))
Danielle Johnsen Karr (Media, Society, and the Arts) leads creative, strategy, and execution for Magnet, the in-house Social Content Agency of digital video publisher Team Whistle.
---
2004
Dan Deacon (Music) composed an original score for the Netflix film Hustle, directed by Jeremiah Zaga and starring Adam Sandler and Queen Latifah. The soundtrack is a powerful combination of his innovative electronic style and hip-hop by Philadelphia artists.
Andrea Janov (Creative Writing) published a coming-of-age poetry collection, Mix Tapes and Photo Albums (EMP Books/2022). More: andreajanov.com
---
2005
Julia Dixon (Visual Arts) was awarded an Artist Fellowship in Painting from the Mass Cultural Council in May 2022. The grant provides unrestricted support to individual artists to recognize and foster exceptional creative work. More: juliakimdixon.art
Brian Hills (Theatre Arts), LaToya Lewis '06 (Music), and the NYC PAL Cops & Kids Chorus performed with Tony Danza to sing Lewis' arrangement of the national anthem at the 2021 subway series at Citi Fields.
Allison Loggins-Hull (Music), composer, flutist, and producer, was named the Cleveland Orchestra's eleventh Daniel R. Lewis Composer Fellow. The three-season position includes several commissions as well as work with the orchestra's staff, musicians, and community partners to build activities and artistic relationships that reflect and engage the Cleveland community.
Garnet Walters (Music) won an Emmy® Award for producing and arranging the theme song for the television show Date While You Wait.
2007
Zoë Winters (Acting) and the cast of HBO's Succession received the SAG Award for Outstanding Performance by an Ensemble in a Drama Series.
Catania James (Language and Culture) completed a rigorous program to become certified as a GYROTONIC® Level 1 trainer. She is one of 22 BIPOC women fitness instructors who received a scholarship to increase instructor diversity in the GYROTONIC® community.
Aya Keefe (Economics) serves on the senior staff team for Manhattan Borough President Mark Levine, who appointed Keefe as Manhattan's Deputy Borough President.
---
2008
Jared Arader (Journalism) is an attorney with the NYC Department of Education. Derek Gaskill '15 (Gender Studies) is a project manager at Ascendant Neighborhood Development Corporation in East Harlem. They are co-presidents of Lambda Independent Democrats
of Brooklyn, the borough's only LGBTQ Democratic club.
Rayden Sorock (Literature) celebrated 10 years at Grow Pittsburgh, where he is director of community projects at the urban agriculture non-profit organization. He enjoys skating with the local LGBTQ hockey team, singing in a weirdo choir, and learning about animals (modern and prehistoric) with his four year old. "Say hey if you're ever in Pittsburgh!"
---
2009
Lara Rossana Rodriguez Mimosa Montes, PhD (Literature) celebrated the publication of the artist monograph Darrel Ellis (Visual AIDS, 2021), which she co-edited. She is the author of Thresholes (Coffee House Press, 2020) and The Somnambulist (Horse Less Press, 2016). She holds a PhD in English from The Graduate Center, City University of New York. She teaches editing and publishing as part of the English Department at the University of Minnesota.
---
2010
Chess Lopez (Dance) appeared in a breakthrough role as Amalia, one of two queer mothers of the main character, in Doctor Strange in the Multiverse of Madness, released by Marvel Cinematic Universe.
Kelly Atwood-Moreyn (Literature) published her first book, Victoria: The First Step (The Diamond Chronicles), in November 2020. She lives in New Jersey with her husband and daughter.
Nicole Erin Morse (Film) is an assistant professor in the School of Communication and Multimedia Studies at Florida Atlantic University and director of its Center for Women, Gender, and Sexuality Studies. Her new book, Selfie Aesthetics: Seeing Trans Feminist Futures in Self- Representational Art (Durham, NC: Duke University Press), was published in April. More: nemorse.com
---
2011
Phil Corso (Journalism) was named night editor for the Day-of News desk at National Public Radio's WNYC, a newly created position. It's the first time WNYC has late-night support for breaking news the during the week and on Sunday nights, a transformative move for the station. Corso spent six years prior to this role working as a news editor at the New York Post, where he made late-night coverage decisions for the iconic daily newspaper.
Jessica DiFoggio Groves (Psychology) is assistant director for psychological sciences at the University of Connecticut, a career coach, and author of her first book, The Career GPS: Navigating and Avoiding the 9 Obstacles That Detour Career Exploration (2021). More: careergpsjess.com
T.J. Raphael (Journalism, Political Science minor) is the series host and creator of BioHacked: Family Secrets, a podcast examining how DNA kits are unraveling the secrets of the baby business. The program premiered in March at No. 31 on the global 200 Apple Podcast charts and has been ranked as the number 1 science podcast in America. Season two began in October.
---
2012
Sophie Glenn (Visual Arts), a woodworker, sculptor, metalworker, and furniture designer, received the 2022 John D. Mineck Fellowship, an award given to an early-career furniture artist by Boston's Society of Arts + Crafts. The unrestricted $25,000 prize is one of the largest and highest-profile awards in the crafts field.
---
2013
Kyle McKenzie (Journalism) has been promoted to Coordinating Producer at ABC News Live, the network's 24/7 streaming news and live events channel. He is also a SAG-AFTRA voiceover artist for the channel, providing announcements for various special events and live, large-scale news coverage.
---
2014
Bryant Jacques (Arts Management) recently relocated to Los Angeles to take on the position of vice president of A&R (Artists and Repertoire) at Encore Recordings.
---
2016
Hunter Zimny (Film) is the director of photography for Funny Pages, director Owen Kline's critically acclaimed feature debut. The coming-of-age dark comedy delves into the world of comics through a high schooler dreaming of becoming a comic book artist. Zimny shares the cinematography credit with the revered indie cinematographer Sean Price Williams. "Funny Pages was shot in super 16-millimeter film, which gives the movie a gritty texture that fits the material and, at times, evokes some classics of 1970s cinema." —The New York Times.
---
2017
Taylor Barje (Arts Management) earned a Juris Doctor degree from New York Universtiy Law School in May 2022.
Stephanie Del Cid (Gender Studies and Psychology) earned a Master of Social Work degree from CUNY Hunter College. Stephanie works as a bilingual therapist in both community clinics and private practice settings.
Sarah Catherine Hook (Voice and Opera Studies) stars in the Netflix series First Kill as Juliette, a teenage vampire who falls in love with her monster hunter nemesis, Calliope.
---
2018
Lauren DeLeon (Theatre and Performance) is now on faculty at Sarah Lawrence College, teaching intimacy in performance, as well as assisting at New York University. She is a teaching artist with IDC Professionals and is working on the front wave of intimacy direction in the theatre.
---
2019
Jared Goerke (History) earned an MA in Government and Politics with a focus in Public Administration from St. John's University in January 2022; in May, he was elected to the Plainview-Old Bethpage Board of Education. More: jaredgoerke.com
---
2021
Arielle Rebecca Joselson (Communications) is pursuing a graduate degree in mental health counseling. She has created a new blog (ariellejoselson.wixsite.com/blog) and is engaged to her fiancé, Will.
Zuko Nyaawie (Dance) starred in the YouTube travel show Sailing Cerebral, a reality series about strangers meeting for the first time and setting out on a 3-month sailing journey together to unknown destinations with their neuroscientist captain. More: sailingcerebral.com
---
2022
Douglas Shindler (Visual Arts) has partnered with fellow artist Michael Davis to create The Black Library in their home- town of Monticello, NY. Working with
the Hurleyville Performing Arts Center, they received a two-year grant totaling $407,800 from Creatives Rebuild New York to create a library and community art space.