Lecturer in Liberal Studies–Arts
Judith Dupré writes works of illustrated nonfiction about art, architecture, and engineering, and also conceives the books' unique formats and bindings. She is a New York Times bestselling author published in eleven languages. Her best known titles include Skyscrapers, One World Trade Center: Biography of the Building, and Bridges. She has broad, practical background in the arts and design, especially as they bear on social change, community empowerment, and economic development. She has worked with disadvantaged and minority populations domestically and abroad. From 1980 to 1992, she curated the Abrams Family Collection, a collection of Pop Art assembled by legendary illustrated book publisher, Harry N. Abrams. 
Dupré holds degrees in English Literature and Studio Art from Brown University; studied at the Open Atelier of Design and Architecture in Manhattan; and holds a Master of Divinity, a 3-year professional degree, from Yale University, where she is a named scholar and a fellow of Saybrook College. She is a 2015 National Endowment for the Humanities Public Scholar.
More About Me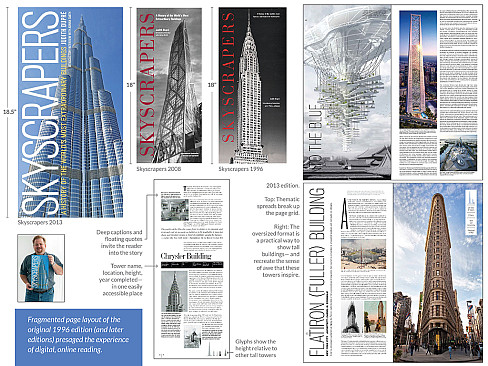 Skyscrapers spreads (2013, 2008, 1996)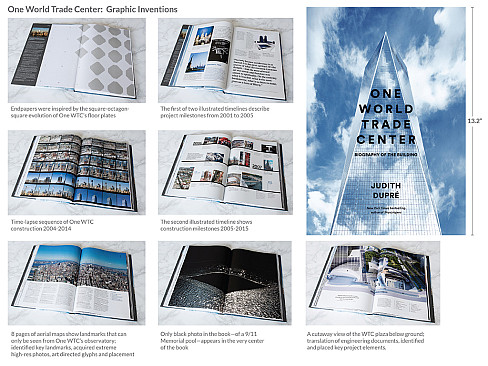 One WTC Graphic Inventions
Research Interests
Architectural and structural history, photography, film, mysticism.
Representative Courses
"Thinking Visually" Senior Capstone. Two simple yet powerful questions—What do you want to say? And is that best expressed in pictures, words, or both?—form the basis of this course. Students acquire skills across a variety of social, digital, and analog media that hone their ability to effectively present imagery and text in tandem.
"Frank Lloyd Wright: Architecture for America." Emphasis on Wright's residential designs for the Oak Park Home and Studio, Robie House, Taliesin, Taliesin West, and Fallingwater. Exploration of the myriad forces—technology, economy, demographics, social movements, and prevailing aesthetics— that shape structure.
"The City in Film" Coming Fall 2017! 
Publications
One World Trade Center: Biography of the Building. Definitive book on One WTC and environs. The sole author given access to the Port Authority of New York & New Jersey's site, suppliers, and archives. (Little, Brown, 2016). Partial funding by the National Endowment for the Humanities.
One World Trade Center: Biography of the Building. Audiobook, narrated by Judith Dupré. (Hachette Audio, 2016).
 Skyscrapers (Black Dog & Leventhal/Workman Publishing, 2013). Illustrated nonfiction essays on seventy landmark skyscrapers. Introduction by Adrian Smith. Update of 1996, 2008 editions. Japanese edition: X-Knowledge, 2013. Arabic edition: Kalima Project/Abu Dhabi Authority for Culture and Heritage, 2015. Gold Medal, 2014 IPPY (Independent Publishers Association) Award, best book on architecture.
Full of Grace: Encountering Mary in Faith, Art and Life (Random House, 2010). Fifty-nine meditations on the Virgin Mary's impact on history, theology, art, and contemporary life. Catholic Press Awards: First Place, Spirituality; First Place, Design and Production.
Monuments: America's History in Art and Memory (Random House, 2007). Illustrated nonfiction essays addressing the influences of aesthetics, politics, social history, and past expressions of commemoration on American memorials.
 Churches (HarperCollins Publishers, 2001). Sixty-four illustrated essays on Christian houses of worship from the first century to present day. Introduction by Mario Botta. A Book-of-the-Month Club selection. The New York Times Bestseller List, Nonfiction.
 Bridges (Black Dog & Leventhal/Workman Publishing, 2017, 1997). Seventy illustrated essays on bridge structures from pre-history to present day. Introduction (2017) by Linda Figg; Introduction (1997) by Frank O. Gehry with sculptor Richard Serra and engineer Jörg Schlaich. Translations: French, German, Dutch, Italian, Spanish, Danish, and Swedish.
Skyscrapers (Black Dog & Leventhal/Workman Publishing, 1996, 2008). Fifty illustrated essays on landmark skyscrapers. Introduction by Philip Johnson. Fifth- and tenth-anniversary editions (2001, 2006). A Book-of-the-Month Club selection. Translations: French, German, Dutch, British, Italian, Spanish, Danish, and Swedish.
Dupré, Judith and Dean Motter, illustrated by Sean Phillips. The Heart of the Beast (Warner Books/Vertigo, 1994; Dynamo, 2014 Anniversary edition). A graphic novel set in lower Manhattan about love, commerce, art and architecture.
Native American Rock Art (Chronicle Books, 1997). Illustrated history of American Indian petroglyphs and pictographs. Wrote and illustrated book. Book-of-the-Month Club selection. 
Dupré, Judith and Fabricio Vanden Broeck. The Mouse Bride: A Mayan Folk Tale. Alfred A. Knopf, 1993. Santillana Publishing (Spanish edition, 1994); Dowakan, Ltd. (Japanese edition, 1995); Scholastic, Inc. (Spanish edition, 1997, 2009; Spanish Braille edition, 1997). An illustrated adaptation of a Mesoamerican fable for children.
 Bread and Roses: How an Orphan Girl Helped American Women Win the Vote (historical fiction); From Pyramids to Skyscrapers (nonfiction); and The Magic Passport (creative nonfiction). Three Young Adult books written to NYS Level 6 literacy standards. New York: Benchmark Education, 2002.
Bridging the Mississippi: The New I-35W Bridge, Minneapolis, Minnesota, 85 pp., 200 color photos, 2008. Step-by-step overview of I-35W design and construction. Executive producer. Conceived and implemented design, production, and marketing of a publication for the communities impacted by collapse and replacement of the I-35W Bridge. Directed team of writers, editors, designer, photographers; managed budget, production, printing. Privately published.
Presentations / Conferences
Selected presentations
Keynote. "Communicating Value in Architecture." American Institute of Architects, Florida chapter. Naples, FL. July 28, 2017.
"Beauty: The Pull Toward Grace." Trinity Church Boston, March 27, 2017.
"Conflict and Consensus at the World Trade Center." Skyscraper Museum, New York City,  June 15, 2016.
Chair, One World Trade Center: Judith Dupré and Special Guests; Architectural Explorations in  Books Event. Celeste Auditorium, New York Public Library, May 25, 2016.
Session Chair: "The Super Slim." Panel: C. Willis/Skyscraper Museum; S. Marcus/ WSP/Parsons  Brinckerhoff; S. DeSimone/DeSimone Engineers. CTBUH Intl. Skyscraper Conference, NYC, Oct. 26, 2015.
Session Chair. "How One WTC Redefined Structural Engineering." Panel: A. Rahimian, Y. Eilon, WSP/Parsons Brinckerhoff; K. Lewis/SOM; S. Plate/PANYNJ; M.Mennella/Tishman Construction. CTBUH Intl. Skyscraper Conference, NYC, Oct. 26, 2015.
Keynote. The Dom Helder Camara Lecture. Newman College, the University of Melbourne, Australia. March 12, 2015.
Building an American Identity: Key Works of Remembrance During the Gilded Age. Whitehall Lecture Series, Flagler Museum, Palm Beach, FL. February 15, 2015.
Skyscrapers. The Skyscraper Museum, New York City, Nov. 19, 2014.
Mary, Magnified: Christian, Jewish, and Muslim Perspectives on Mary of Nazareth. The Institute for Advanced Catholic Studies at USC, Los Angeles. October 23, 2014.
Supertall, Supergreen. Featured speaker with architects Adrian Smith and Rick Cook. New York  Public Library, Main Branch, New York City. Jan. 15, 2014.
Featured speaker and studio critic. Cities, an interdisciplinary, campus-wide initiative during 2012-2013. Lecture sponsored by the Studio Art and Art History departments, and the Bellarmine Museum of Art. Fairfield University, Fairfield, CT. April 9, 2013.
Mapping Memory. Hunter College, Macaulay Honors Program. NYC. Sept. 13, 2011.
Author @ the Library Talk. New York Public Library, Midtown Manhattan branch.  April 6, 2011.
Encountering the Virgin Mary. Forum Series, Trinity Church, Boston. December 12, 2010.
Radical Grace: A Life in Art. Brown University, Providence, RI. November 11, 2010.
The Collision of Hollywood and Heaven at the Cathedral of Our Lady of the Angels, Los Angeles. Paper. Place and Space in Catholic America session, American Academy of Religion, Atlanta. October 31, 2010.
Up. Presenter at ideaCity, an annual gathering of creative thinkers, with Judi Collins, Margaret Atwood, Erica Jong, et al. Moses Znaimer, producer. Toronto. June 16-18, 2010.
The Bavarian Rococo: Beauty's Last Metaphoric Gasp. Basilica of the Fourteen Holy Helpers/Vierzehnheiligen. Bamberg, Germany. May 13, 2010.
13 Ways of Looking at the Chora. Church of St. Saviour in Chora, Istanbul. March 16, 2009.
When a Community Weeps: Public & Political Liturgies of Mourning. Paper co-presented with Melissa Matthes. Yale University, Institute of Sacred Music, November 12, 2008.
Keynote. Building as Being: The Ethical Aspects of Architecture. Society for the Arts in Religious + Theological Studies, American Academy of Religion, Chicago, Oct. 31, 2008.
Remembrance at Five: The Media's Impact on Recent American Commemoration. Paper. Institute for Advanced Study, University of Minnesota, Minneapolis. Oct. 23, 2008.
The Evolving American Monument. National Building Museum, Washington, DC. March 31, 2008.
The Evolving American Monument. Yale University. January 31, 2008.
Mega-Tall: The New Asian Skyscraper, The American Memorial Presence in Normandy, and The Art of the Book. Given aboard the Queen Mary 2 on her maiden world voyage. Mar 2007.
The Historic John Stevens Shop and the Making of the American Mythos. Paper co-presented with stone carver Nicholas W. Benson and preservationist James C. Garman. Salve Regina University Conference on Cultural and Historic Preservation. Newport, RI. September 16, 2006.
A Monumental Shift: Elements of Commemorative Design since the Vietnam Veterans Memorial

. Paper co-presented with stone carver Nicholas Benson, John Stevens Shop, 

and Nick Capasso, Curator, DeCordova Museum. "Designing For Memory, A Memorial Symposium" at Build Boston conference, Boston. November 16, 2005.
The Temporary Memorials of 9/11. "Commemoration, Monuments and Public Memory" interdisciplinary conference on the cultural, political and social impact of commemoration. Australia National University, Canberra. August 2-4, 2005.
Sacred Spaces: More than Steel and Stone. Expert speaker. How the design of sacred structures can provoke a deeper connection with the Divine. CBS television. First aired: June 19, 2005.
Keynote. Cathedrals into Skyscrapers: How the Construction and Image of Gothic Cathedrals Influenced Skyscraper Design

. American Institute of Architects Convention, 

Charlotte, NC. May 9, 2002.
Keynote. Landmark Bridges and the Creation of Identity. Design-Build Institute of America,  Denver, CO. April 22, 2001.
Exhibitions / Performances
Artist. The Whitney Biennial, Whitney Museum of American Art, New York. "Shame-Man." Performed with James Luna (Luiseño). 1993. Reviled at the time, this ground-breaking Biennial examined race, ethnicity, and sexual identity. Elizabeth Sussman, curator.
Selected Curatorial Activities
Curator. Global Village Shelters: An Installation on Sterling Quadrangle, Yale Divinity School, New Haven, CT. January 23-February 21, 2007 An outdoor exhibit of six temporary housing units for displaced populations. At the show's conclusion, the shelters were donated to artists for upcycling. This was the first American exhibition of the GVS shelters, which subsequently were shown at the "Design for the Other 90%" exhibition at the Cooper Hewitt Museum. 
Curator. Fourteen Stations. An installation by David Michalek of oversized photographs in industrial light boxes. Yale Divinity School, New Haven, CT. March-April 2006.
Curator: Luminous Transportations, a site-specific installation by photographer Jo Yarrington. April 2010.
Curator. Civilized Life. Art and architecture exhibition. Works by Diller Scofidio, Frederick Kiesler, Howard Ben Tré, Leni Schwendinger. Art Awareness, Lexington, NY. July 1988.