Senior speaker finalist Toniann Chianese works hard to balance her studies and extracurricular activities with her role as single mother of a five-year old, all while working two jobs. 
At Purchase, the Mount Vernon native who currently resides in Liberty, NY has been a math tutor, a teaching assistant for the college writing and circus skills classes, and the poetry and art editor for the Italics Mine literary magazine.
In March 2018, the EOP/MAP program recognized her as the student of the month.
She's worked as a camp counselor and creative writing specialist at the YMCA in Middletown, NY, and also completed an internship as a tutor at the Bedford Hills Correctional Facility that's become a permanent placement.
Her experience as a tutor has been a transformative one. "I strive to become a teacher and share every ounce of knowledge that I come across with those who surround me."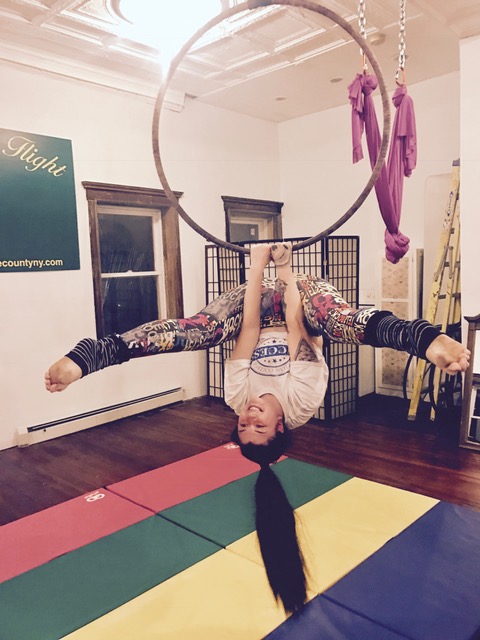 ---
PC: Describe a moment during your Purchase experience when you felt most challenged?
TC: I felt most challenged when I was in the hospital for two weeks during the spring semester of 2016. I had to make up an excessive amount of work in a small amount of time.

PC: And most proud or triumphant?
TC: I felt most proud when I got my first poem published in the Submissions Magazine at Purchase. It was my first time ever having a piece of my writing published.

PC: If you had to predict, what is something from your time at Purchase that you think will leave a lasting impression?
TC: I think obtaining my internship, as a tutor, at Bedford Hills Correctional Facility is something that will leave a lasting impression. It was then that I realized I wanted to be a teacher and I now have a permanent job tutoring there.

PC: If you had to name one, who is the professor who had the greatest impact on you? Why?
TC: If I could only name one professor, Aviva Taubenfeld had the greatest impact on me. Her method of teaching and the way she interacts with her students is truly inspirational.

PC: What does Think Wide Open mean to you?
TC: Think Wide Open, to me, means to take every obstacle that comes your way and turn it into an opportunity for a learning experience.

PC: What do you hope to be doing a year from now?
TC: I hope to be excelling in grad school a year from now.

PC: What will you miss most about Purchase?
TC: I will miss all of the friends, professors, and other intellectuals that I have had the honor of surrounding myself with.

PC: Any words of encouragement for your fellow graduates?
TC: Read every word you come across (yes, every single word), don't ever get comfortable with how much you know, never stop asking questions, and don't be afraid to change direction.