Providing Student Opportunities, Coast to Coast
Small benefactor donations to the Senior Acting Company have Brittany Henry '15 (acting) thinking big.

Brittany grew up in Brooklyn with aspirations of becoming an actress. Thanks to resources that are available to her at Purchase College, she graduated with a BFA in acting in 2015.
Being part of the acting program, which relies heavily of the support of benefactors, has caused Brittany to witness the impact that even small donations can have on students. These funds almost singlehandedly maintain the existence – and ultimately, the success – of the Senior Acting Company's final performance.
"Most people have a paper or a big experiment, but we have this showcase. It's like 'the End,'" Brittany said about the acting equivalent of the senior project required by Purchase College. "What we do is we put together all these scenes and we work them and work them and work them and then we go out to LA. We fly out to LA and we perform it for casting directors and agents and managers and we come back to New York and we do it in the city."
In doing this, members of the Senior Acting Company hope to get themselves and their work out there in order to receive some sort of representation after graduation. Without a doubt, the showcase is one of the most vital moments of an acting student's college career, and its success depends on so many variables – namely, resources from benefactors.
"That's one of the things I would say about Purchase, that it's very resourceful and everyone is really open and wanting to help," Brittany said as she spoke about one supporter she met, Bob Wiener, who loves to give specifically to one of the acting companies. "And that's beautiful because I feel that one of the best things about donors is when they have a specific passion in something, so they really drive for and are big philanthropists for that one particular area. You can see it in them that they have a connection to it."
"I remember our conversation with Bob being very influential," she explained further. "He truly has a deep care for the Arts. He is very supportive and encouraged us to work hard and apply ourselves in our dreams."
Brittany says one of the biggest things she looks forward to, in addition to graduating, is the day when she can help Purchase the same way Purchase has helped her.
"I feel like I might've had a different experience than most people because I'm also part of the EOP Program," she said. According to Brittany, the Educational Opportunity Program, which has become a great resource for students who have hit academic barriers because of financial issues, has really helped to get her where she needs to go.
"I truly don't know how I would have gotten through my years here without my EOP counselor, Glorivee Rojas. I can sincerely say that she has been a part of every important decision I have made while I have been here at Purchase."
One of those decisions included becoming a year-round RA on campus. Now, after she graduates, Brittany aims to move back to the city for the first time since she started her sophomore year and put herself through more schooling. Thinking pragmatically, she's hoping to become qualified as a massage therapist in order to fund her auditions and the start of her acting career.
"I'm literally putting myself in and taking myself through college," Brittany said when asked if paying for and attending school was turning out to be more difficult than she expected. "I want to say it's hard, but I don't really think of it that way because who else is going to do it if I'm not going to do it? I care about myself and I want myself to succeed, so I do what I have to do."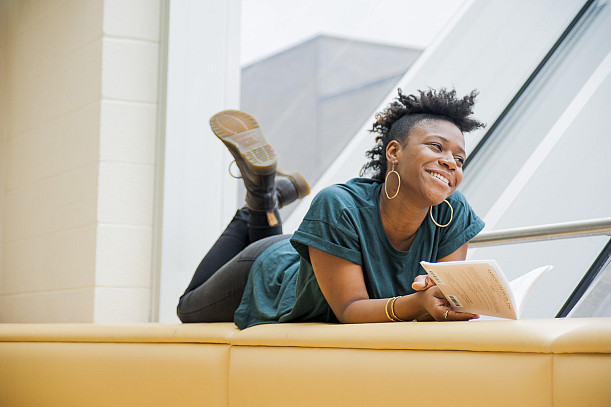 Story and multimedia by Courtney Norris, Journalism '15