Announcing CRITICAL CODE: The First Artists and Hackers Podcast
We're interested in where we've been and speculative ideas on the future.
Artists and Hackers is a podcast dedicated to the communities that are building and
using new digital tools of creation. We talk to programmers, artists, poets, musicians, bot-makers, educators, students and designer, in an effort to critically look at both online artmaking and the history of technology and the internet.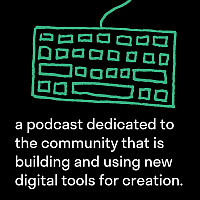 In Episode 1 Critical Code, we meet artists and hackers that aren't satisfied with the limitations of programming languages and are designing new ones.

We speak with Sarah Groff Hennigh-Palermo on livecoding; Ramsey Nasser on Qalb, an Arabic programming language and artistic provocation; Daniel Temkin, who designs
esoteric languages as artwork; and Anuoluwapo Karounwi, a Nigerian programmer who created Yorlang, a programming language based on Yoruba.
Episode 1 is playable through the website as well as Apple Podcasts and Spotify now.
You can also find us on Twitter and Instagram.
Lee Tusman, Assistant Professor of New Media and Computer Science, is the creator of this project, which is supported in part by funding from the Purchase College Foundation.

Episode 1, Critical Code was produced with Mimi Charles, with design and coordination by Caleb Stone, current and former New Media students. They are responsible for the gorgeous design of the audio and the website.
Look for more episodes forthcoming!