The GreenNY Forum is the annual meeting of New York State agency's sustainability coordinators and teams.
GreenNY, NYS's Green Procurement and Agency Sustainability program, is led by the Department of Environmental Conservation (DEC) and the Office of General Services (OGS). The effort was created to help NYS achieve its goals to reduce greenhouse gas emissions, toxic chemicals, plastic waste; conserve natural resources and make state facilities and operations more sustainable. These goals were launched when NYS voted to approve the Green New Deal. 
GreenNY is holistic, covering all aspects of the State's ability to positively impact our environment and economy through every agency's operations and purchasing.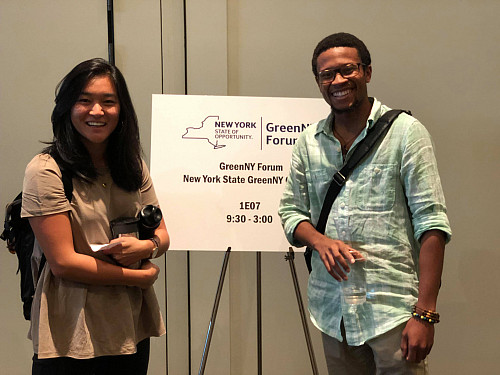 This year, Angie Kim, Sustainability Coordinator, and Morgan Bredwood-Green, senior Economics student and Green Team President, attended the day-long forum. The focus of the forum was to network with fellow State government staff and learn about their work on sustainability and climate initiatives, get updates on new State initiatives and legislation and share resources and best practices for new projects to implement. The Forum took place at the end of NYC Climate Week at the Javits Center in Manhattan.
"At the GreenNY Forum I met four people in completely different industries whose role is to implement sustainability within their business. Who knew that the Coast Guard has faculty who are focused on sustainability? Having my eyes opened to the multifaceted approach towards a greener New York State was inspiring."
-Morgan Bredwood-Green, Economics, Green Team President