Feel good with FieldGoods
SUNY Purchase is a pick-up location for weekly, seasonal and local produce deliveries!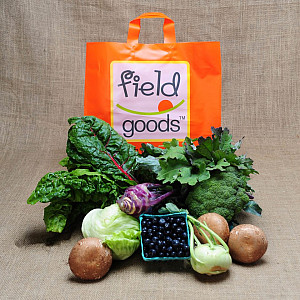 Field Goods is a certified Westchester Green Business organization focusing on providing the local community with fresh, seasonal produce from Hudson Valley farms. They support small, local/regional farms and work with farmers to get the most from the harvest to the table. This is an affordable way to incorporate new food products and receive sustainably sourced, seasonal and organic produce. 
There are a variety of packages that can be found on their website ranging from small produce bags to larger, family sized bags. You will have to create an account and will pay the organization directly online. Our office is simply sponsoring a pick-up site for Purchase employees located in Campus Center South in my office (Room 1007) across from Southside on Wednesdays from 11-1. Throughout the week feel free to drop off your produce bags as they get recycled and reused. We're very excited to share this service and allow Purchase employees to feel more connected to the Hudson Valley through locally sourced food. Field Goods has provided the campus with $10 coupons available to first-time users so please feel free to stop by to grab one or ask any questions!
Check out their website and sign up for the service here. Be sure to pick SUNY Purchase College as the pick-up site!