Guest Lecturer: ArtLifting
Liz Powers, co-founder of ArtLifting, lectured on turning to the benefit corporation model as an alternative to the traditional nonprofit model of arts organizations.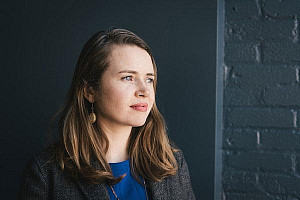 Liz Powers, co-founder of ArtLifting, lectured on the merits of the benefit corporation model for arts organizations. Benefit corporations are a type of for-profit corporate entity—authorized by 33 U.S. states and the District of Columbia—that includes positive impact on society, workers, the community, the environment, and profit as its legally defined goals. It is emerging as a viable alternative to the 501c3 model for creative entrepreneurs.
ArtLifting empowers artists living with homelessness or disabilities through the celebration and sale of their artwork. ArtLifting is about creating opportunity, empowerment, and validation. Every artist earns 55% from the profit of each sale. 1% from each sale goes toward strengthening art services for community partners that support ArtLifting artists, which includes art programming at social service agencies, shelters, and disability centers. ArtLifting uses the remaining 44% to further its mission, realizing that in order to make sustainable change, it needs to run a financially sustainable business.
Liz Powers began her mission in Boston when she was 18. After securing a grant from Harvard to create art groups in homeless shelters, Liz was immediately struck by the incredible talent that she saw. Amazing works of art were being produced only to end up forgotten in the closets and basements of shelters. After observing that the same problem existed at thousands of art programs across the country, Liz became committed to helping share their creations with the world. She realized that art could be a transformational path to financial stability for these artists and countless others nationwide; they just needed a digital marketplace to connect with a larger audience. This invisible talent needed to become visible.