Interview with Jenny Undercofler
Intro to Classical Music & Private Music Study
Jenny Undercoffler is the Director of the Music Conservatory at Purchase College.
Can you tell us a little bit about yourself?
Yes, I joined the Purchase faculty in the fall of 2016. Prior to that, I ran the music program at the Special Music School, in Manhattan, and conducted a new-music group called Face the Music. I've taught theory and ear training in the prep divisions at Juilliard and Mannes, and also at Queens College.
Introduction to Classical Music hasn't been taught online, nor during the summer at Purchase College before, how will this format make the course different?
One way it will be different is the mix of Purchase and non-Purchase students who will enroll. I think both groups will find that studying college-level music in the summer can be more fun and effective than during the year. 
Do you take a different approach to music than other colleges? Or, what's special about taking this at Purchase?
At Purchase, we teach music using a fairly standard contemporary approach, which is good for students who want to take this class in the summer.
What's special about taking music theory at Purchase is that we pride ourselves on an "authentic learning" approach, which means that we incorporate as much actual music into the learning, as possible. We frequently look at complete pieces, and talk about music that falls outside of the strictly classical canon. Also, at Purchase, we integrate technology into the learning process (using the Noteflight program) so students can receive teacher feedback on their work, throughout the learning process.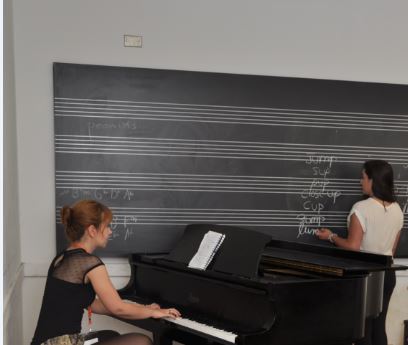 What are the performance music courses about and how do they work logistically?
If you register for one of the performance classes, it will show up as 3 credits on your transcripts, and it counts as a Core qualifier, which means that you can take the class and have it count toward your degree requirements, because it satisfies the SUNY Arts General Education requirement.
For the 3 credits you get 13 lessons with the instructor, and those can be scheduled privately at a time that is mutually agreeable, based on your availability and the instructor's.
Lessons are tailored to your needs, so you can come as you are regardless of proficiency level with the instrument, and the instructor will work with you to help you improve.
Sometimes we enroll students who don't know anything about music and simply want to learn how to play a new instrument; other times we see students who have a lot of experience and just want to continue to play and challenge themselves. For instance, the guitar teacher is John "Reed" Miller, a second year graduate student in the Conservatory of Music, with a concentration in Jazz Guitar. You can always reach out to him directly and see if this is a good fit. His email is John-R.Miller@purchase.edu

When you register for classes you can also be given access to practice rooms in the building- space availability is never an issue in the summer, but it is nice to know that you can come over to the music building and practice your instrument, which is very helpful, especially for those students whose housing options don't always allow it.
CRN 20033 MPE4350 Private Study: Jazz Piano Yu Choe
CRN 20034 MPE4350 Private Study: Jazz Drum Clinton Mobley
CRN 20035 MPE4350 Private Study: Jazz Guitar John Miller
CRN 20036 MPE4350 Private Study: Jazz Voice Alexis Cole
CRN 20020 MUS2040 Intro. to Classical Music