Purchase Dance Company Spring Festival
Location
Conservatory of Dance
Program 1 April 19 – 22, 2018
Works by Dylan Crossman, Merce Cunningham, Keerati Jinakunwiphat, Nora Petroliunas, Maiya Redding, and Michelle Thompson Ulerich presented on a proscenium stage.
Thursday, April 19 at 8pm
Friday, April 20 at 8pm – pre-show Artist Talk at 7:15pm
Saturday, April 21 at 2pm and 8pm
Sunday, April 22 at 2pm
Program 2 April 26 – 29, 2018
Works by Kyle Abraham, Melanie Gambino, Hannah Garner, Rosalind Newman, and Sarah Beth Oppenheim presented as theater in the round.
Thursday, April 26 at 8pm
Friday, April 27 at 8pm – pre-show Artist Talk at 7:15pm
Saturday, April 28 at 2pm and 8pm
Sunday, April 29 at 2pm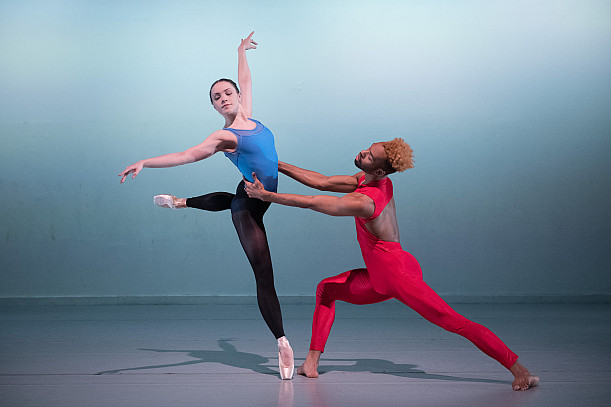 PURCHASE DANCE COMPANY: SPRING DANCE FESTIVAL 
A KALEIDOSCOPE OF WORKS BY TALENTED ALUMNI AND DISTINGUISHED FACULTY
From April 19 through April 29, our dancers celebrate the season with a two-week Spring Dance Festival!  Featuring an exciting range of cutting-edge new works and fresh re-stagings by our lauded alumni and respected faculty, our Spring Dance Festival includes performances by every student in the Conservatory of Dance.  Don't miss this sneak peek at the next generation of leading dance artists as they showcase their talents in the Dance Theater Lab – both in the round and as a proscenium frame.
The first week of performances kicks off with faculty member Dylan Crossman's … as if you didn't know me (2017) which follows thirteen women as they share their stories.  Recent alumni Keerati Jinakunwiphat's premiere of 18 plus is a coming of age piece in which individuals show their awkward stages or insecurities as they develop different relationships, grow up, and grow together.  Alumni Nora Petroliunas' new work Mina was conceived after the words "Our generation will not stand for this" hit the headlines. It is a subtle encouragement to create a shift in the compassion and thinking of this next generation of movers and young people.  Meanwhile, alumni Mayia Redding's re-staging of Thou Art Loosed (2016) expresses the struggle for freedom, not only physically, but also mentally, and uses Maya Angelou's poem "Caged Bird" as inspiration.  Rounding out the program is faculty member Michelle Thompson Ulerich's premiere of The Pairings – an exploration of how couples, friendships, enemies, and partnerships move together.
During the second week of the festival, audiences will experience theater in the round with an up close look at alumni Hannah Garner's new work Here to Here which explores how individuals choose to present themselves and how can they better navigate the sensitive subject of inconsistency.  Faculty member Melanie Gambino premieres Movement Unfoldings – an exploration in fluid movement, the principles of flight and somatic experience.  Also featured on the program is faculty member Rosalind Newman's re-staging of Multiples – a work for 20 dancers, 5 tables, and 40 balls.  Alumni Sara Beth Oppenheim's new work Splinter – which burrows into consequence, canon, and durations of resolve – caps off our wide-ranging and celebratory Spring Dance Festival! 
---

Cost
General Admission $15 / $10 seniors / $5 MORE card
Contact
For advance ticket orders please download the ticket order form, pending availability tickets will also be available at the door. Event information can also be provided by the Dance Office at 914.251.6803
Order Form Program 1
Order Form Program 2