Interview with Ambassador Solange Rodriguez
December 06, 2017
Interview by Jonathan Mannato '19, Theatre & Performance Major from Niskayuna, NY
I recently had the pleasure of interviewing fellow Admissions Ambassador Solange Rodriguez. Random fun questions came her way, and she answered them like a pro!
Jonathan Mannato: Why did you want to be an ambassador?
Solange Rodriguez: I'll get back to you. [Or, see here].
JM: What's your favorite color?
SR: Purple my whole life, but currently orange.
JM:What's your major?
SR:Dance!
JM: What made you choose purchase?
SR: The phenomenal dance program/not being too far from home (5 1/2 hours doesn't seem close but it's better than 13.)
JM: What's your favorite thing to do on campus?
SR: Go and play Foosball at The Stood, and go to any/every music performance.
JM: If you had the choice to be able to breathe in space or under water, what would you choose?
SR: Underwater… duh.
JM: What are your plans after college?
SR: Become a choreographer, possibly be in a dance company, be in music videos, back up dance, learn how to play every instrument, go skydiving, and marry Justin Timberlake.
JM: Have you ever been outside the country?
SR: I've been to Jamaica but I was 2 years old therefore it doesn't count.
JM: What's your typical Starbucks order?
SR: Ham & cheese croissant ALL DAY EVERYDAY and sometimes TWICE A DAY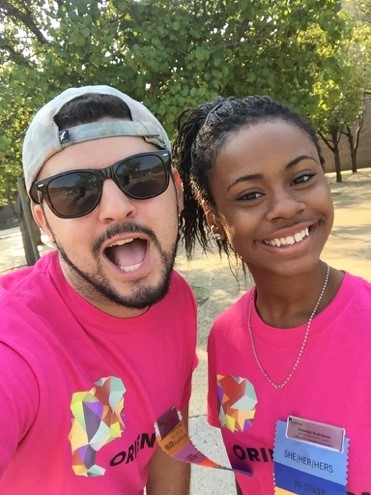 In addition to serving as Admissions Ambassadors, Solange and Jonathan also worked together as Orientation Leaders!