My Internship/Job Experiences as a Costume Design Student
December 05, 2017
by Resa Gregory '18, Theatre Design/Technology (Costume Design) Major from Seaford, NY
This summer I had the amazing opportunity to work for a millinery shop in Manhattan! Since I was living on Long Island for the summer, my commute was a breeze; the stop was only a 10 minute walk from Penn Station.
The staff and faculty of the Design/Technology program like for us to take advantage of summer break to get a job or internship. In between my sophomore and junior years, I was able to intern for a few weeks at the English National Opera (ENO), work another week as a stitcher for Aladdin in the West End, and the tech week for The Bodyguard: The Musical! Everyone there was so incredibly nice, and I loved meeting new people and making connections overseas.
Then, last summer I got in touch with one of my Costume Design professors, Arnold Levine, and was able to help him at his shop, Arnold S. Levine Millinery and Crafts. Even though I had no experience making hats, I was hired and couldn't wait to start my first career-related job! The biggest project we worked on was Frozen. Before it opens on Broadway this winter, it rehearsed and held previews in Denver, Colorado. We mostly did the hats for the chorus and I worked on organizing all of the materials, patterns and mock-ups. Although, we did work on some principals like Anna and Kristoff!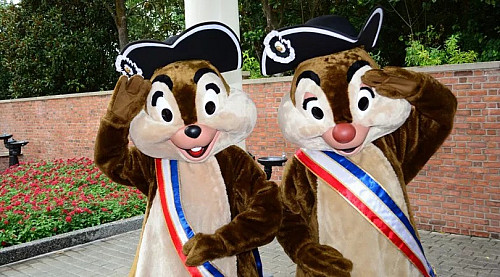 Other shows we worked on included Anastasia, Groundhog Day, and War Paint. But his show doesn't exclusively work on Broadway; there were also cool projects from parades, Disney Cruise Line shows and parades, and Disney character. I got to sew and shop for Chip and Dale's Fourth of July tricorn hats. Since Arnold's shop is right next to the garment district, running errands was quick and easy. 
I learned many different methods to make hats. My favorite material to work with for hats was felt. Here's what you do: 
1) Steam the felt to make it pliable
2) Put it on a wooden block covered in saran wrap and packing tape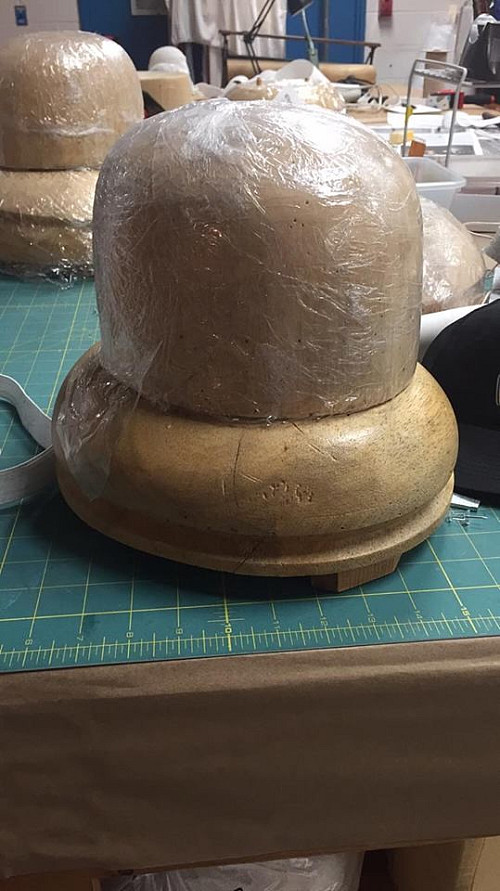 3) Make sure you pull it down enough so there are no wrinkles or creases in the felt
4) Pin it down with tacks and put elastic around the bottom so that everything is secure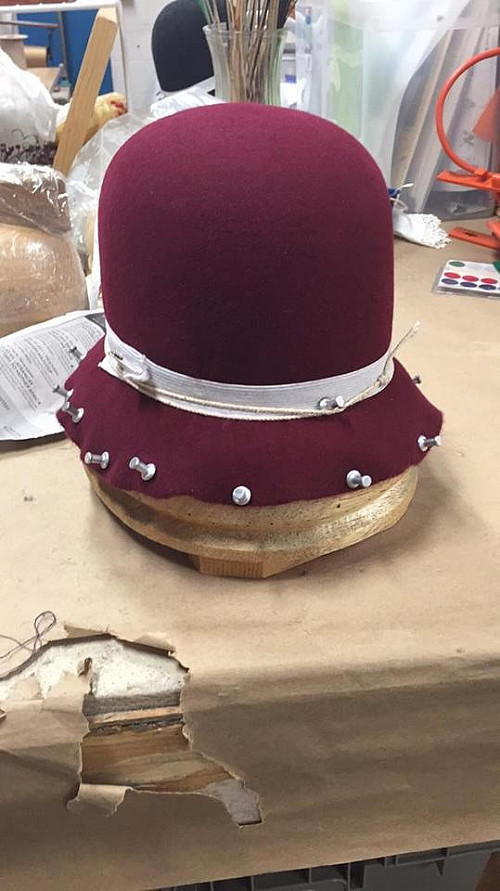 5) Let dry overnight, trim brim and flip it any way you want
6) Add trim and hat size ribbon, and you're done!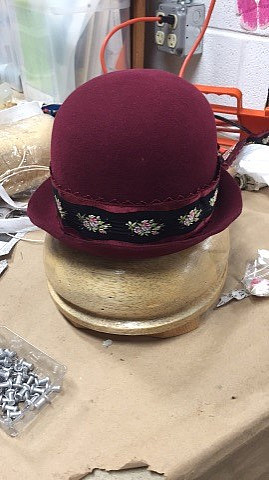 The shop was small but cozy and filled to the brim with fabric, trims, feathers, jewels, and everything you could imagine! I loved working and learning from Arnold and the ladies in the shop. It had such a welcoming atmosphere and I can't wait to go back!