October 23, 2017
by Shellie Welsh '19, Communications major and Psychology minor from Brooklyn, NY
"Think Really Wide Open…like on a GLOBAL scale! STUDY ABROAD!," read an email that I received during my spring semester of sophomore year. This email was extremely tempting, and so I jumped with excitement for my first step into a new adventure.
I took this further and went to an information session at the Office of International Programs and Services, aka "Study Abroad Central." This is where I had to make the biggest decision in this process. Where was I going to go? "LONDON!," I thought to myself.
Now, before studying abroad, I couldn't tell you a whole lot about England. All I knew was the red double-decker buses, long street signs, driving on the opposite side of the street, and foreign accents. But, my desire to understand the root of my preconceptions about the this part of the world flew me in a direction that led me to apply to programs in London.
You Can STUDY ABROAD Virtually Anywhere
Luckily, Purchase College is one of sixty-four SUNY schools, so I was able to apply through any SUNY campus for the same tuition rate (which, by the way, really expands the long list of options you have as a SUNY student). I ended up going to the University of Westminster for three weeks in the Summer of 2017. Although I studied for a limited amount of time, my perspective abroad was an experience filled with lessons that I can apply to work and social relationships that I make in the future.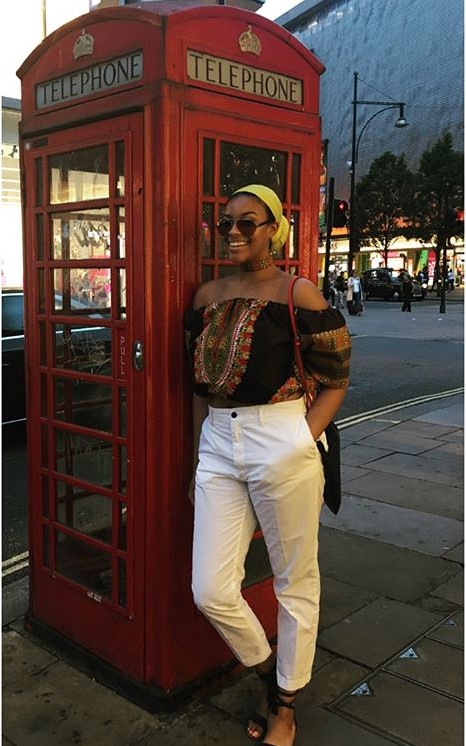 Initially, I was anxious about separating from home, but I was still so excited about forming relationships with people of ethnic backgrounds from all over the world.
After my seven-and-a-half-hour flight, I landed in London.
EXPLORING LONDON
I was so excited to learn about how culture in the U.K. compares to the U.S. I rode the "tube," known as the train or subway in NYC, ate at a South African restaurant, Nando's, and excessively shopped on the ICONIC Oxford Street. I also spent a lot of time exploring North, Central, and South London.
In North London, I visited Notting Hill, where there were tons of Somalian shops and markets. I couldn't resist purchasing a bunch of head wraps with Kente print.
RESIDENTIAL EXPERIENCE
In contrast, I lived on Baker street in Central London. My housing was in a penthouse across the street from Madame Tussauds and the Sherlock Holmes Museum, in the middle of the city. My view was gorgeous!
My favorite part of the city, though, was South London. I went on a "Black Women of Brixton: Empowerment Walk," where I received a lot of information about the history of Brixton. That was when I went to this delicious Caribbean restaurant: Fish, Wings, and Tings. London immediately felt like a home away from home and I enjoyed every second of it.
PARIS WAS ALL ABOUT THE CROISSANTS!
 During my second weekend in the UK, I traveled to Paris. I visited the Louvre and was able to explore different landmarks. My biggest take-away from my trip to Paris was definitely the distinct perfection of their croissants; I tried to bring some back with me to the US and I couldn't even make it on the plane without eating them all.
My time abroad allowed me to experience a huge amount of culture in a short amount of time. I can't wait to go back! If you're on the fence about studying abroad, please do it! You might feel a little nervous beforehand (I did), but it is SO worth it, for the life experience, the memories, the photos, and the croissants!