Interview with New Admissions Counselor Anthony Aurrichio
July 14, 2017
Interview by Emma Corcoran 
Why did you become an Admissions Counselor?
Speaking from experience, college can be one of the most formative periods of your entire life. High school is where you learn to blend in, but college is where you learn to stand out. To assist people in finding an environment that empowers them to stand out is what truly drew me to the position!
What did you study when you were in college?
I studied Marketing at Iona College. It definitely helped with calming the public speaking nerves.
What drew you to work at Purchase?
Easily the inclusivity and open-mindedness that radiates throughout the campus. It's not just a campus, but a community where people are free to be themselves. What's not to love about that?
What does Think Wide Open mean to you?
To not just tolerate, but embrace different ways of thinking and being. Thinking wide open requires humility, empathy, and collaboration, which are values I try to live by each day.
What's your favorite part of your job?
I love being able to talk to people, especially on the road. Applying to colleges can be such a stressful process, so to be able to help others feel more knowledgeable and confident going forward is extremely satisfying.
What is one thing you want incoming students to know?
Oh man, there's a lot. I think the most important thing is to be ready to step outside your comfort zone. Join a club you never thought you'd be interested in. Get to know someone with different ideas than you. Participate in everything! As an introvert, I know that sounds intimidating, but I once read that there is no better way to spend time with yourself than to find out what you're capable of accomplishing.
What is your favorite spot on campus?
Probably the Great Lawn. It's a beautiful area to sit down and eat lunch or even just reflect for a little bit. I just find it very peaceful.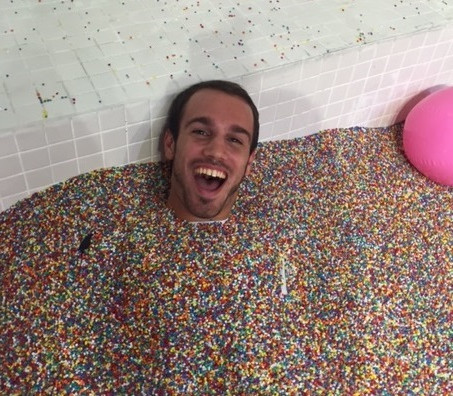 Anthony at the pop-up Museum of Ice Cream
What's your favorite thing to eat for lunch on campus?
I wish I had an exciting answer for this, but I've always been the pickiest eater (fun fact: a plain hamburger with nothing on it from the tavern across the street is called a Plain Jane Burger). For that reason, my go-to for lunch on campus is usually chicken tenders and fries!
What have you learned about yourself since you started working at Purchase?
One of the more valuable lessons that was reinforced upon starting here is the importance of self-care. As my first job after college, a huge part of the adjustment was understanding myself and what I need to do to continue to be happy/healthy in both my personal and professional lives. Also, that I need to buy more work outfits.
What's up with all of those Barbara Streisand photos in your office?
It's actually an art piece titled, "My Co-Workers Won't Stop Leaving Pictures Of Multi-Grammy and Academy Award Winning American Treasure Barbra Streisand In My Office Every Time I Step Out For The Day."
What is something you like to do outside of work?
Finding free things to do in NYC! It doesn't matter how long you've lived near it because there is always something new to do. One of my favorite recent memories is going to the live taping of Saturday Night Live with Lin-Manuel Miranda and twenty one pilots.
What kind of music do you listen to?
I like to think I'm pretty versatile in my music tastes, though my favorite is alt/indie rock. I love introspective lyrics when I'm alone, but I also love blasting anything I can "sing" along to in my car when I'm enjoying it with others.
What is one thing about yourself that we wouldn't already know/would surprise us?
One time I teared up while talking about how wonderful dogs are.