June 09, 2017
by Jonathan Mannato 
As summer is fast approaching, so is Purchase College's Orientation. Orientation is designed by the Office of Community Engagement with the leader being our very own Caitlin Houlihan. Every year, she and other staff members hire a group of diverse and outgoing students to help facilitate an easy transition for incoming students into the Purchase College community. These students are known as Student Orientation Leaders, or "SOLs" (pronounced "souls"). You can spot them by their iconic pick shirts and fanny packs.
Along with them we also have three Student Orientation Coordinators ("SOCs"). The SOCs are the leaders within the Orientation Leader team and stay on campus the entire summer, helping to organize and create what Orientation will be. They run social media accounts, help parents and students with registration, and keep incoming SOLs updated. This summer, our SOCs are rising senior Justin Hess, rising junior Luke Wright, and rising junior MacKenzie Huneke.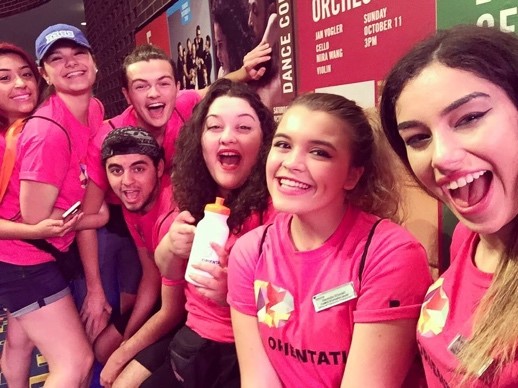 I had the pleasure of talking to SOC MacKenzie about Orientation this year. MacKenzie is a Playwriting and Screenwriting major who will be studying abroad in London next semester.
I asked her what it has been like so far taking on extra leadership as a SOC. "So far I have been working in the office and starting my Orientation duties earlier than I did last year as a SOL," MacKenzie told me. Right now we're just registering kids for Orientation  and we can't wait to have everyone get here!"
I also tried to get the inside scoop on what Orientation will be like this year and she had this to say: "We have a lot of cool new things coming this year, more-so for Welcome Week." (Welcome Week takes place at the end of August, right before classes start). "We are calling this fall component of Orientation 'Phase T.W.O.' which plays off of the College's motto, 'Think Wide Open.' It's going to be packed with stellar things that I'm unfortunately not allowed to talk about yet! Another plus for incoming students is that this year they'll have more small group time. It's always good to make those relationships for new students so that they feel comfortable in the fall," MacKenzie finished.
Even though MacKenzie wasn't allowed to fully dish the details, I have heard rumors of roller skating happening at Welcome Week. As an Orientation Leader myself I cannot wait to hop right on that train! 
Being an Orientation Leader is one of the best jobs to have on campus when it comes to making connections and relationships not only with incoming students but also with faculty and staff all over the school. 
Orientation this year will run from July 17-20 with sessions involving families/guests and their students throughout an entire day. Our SOLs will be on campus a week beforehand to prepare through group training and fun bonding exercises. This way we can be prepared as a team for whatever Orientation week throws our way!
We can't wait for everyone to get here and have a blast at the legendary Purchase Orientation. If you don't have a SOL yet, you have about 20 coming your way!