The moment I knew Purchase was the right fit
September 11, 2020
Open gallery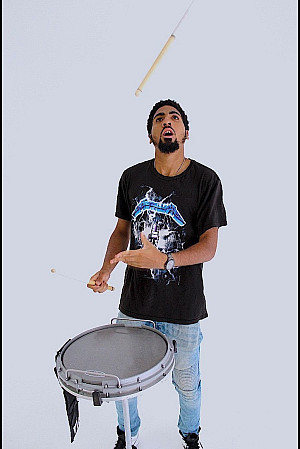 Written by: Jahleel Hills
Coming to Purchase as a film major, my mind was set on solely pursuing film. However, I'm more than a filmmaker; I'm also a musician/performer (a show style snare drummer to be exact). In the first half of my freshman year, I put down my drumsticks, focusing only on my film assignments. But as time progressed, I realized I was missing out on opportunities to pursue other talents I have to offer. Although I was tackling engaging projects and making friends in my classes, there was something missing. Towards the end of the semester, I got an email to audition for Afrodisiac, a campus event that highlights performances by students of color. I thought to myself, "Well, I'm a student of color who's also a performer!" After hearing about this opportunity, I auditioned and eventually landed a spot as a performer in the show.
Performing at Afrodisiac during my freshman year made me realize that I don't have to be tied down to my major. I have the opportunity to branch out and explore other fields Purchase has to offer. Performing at Afrodisiac motivated me to put myself out there and audition for campus events and plays.
Purchase College gives artists an outlet to express themselves; whether it's through theatrical shows and/or annual events, students are able to make connections and hone their craft. Having the ability to express myself as a drummer and as a filmmaker simultaneously makes me feel like I'm getting the best experience at Purchase. By putting yourself out there, you will soon realize that this is a great place to collaborate with other talented artists and create the content you are passionate about.