February 07, 2018
by Maya Jingles '19, Psychology and Sociology Double Major from The Bronx, NY
After living on campus for two years and eating campus food (and not really being able to cook) for two years, I was through the roof to finally be able to live in an on-campus apartment this year (something our students have to look forward to as they earn more credits!) After living in suites in Crossroads and Big Haus my freshman and sophomore years respectively, I was used to living with at least three other people.
Considering Housing Options
When it came time for the housing selection process, myself and five of my closest friends (not really, but we matched nicely as a roommate group!), were contemplating where to live. The Neu, or the Commons, while the nicest option for our credit range (housing options become available based on the number of credits the residents have earned), seemed a little too far of a walk. Alumni Village would also be a walk, but with an in-unit washer and dryer, air conditioning, and four singles, the walk seemed worth it! All of the housing options have their pros and cons.
We had a six person group and not enough credits for Alumni Village to be a likely choice, which is where The Olde came in. Although it was the, ahem, "Olde-est" of the three, it was definitely the most centralized and a duplex could hold all six of us (with two additional Purchase students).
Anticipating Our Housing Timeslot
I remember sitting in one of my Sociology classes last year, waiting for the clock to strike noon (our housing selection time slot). When it did, I eagerly looked through the options and chose J5-2, putting us all in our respective rooms with our choice of roommates. Below is a photo of my half of the room: 

When August arrived, I was beyond excited to start the semester off with healthier intentions. Although there are plenty of healthy campus food options (alongside the typical pizza/fried fare), being able to finally buy groceries and cook my own meals was going to help me enormously.
Being someone who's big on breakfast, finally being able to make my own helped me start off every single day perfectly. One of my favorite parts about living in the Olde is how peaceful it can be in the mornings, which brought a nice atmosphere to not only meals, but our apartments itself.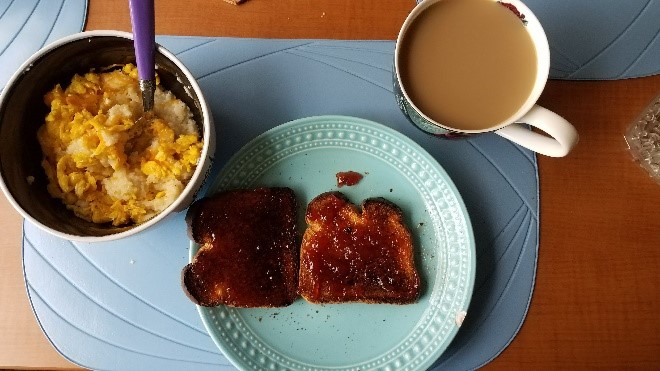 With so much more space in our apartment in the Olde compared to our former suites, we were able to not only cook for ourselves, but for friends and each other as well, leading to weekly dinners together. As developing "adults," we were able to split the jobs equally so some would cook while others would clean.
When starting college, I think it's important to experience what it's like to live on campus. It's, of course, not the practical or right choice for every student, but there's literally nothing like sharing a space with someone for (maybe) the first time, cleaning your own bathroom, or bringing your shower caddy to the one down the hall.
There's nothing like knocking on your wall at 3 a.m. because your neighbors are watching a loud movie on a Monday night. There are very specific memories made in college residence halls that just about everyone who's been through this can understand. As we get older, though, apartments are a great place on campus to get even more of a sense of responsibility and community. There's budgeting for food, cleaning dishes, taking out the trash, and simply learning how to live with others. As upperclassmen on the verge of "real life" (whatever that is), the apartments provide a way to ease into it instead of being thrown in all at once.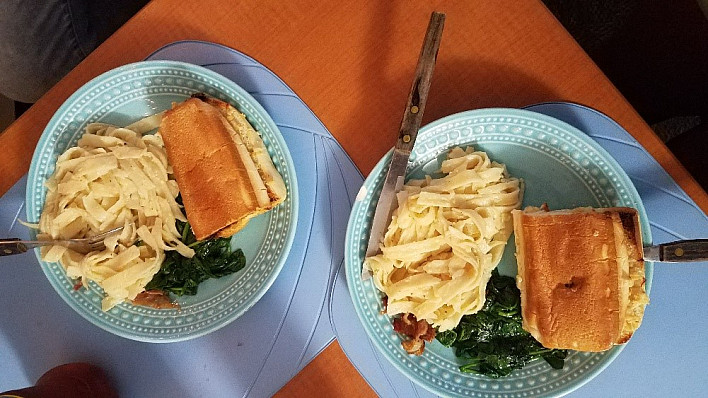 I wouldn't trade my dorm life for the world because some of the best memories of my life happened in my Freshman hallway, but I'm glad to have the opportunity to experience "adulthood" before it really kicks in. When choosing where to live, it can be stressful, but in the end, it's best to do what works for you. If you're not ready to cook and clean, stay in a dorm, live your best life in college before life after! But for those of you that want that responsibility and greater sense of freedom, try it out. There's no need to drop your meal plan and do it all alone, but there's joy in responsibility. While one of the best parts of living in an on-campus apartment is the cooking, what makes it even better is that everyone in your space is in it together. You make your apartment feel like a home with the people around you. To me, there's no greater feeling in the world than coming home to friends who have turned into family and sitting down for a nice home-cooked meal.