Digital Collections Center
Our mission is to create unique digital collections used for teaching and research. We digitize Library archives and curate born-digital materials that enhance faculty coursework and student scholarship. We provide access to multidisciplinary campus archives as well, connecting faculty, staff, and students to Purchase-produced research. Finally, we seek to help Purchase affiliates properly archive important digital content, so future generations can access many years of well-preserved pedagogy.
The work of the DCC is currently suspended due to lack of staff in the DCC. Please address any questions concerning the DCC and its projects to Mustafa Sakarya, Library Director.
Prior to 2016, the office that handled specialized digitization was the Visual Resources Center [VRC]. For many years, the VRC scanned 35mm slides for the art history faculty to use in their teaching here at Purchase. In fall of 2016, the VRC was rebranded  with a new name: the Digital Collections Center [DCC]. The mission was appropriately expanded to suit all college departments needing digital access to authoritative visuals and archival texts, audio, and video.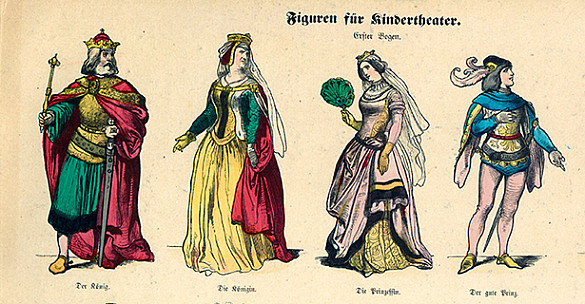 Detail of rare book illustration, "Münchener Bilderbogen", 1849-1868
Current projects include digitizing and migrating born-digital senior projects into a public access repository (still in development); scanning 35mm slides in multiple disciplines and cataloging those images on ARTstor; evaluating library archives of 16mm film for digitization possibilities; and creating online exhibitions honoring national heritage and pride. To see more, check out our current projects and exhibitions.
We're always creating and updating policies and procedures that address best practices in the field of digital curation. If you are curious about our procedures, take a look at our methodologies. If you have interesting materials you'd like to digitize and make searchable for campus scholarship, check out our services to see what best fits your needs.
To accomplish this task of serving the whole campus, the DCC employs a full time digital collections curator, a part-time digitization assistant, up to two graduate student catalogers, and three interns per year. To find out if working at the DCC is for you, please check out our opportunities page. Thank you for your interest in Purchase's digital collections and we hope you enjoy what we have to offer.