Accordions display multiple sections of content in a concise layout.
As the name indicates, it expands like an accordion. When you first load it, only the section headings are visible, with the ">" symbol appearing next to each section heading. Pressing the ">" expands that section, opening the accordion. Accordions makes each section easy to find without scrolling down a long page of text. 
6020870353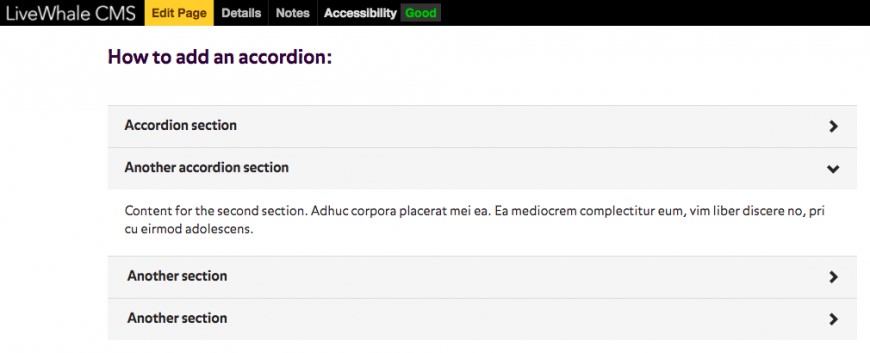 The belove example shows an accordion in both states – the first is closed, and the second is open - and showing its content. When in an "open" state, the "down arrow" can be used to close that section.
To add an accordion to your page:

1121870380

1122870423

1123870389
1124870517

1125870353
Accordion Examples
Example of a working accordion, this table has an even number of rows (four total):
 Confidentiality Information Policy
Purchase College is committed to protecting the privacy and confidentiality of information contained in the multiple databases and print files maintained by the college in the regular course of business. Personal information that is confidential in nature will be used only in accordance with Purchase College Information Security Program, Family Educational Rights and Privacy Act (FERPA), Health Insurance Portability and Accountability Act (HIPAA) regulations, and all applicable SUNY, state, and federal regulations.
Digital Millennium Copyright Act (DMCA) Policy
As a community of artists, writers, musicians, filmmakers, and scholars whose careers will be spent creating intellectual property, we encourage our entire community to respect the property of others. Downloading anything onto your machine from untrustworthy P2P (peer-to-peer) sources or websites not only exposes you to viruses, worms, and spyware, but often violates the copyright laws and can lead to suspension of network privileges, or to lawsuits from the Recording Industry Association of America (RIAA), the Motion Picture Association of America (MPAA), or the Business Software Alliance (BSA). Please remember that theft is a crime, and that nothing in cyberspace is truly anonymous.