YOU MADE AN IMPACT AND HELPED US SURPASS THE $30,000 GOAL!
THANK YOU to all of the donors and sponsors who rallied to help Purchase College students in crisis situations and to support important programs across campus.  Each and every one of you definitely Made An Impact! 
We express our heartfelt thanks to each and every DONOR for your gifts. 
We also thank our three SPONSORS for contributing the food and prizes that were enjoyed by members of the on-campus community throughout the week. 
---
LEARN MORE ABOUT THE MAKE AN IMPACT FUND
When a student is working three jobs, receiving maximum financial aid, and still can't cover tuition … or when a student can't cover the cost of travel for a return home for a family emergency … the Make An Impact Fund
empowers these students to stay enrolled, stay on track, and finish their degrees. 
Purchase is one of a very small number of schools with a

permanent

emergency fund set up  to support our students.  Every gift to the fund is 100% tax-deductible and makes an immediate impact.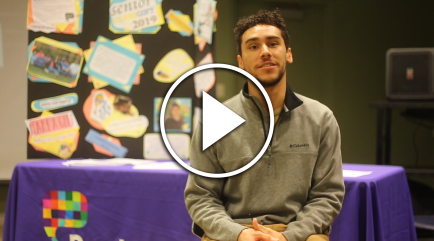 Here's how some recent emergency fund gifts have helped:
The world of a senior with aspirations of earning her Ph.D. and becoming a teacher turned upside down when her mother was diagnosed with cancer and had to return to her native country, leaving no local resource for childcare for this young family.

The financial situation of a student in his final semester took a dramatic downturn as family resources were diverted to support his father's treatment and in-home care during the final stages of cancer. 

An emergency travel grant made it possible for an arts major to spend the last days of his grandmother's life by her side.

W
atch these videos below to hear why members of the Purchase College faculty and staff choose to give:
Catania James
Study Abroad Advisor
Trudy Milburn
Assistant Dean of Liberal Arts and Sciences and 
Director of Liberal Studies and Arts Management
and Entrepreneurship